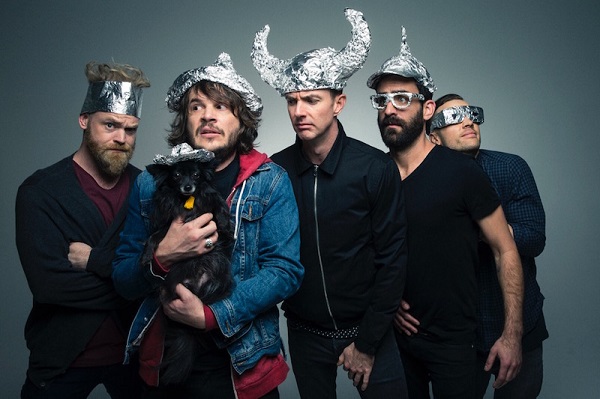 "You know, for us it's a very fun thing and we're other people up there and because of what it is we get to live this other thing up there, this other animal that we can't get anywhere else. Probably that's what keeps us semi-sane I think."
From Release: It is well-known that Karnivool records take a long time to be fully realised. Yet every four years or so their creative beast awakens from its slumber, nourished by the fruits of many global travels, and drives the quintet into the depths of a studio. With just the right assistance on hand, they forge some beautiful new rumbles. This creative journey is traditionally book-ended by a physical journey. A tour, which delivers to their long suffering yet intensely loyal fan base a hint at what is to come.
We gave Ian Kenny a call while he was in Sydney to talk about Karnivool's 2016 live schedule, new music, old music, maybe a sneaky Birds of Tokyo question, and much more…
Let's start with the Pre-Animation tour… what can we expect from these upcoming headline shows?
Well we are putting together a show and a tour based around some new stuff that the band's been working on, we're getting close to being prepared to make the new record, so when we can we like to get out there and road test new stuff or when we have enough that's worth doing that. So we played a bunch of shows in Perth recently and that was the first time to try the new songs and the first time for anyone to hear them, so yeah, we want to do that around that country. It's something that when you ca do it, I recommend it to any band or anybody who's writing to go and do it before you go in the studio, it's worth every minute of it.
So how was the new stuff coming across?
Good, really good! Now I say that because all we can trust is our own gut with how and when things have a reaction but thankfully we're in good hands, I mean Karnivool fans are very open minded, very musically minded sort of crowd, so far so good, man.
Your last three albums have clearly shown an evolution within the band and are each their own beast yet still obviously Karnivool, is this conscious to in essence change it up each time, can we expect something different on album number four?
Absolutely! Yeah we try and keep it changing in whatever direction the band is sort of aiming for but always try and keep the core elements there within the design of whatever we're doing. Yeah, this is different, it's going to be different to 'Asymmetry' the last record we put out, that was a very demanding record to make and a very demanding listen, pretty complicated piece I think, so we kind of find ourselves leaning back towards maybe the 'Themata' writing and 'Sound Awake' writing, somewhere round there. It's funny I was just talking to someone else about the tour and the new stuff and they're like you know, did maybe doing the 'Themata' anniversary tour has that sparked anything or has that sort of crept in, and at the time you had no way of telling, but maybe now it's starting to reanimate or respark something in the band because it's probably more in that world than it is alongside the 'Asymmetry' writing for sure.
So we can expect it to be a bit heavier?
Yeah heavy in parts and lighter in others, but it's definitely guitar heavy, it's fuckin' riff heavy. Yeah it is heavy, it fuckin' is heavy. Yeah!
If we work on your usual four year cycle, do we need to wait until 2017 to hear it?
Yep. *laughs* I don't know why that happens in this band but for some reason we're set with some fucking uncontrollable dial, some uncontrollable clock that for some reason we end up every four years landing on the record that we want to make that we're like, yep, that's the one, and anything we might have written before that obviously hasn't seen the light of day and just hadn't been what it should, so I can't explain it, I don't know what that is but we have found ourselves here once again.
You know what it is, and I think I've just made this up, it's the Karnivoolympics…
Mmm hmm! We are the Olympian year band, yeah!
Not only are you out on your own, you also scored an amazing support in Deftones… You guys haven't hit a support slot in what feels like forever, why was now the right time to do that?
Well one of two reasons, first off we're massive fans of the band and I have been personally and I know the rest of the guys in the band have been for fuckin' years, so it was a bit of a kid in a candy store situation. Then for us it just gets another exercise in, another opportunity to play and get the band playing ahead of recording as recording and studio time will actually be around then, so if we can get out and play it always, always works out when it comes to the studio and tracking the songs. Honestly it's because Karnivool and Deftones, are you fuckin' jokin'? It's gonna be sick *laughs*
Your fan base it and I don't want to say dedicated, but they are so fucking dedicated to what you do, have you found that your fan base continues to grow or are you stuck with the people that are just so loyal to the band and just love everything you do?
Well luckily we have both, we have the best of both. We have these fucking such loyal and passionate fans that have been there from the beginning and have sort of grown with the band and then we constantly are finding new people taking to where the band is at or whatever it's releasing, so we are really fortunate to have that around the band, you know?
Last year we had the ten year celebration of 'Themata', what was it like going back and revisiting that album in full in a live environment?
Unreal. Fucking unreal. We've never played a record of ours in its entirety, let alone such a landmark record for both the band and the fans, like 'Themata' just getting to play through that from cover to cover was awesome. I mean a song on there 'Sewn and Silent' I think we've only played four or five times in our whole career, and another one there 'Synops' we've only played a handful of times too, so yeah it was sick, fuckin' sick. Then purely for the fans, they were just going fuckin' nuts it was so sick.
You've been in Karnivool for almost twenty years now, what is it that you still enjoy about being part of the band?
I can't find anything else like it on a creative level or just a playing level or whatever. I don't know many other bands that work like that or are that or whatever the fuck that is, we just keep getting drawn into it every time the band gets fired up and gets creative, it's always something new and always something challenging and then when you try to get through it you get to play and perform and live with it in another world up there with a band like Karnivool they're just motherfuckers, absolute motherfuckers. You know, for us it's a very fun thing and we're other people up there and because of what it is we get to live this other thing up there, this other animal that we can't get anywhere else. Probably that's what keeps us semi-sane I think.
What's the most challenging part of being in a rock band like Karnivool in Australia?
The only thing we find challenging is writing the material that we want and creating what we want, that's the only thing that Karnivool finds challenging. I think outside that if you don't really have a fan base or a connection with a fan base it can be very hard depending on what you want to do, if you don't have any radio support it can be very difficult, but if you don't have the radio support and you have the fan base then fuck it, you're good, who gives a shit about radio, but if you don't have one or the other it can be tough in this country. Outside that, I can't really see many other challenges, if your band's good and you work hard it will become what you want and it will pay off in whatever respect. Playing rock and roll is a good job.
It's been a few years since a Birds of Tokyo album too, can I ask about the status of a new album?!
Yeah we just finished recording album number five as of three days ago…
Sweet, so we can expect that in 2019 or something? *laughs*
No, that'll come out towards the end of the year, we're gonna mix that record in June, so we'll be able to deliver it to our management in say June / July. They can say when it's going to come out and when we do it.
On paper it looks like you never slow down, if it's not Karnivool it's Birds of Tokyo, and go go go, how do you manage to do it all?
I started to drink a shitload more and I'm dependent on pharmaceutical drugs like Valium and all the rest of it, my anxiety is through the roof *laughs* nah I'm only fuckin' with ya, none of that is true. Well luckily these days I have two management groups and they communicate well and everything is booked months in advance like shows, tours, recording schedules, the whole lot, so thankfully these days it's a fairly well-oiled machine but the demand is still there, it takes a fucktonne of time and work but I've got nothing else to do, so… here we are *laughs*
I wanted to brush on the digital age with you, because when 'Themata' came out all that stuff and social media was still new, have you found that has in fact helped more than say radio would have for you over the years?
I think so, I think it's definitely time now when anybody who's in a band and realised what the socials can do for you, hell yeah, I mean hell yeah. Radio is now just a fairly integral part of location in countries you come from in terms of local on ground shit, but when you're talking about getting out to the wider community, the global community, online it's all there, man, like if you really cover that well you will get a return and you're reaching people fuckin' massively, so yeah, hell yeah.
Lastly, let's look ahead to the future, finish this sentence for me, the one thing that Karnivool want to do by the end of 2016 is…
Finish this record *laughs*
Well I look forward to the Karnivoolympics next year…
Yeah man, it's a fairly exciting time, we're on the cusp of album number four and it's fuckin' right there, it's almost ready to record and to sort of come alive, so I'm looking forward to it.
Catch Karnivool on their Pre-Animation tour at the following dates:
Wed June 15th – ANU Bar, Canberra – TIX HERE
Thu June 16th – Bar on the Hill, Newcastle  – TIX HERE
Fri June 17th – Waves, Wollongong – TIX HERE
Sat June 18th – Manning Bar, Sydney – TIX HERE
Wed June 22nd – The Spotted Cow, Toowoomba – TIX HERE
Thu June 23rd – The Triffid, Brisbane – TIX HERE
Sat June 25th – Thebarton Theatre, Adelaide – TIX HERE
Wed June 29th – The Wool Exchange, Geelong – TIX HERE
Thu June 30th – The Croxton, Melbourne – TIX HERE
Sat July 2nd – Uni Bar, Hobart – TIX HERE
And on tour with Deftones at the following dates:
PERTH
Tuesday 8th November – Metro City (18+)
megatix.com.au or oztix.com.au or 1300 762 545
ADELAIDE
Thursday 10th November – Thebarton Theatre (All Ages)
ticketmaster.com.au or 136 100
MELBOURNE
Friday 11th November – Festival Hall (All Ages)
ticketmaster.com.au or 136 100
SYDNEY
Saturday 12th November – Hordern Pavilion (All Ages)
ticketek.com.au or 132 849
BRISBANE
Sunday 13th November – Riverstage (All Ages)
ticketmaster.com.au or 136 100
Essential Information
From: Perth, WA, Australia
Band members: Ian Kenny – Vocals, Andrew "Drew" Goddard – Guitar, Mark "Hoss" Hosking – Guitar, Jon Stockman – Bass, Steve Judd – Drums
Website: http://www.karnivool.com.au
Latest release: Asymmetry – (out now- Sony Music Australia)