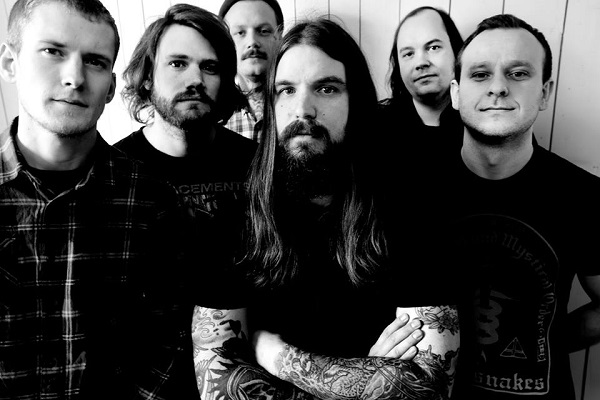 "…when we started we were just kids hanging out in the basement and just playing music for fun. Of course it's still for fun, that hasn't changed but I guess I'm 31 now, was 21 when we started and a lot of things have happened. I think we just became better song writers and better at playing music, we were pretty terrible in the beginning and now we get to travel the world and just do what we love…"
From release: Kvelertak made a stunning international impact with the release of their 2013 album Meir, earning the six-piece numerous "Best of 2013" honours.  New album Nattesferd is produced by Kvelertak and mixed / engineered by Nick Terry (Lindstrøm, Turbonegro, The Libertines). It is the first of Kvelertak's albums to be recorded in their home country of Norway.  Nattesferd is already garnering "Most Anticipated" accolades
In Columbus, Ohio out on tour, Erhland stopped to give us a call to talk about the band's new album 'Nattesferd', Australia, evolution, music in Norway, and more…
This is your third album, did you find this one was somewhat easier to make with less pressure than a debut or its follow up?
I wouldn't say that, there was a year of song writing on this one, we just took the time and didn't stress too much and didn't rush anything. Like the second album we only used a couple of months to make so the whole writing process was a whole lot more relaxed this time I would say. I wouldn't say easier but it just took longer.
Did you do anything differently in creating this album compared to your past two releases?
Like before I'd finish songs and demos on computer and we'd practice and figure out things together, but this time it was a lot more from scratch in the practice space and everyone was contributing and so that's the way we did it this time around and I think it worked out pretty good.
I have to ask about the title, can you tell us what it represents?
It means 'My Journey' it's one of the songs on the album, we actually had different working titles for the album but with the cover and as the whole album started to take shape it made sense to call it Nattesferd just because it really fits the cover and I really think it fits the feeling of the whole album as well. Also it kind of reminds me a little bit with the colours of Rush's 'Fly By Night' cover.
So why is 1985 such an important year?
I was born that year but that's not why I picked the title. When it was time to write lyrics for that song I just couldn't get the 80's out of my head and I started thinking about bands like Van Halen and stuff and especially 1984 album and started thinking about George Orwell and just wrote lyrics of like a dystopian cold future and just thought it was appropriate with all the pretty dark lyrics the song is so upbeat and positive sounding so I think it's good to have a contrast in that way.
The song itself sounds like a Journey song that's been given a nice dose of metal. What was it like writing this one?
I would say it's the least representative song on the album but I guess it's the most radio friendly song we've done *laughs* and pretty different to anything we've done before, so it's just cool to show people something new when it's time to debut a new song. Just to see our fans reactions, they either love it or they hate it and it made me more sure to write songs for you first, so yeah it's cool.
We've been lucky to see you in Australia before, when do you think we might see you back?
We'll definitely come back, but it might not happen this year. The rest of the year is pretty filled up with like we're in The U.S. now and we're gonna do a bunch of festivals in the summer and be on maybe a Canadian tour and European tour, so maybe next year. We'll try not to take too long, we love playing in Australia so we can't wait to go back there.
You're coming up to ten years as a band, in that time what for you has been the most notable change in the way the band works?
Almost too much to mention because when we started we were just kids hanging out in the basement and just playing music for fun. Of course it's still for fun, that hasn't changed but I guess I'm 31 now, was 21 when we started and a lot of things have happened. I think we just became better song writers and better at playing music, we were pretty terrible in the beginning and now we get to travel the world and just do what we love, so it's been a lot of changes and most of them have been good.
When you start as a band in Norway did you ever think you'd be touring the world and releasing albums, was that the dream that all of a sudden happened and blew you away?
I wouldn't say it was a dream as it was pretty unrealistic for me, for us it was just a way to pass the time and we just made music for ourselves and played in living rooms and things like that and just practiced. It took us a lot of years with line-up changes and practicing to finally figuring it out, when we got our drummer and guitarist in the band was when things finally worked, and some internal changes, like before Marvin our bass player used to play drums and I'll say he's much better at playing bass than he is at drums *laughs* so just all that stuff took a while to figure out. So it was crazy when it suddenly it took off when we had the right line-up, the line-up we have now is the same since 2009 and were getting invited to play for up and coming bands and then all of a sudden we have labels and booking agents and it went pretty fast when it first happened. I never imagined that *laughs*
How if in any way would you say the Norwegian music scene differs from the rest of the world?
There's a lot of good rock and metal bands and also a lot of electronic music, it's kind of hard to explain… I wouldn't say it's too different from like Sweden or the rest of Scandinavia, but yeah it's a lot of rock and metal. A lot of good bands, I guess the difference is we have a lot of cultural funding in Norway so it's a good place to live if you're in to doing something artistic or something like that. So it's good to be living there. Even like Black Metal bands get that kind of stuff, everyone does if you're a proper band and go on tour you can apply for all sorts of stuff if you want, they're small country so they can definitely afford it and I think it's better to use money on arts and things like that instead of things that are not art. *laughs*
So is there something you want to do as a band that you haven't yet had the chance to do?
Yeah I'd like to play South America at some point, we haven't done that yet. Also just love to play more in Asia, we've only played japan and Singapore so far so it would be cool to go to like Indonesia or like China, we'd pretty much like to go all over the world and play if it were up to me.
Lastly let's look ahead to the future, finish this sentence for me… The one thing Kvelertak wants to do in 2016 is…
*laughs* the one thing we want to do is just tour shitloads and try not to kill each other while we're doing it. That's the one thing Kvelertak wants to do *laughs*
Essential Information
From: Stavanger/Oslo, Norway
Band Members: Erlend Hjelvik (lead vocal), Bjarte Lund Rolland (guitar), Maciek Ofstad (guitar), Vidar Landa (guitar), Marvin Nygaard (bass), Kjetil Gjermundrød (trommer)
Website: http://www.kvelertak.com
Latest Release: Nattesferd (Out Now – Roadrunner Records)