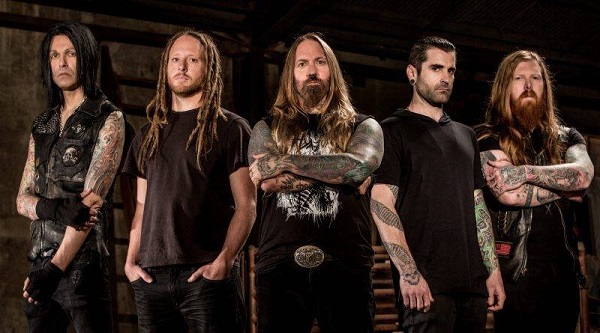 "…a lot of bands with that amount of time keep making the same record over and over and over, but we don't, we want people to think, we want people to move forward with us, and we definitely want to evolve because that's what art is all about. You don't paint the same picture twice. Ever."
From release: Dark clouds over California – and everywhere else: DevilDriver teamed up once again with producer Mark Lewis and the Audio Hammer Studios for their seventh opus that is nothing short of sensational! Three years after the lush Winter kills, we bear witness to the birth of a sleek new version of the band in the shape of Trust no one. An unapologetic title that strengthens the fact that Dez Fafara and co have compressed their energies: the opener 'Testimony of Truth' isn`t simply a catchy masterpiece comfortably nestled in between soaring guitars and massive groove, it also catches up with the band`s classic moments! Insidious hooks refine eerie tunes such as 'My Night Sky', but there is always room for hauntingly beautiful epic parts in all this mayhem. These wolves need no sheep`s clothing!
In LA getting ready for their next tour, we caught up with Dez for our fourth chat, and it's always a pleasure getting the update on where things are at with him… so Dez fills us in on DevilDriver's new album 'Trust No One', as well as touring Australia, the status of Coal Chamber, and more…
With a title like 'Trust No One' I have to ask, why was that given the naming rights to the album and what does it represent to you personally?
I mean I think any artist it's incoming not only on them to shed light on where they are in their personal life but to also be a mirror to society around them and I think that's the society we're living in exactly right now, it's trust no one… Somebody said to me the other day 'isn't that a horrible thing?' and I said 'yeah it is' but as an artist I'm the one that's gotta shine the light on people and let people see what we're going through and I think 'Trust No One' is very appropriate for where we're at in the world right now.
In the almost three years since 'Winter Kills' what was the main drive and inspiration behind 'Trust No One'?
I think just to make an aggressive record full of empowerment and to really get down on some topics and get literal with it so people would have something to go to. You know we've lived with this record for many, many months and just now journalists alone have been hearing it and the reviews are just unbelievable, everything from 10/10 to Kerrang calling it a snarling beast, Metal hammer said it was up there with our brightest moment, it's just something about this record that has a certain fire, and the fact that I've become extremely street, extremely literal with the lyrics and the fact that I am trying to lyrically paint a picture of what's going on in the world around us. I mean within this record, man, you're gonna experience everything from anger and betrayal, to a love song. The very last song on the record is called 'For What It's Worth' and it's a love song to my wife and my family, and that's like the heaviest lyrics I've ever written in my life. So I think you guys are gonna get something real special, and there's some extremely technical moments on this record, guitar, drums, bass, everybody really shined.
 'Trust No One' is the first album featuring Austin and Neal, what was it like getting into the studio with new blood?
It's great working with them, man, Austin is a really great guy, he's a beast on drums. Neal replaced our guitar player that over twelve years and six records really didn't contribute to the writing, so watching Neal come in with twelve songs was incredible, most of the time you say to the new guy hey I want you to sit back for the first year and see how the band works, but he came in with songs. Not only that, but 'Daybreak' the song we released first was a collaboration between Neal and Mike, so that just goes to show you what they really came in with.
You also once again used Mark Lewis as producer as he has been for the last few albums, what is it about Mark that you feel brings out the best in DevilDriver?
Well I think that Mark Lewis brings out the best in a lot of people that he works with, that's the hallmark of a good producer is that he can make ten records and nobody sounds the same, he doesn't give my stuff to other bands, he doesn't give their stuff to me and he has been with DevilDriver through our evolution so the guy understands what's going on, you know?
This will be the bands seventh album, when you look back to the first release how do you feel DevilDriver have grown as a band in those years to be where you are today?
Well if you're a DevilDriver fan you know that we have a signature sound but they all sound different, they're all very much different from one another, I think we've just grown, we've musically matured along the way and definitely this record is going to show that off. The technical expertise, the groove, and even the guitar sound, we definitely came into it and said let's distance ourselves from the pack let's make sure we define ourselves and let's make sure we try something different and I think we did that with the sound of 'Trust No One'.
You guys have signed on as part of The Legion Music Festival next year, tell us why you wanted to get on board with this new festival?
Look, anything in Australia I'm in, you know that *laughs* so when you start talking about a crowd funded festival, you get into the aspect of being in touch with the people and being in touch with what's going on, and if the people come forward and they raise the money through crowd funding to see the bands they want to see then you've gotta be part of that. I've always had a great time in Australia.
You and Australia seem to get along like Vegemite and toast! What do you think it is about you and your bands that Australians just love?
You know I don't know… we come down and we put in a lot of work. People that come to our shows know we put in 110% and there's just something special about certain places that we tour and Australia is definitely one of them. The fact that I can go to sound check and I can surf because I've surfed all my life, and then I can go to the show and it's just amazing to me. I've got a lot of really good friends down there, in the beginning of my career AJ Maddah for sure helped DevilDriver become who we are in Australia and I owe a lot to that guy.
It is a shame that Soundwave went the way it did though…
Yeah it is, I'm sure that guy's gonna bounce back and I'm sure that festival in some way, shape or form is gonna bounce back. It is what it is, sometimes the business of promotion is a difficult thing and I hope the best for him, he's a great guy.
So it's easy to say what's changed within a band over their time, but I want you to have a think and tell me what's the one thing that you feel has stayed the same about DevilDriver in its fourteen years of life so far?
We have managed to no matter how hard we are surrounded by a multitude of bands and a convoluted scene managed to keep our own sound, our own groove and something special about us that identifies us as a different sounding, a different kind of band. That's exceptional, that's very hard to do over that long of a period of time, and to keep 'em guessing, to do records that have evolution is a difficult thing, a lot of bands with that amount of time keep making the same record over and over and over, but we don't, we want people to think, we want people to move forward with us, and we definitely want to evolve because that's what art is all about. You don't paint the same picture twice. Ever.
We spoke last year when Coal Chamber released 'Rivals' how has the last year been for you with Coal Chamber, think there are plans for more?
Well you can't make plans with that monster… I realised in the very beginning and the end of that band that you can't make plans with that band, and if you do it will tear the whole thing apart, so what's happening now is that I took time off from DevilDriver, I took a year and a half off, that's when they hit me, they said we've got a studio and we're gonna do minimal touring which we did. Now I'm on a DevilDriver cycle but as soon as that's over, no doubt we're gonna be in to write another record and go so I don't know what's gonna come of Coal Chamber, but that's kind of the specific, that's the goodness of that band, you don't know if it's gonna come together in the next year or two, or if it's gonna take another five or six but I like it that way personally. Whenever those guys start sending me songs I'll definitely go over them, but like I said I am committed to DevilDriver now and committed to this cycle and another one directly after this because we're getting ready to sign with Napalm Records for a four record deal and nobody signs four record deals nowadays. So we've gotta come with the material because the label is behind us.
That's obviously testament as you said to a band with a distinct sound and style so they definitely must see that in you…
Yeah man, look usually you get signed for one with an option to pick up the next, we're signing three firm with our option if we want to go with them on the fourth. They're a great label, the relationship has been wonderful and I love working with them. They know as well that we're gonna be a force to be reckoned with like we always have been, but especially in the next four, five, six years we're gonna be a force to be reckoned with.
Lastly, let's look ahead to the future so finish this sentence for me, the one thing that DevilDriver wants to do this year is…
Empower people.
Essential Information
From: Santa Barbara, CA, USA
Band Members: Dez Fafara – Vocals, Mike Spreitzer – Guitar, Neal Tiemann – Guitar, Diego Ibarra – Bass, Austin D'Amond – Drums
Website: http://www.devildriver.com
Latest Release: Trust No One (May 13 – Roadrunner Records)