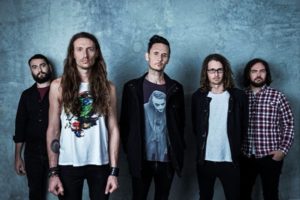 Dead Letter Circus have announced they will be hitting the road this August for a 11-date national tour in support of their brand new single, 'The Burning Number'. Joining Dead Letter Circus will be Clint Boge (The Butterfly Effect) and Rival Fire.
On Board With Sea Shepherd
Dead Letter Circus will donate one dollar from every ticket sold on the Burning Number Tour to the good folk at Sea Shepherd to help fund fuelling vessels used for South Sea missions, feeding the crew and raising awareness for the oceans.
Fans will also be given the opportunity to match Dead Letter Circus' donation by adding another dollar to their ticket price, which will be sent directly to Sea Shepherd to help their cause.
"It never ceases to amaze me the level of support Sea Shepherd receives from caring, compassionate people like Dead Letter Circus. Without this selfless support, our ships would remain idle at dock and not be able to defend our oceans. Sea Shepherd is delighted to have the support and on board partnership of Dead Letter Circus with a dollar from each ticket sold going straight to our fuel tanks, plus stalls at all their gigs that we encourage all to get along and see." – Jeff Hansen – Managing Director, Sea Shepherd
Tickets go on sale Thursday 26 May at 9am.
'The Burning Number' is the latest single lifted from Dead Letter Circus' hugely successful third albumAesthesis. Released in August last year, Aesthesis was brought to life by the band with the help of Matt Bartlem (Jarryd James, Matt Corby) and Forrester Savell (Helmet, The Occupants) and mixed by multiple Grammy Award winner Chris Lord-Alge. (Muse, Deftones, Green Day, Slipknot, My Chemical Romance).
Upon its release,
Aesthesis
debuted at #2 on the ARIA Chart, scored the coveted triple j Feature Album and an ARIA nomination for best Best Rock Album. For those keen to get an insight behind the creative process of behind one of Australia's most accomplished and celebrated rock acts can check out the official 
Aesthesis documentary
here
.
Joining Dead Letter Circus on their lap around Australia will be Clint Boge. Kicking off his career as the frontman of one of Australia's favourite heavy rock bands, The Butterfly Effect, Boge embarked on a solo career and released his debut album Songs of a Delicate Nature Volume 1 then backed it up with an impressive 36-date national tour in mid-2015.
Melbourne's Rival Fire may sound menacing, but they want you to feel the emotion threaded through their music. This month, Rival Fire will drop The Riot EP, the precursor to their debut album to be released later in 2016.
"Dead Letter Circus
 have grown into one of the most accomplished acts Australia has ever produced." –
The Music
"Leaving the very last line of lyrics to the packed out audience, Dead Letter Circus left everyone hungry for more, understandably so." – Rip It Up
DEAD LETTER CIRCUS
The Burning Number Tour
With Special Guests CLINT BOGE (THE BUTTERFLY EFFECT) & RIVAL FIRE
Thursday 18th August – The Gov, Adelaide
Tickets available from
O
zTIx

Friday 19th August – 170 Russell, Melbourne
Tickets available from
O
zTix
and
170 Russell

Saturday 20th August – The Metro, Sydney
Tickets available from
Ticketek

Sunday 21st August – The Cambridge, Newcastle
Tickets available from
B
igtix
and
OzTix

Thursday 25th August – Brunswick Heads Hotel, Brunswick Heads
Tickets available from
OzTix

Friday 26th August – Sol Bar, Sunshine Coast
Tickets available from
O
zTix

Saturday 27th August – The Triffid, Brisbane
Tickets available from
OzTix

Thursday 1st September – Players Bar, Mandurah *
Tickets available from
OzTix

Friday 2nd September – Settlers Tavern, Margaret River *
Tickets available from
O
zTix

Saturday 3rd September – Capitol, Perth *
Tickets available from
OzTix

Sunday 4th September – Newport Hotel, Fremantle *
Tickets available from
OzTix

* Clint Boge Not Appearing
Tickets on sale Thursday May 26 at 9am
Exclusive Fan Pre-Sale
Fans who have signed up to the Dead Letter Circus mailing list will have access to an exclusive 24-hour pre-sale. Those who purchase tickets during the presale will also receive a free download of an acoustic version of 'While You Wait' as well as Rival Fire's new single 'Riot'. Fans can sign up for the exclusive fan club pre-sale by joining the mailing list at deadlettercircus.com
For complete tour and ticketing information, visit:
deadlettercircus.com