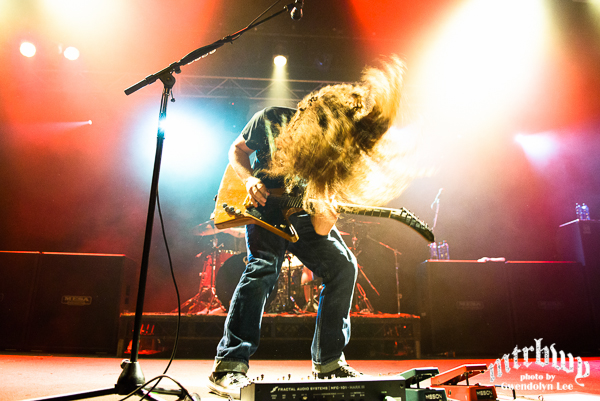 It's been a few years since Coheed and Cambria graced our shores but tonight off the back of their newest album 'The Color Before The Sun' they're back. I'm actually a little ashamed to admit that this will be my first Coheed headline show, so to say I'm looking forward to it is an understatement…
Closure In Moscow opened the night and showed off their musical prowess with a super tight set of songs that turn on a dime and take you places that you wouldn't expect. Musically this band is outstanding! The crowd were in abundance and whether it was simply waiting for Coheed and Cambria or there for Closure In Moscow, they were digging what was being played.
As the lights dim to a massive cheer, Claudio and Travis take to the stage with guitars for a very sombre opening in 'Ghost' and a moving completely different vibe from Coheed and Cambria that I expected for a show opener, but wow, and as it finishes to see the remainder of the band take the stage  and the crowd lose their minds when 'In Keeping Secrets of Silent Earth:3' begins, and with hair flying everywhere Sanchez takes to the microphone as the crowd become his shadow shouting back every word along with him, and I have to say that if this energy from the crowd stays at this level then we're in for one hell of a night, oh man this one is still killing it and exploded into something amazing. The guitars didn't even stop as the band takes on 'Blood Red Summer' and wow, this one is outstanding. God, this crowd is lapping this up and rightfully so!
Ahhhh was waiting for this one, 'The Island' that opens the bands newest album 'The Color Before The Sun' and hearing it here tonight is killer. What a song, but it's fair to say that a lot of the fans here tonight are here to hear the earlier stuff and when 'Devil in Jersey City' gets a run there is a whole lot of love happening. Watching Sanchez traipse across the stage with his Grug hair flipping and flowing to the music is something to witness, it truly shows how much love this man has for his art and it's a pleasure to witness.
'Key Entity Extraction V: Sentry the Defiant' starts it off loud and into a driving drum beat taken from one of the outstanding 'Afterman' albums is something I wasn't expecting but am loving hearing tonight. I thought it would be hard taking a song out of the story but how wrong was I?! Very is the answer… This is a monster. But if that was a monster then I don't know what to call 'A Favour House Atlantic' as the place kept to the enthusiasm and excitement from the opening second. This show really is something pretty cool to be a part of as I've never been to a headline Coheed show before, so to see their fans react like this is truly something to witness. I'm loving it.
As Claudio addresses the crowd for the first time tonight this is the one I've been waiting as it leads into 'Here To Mars' and I'll be back in a few minutes. Ok I'm back, just had to take that one in as it was seriously the best song released last year and hearing it live tonight was what I'd personally been waiting for and I'm guessing many others here felt the same tonight. What a song and what a performance of it. So happy that got a run in the set!
Sticking with the new album and 'Eraser' taken from it is a worthy set addition that's for sure. I just need to mention how good this band really is, these are four guys that are ridiculously good at what they do and it's a pleasure to watch. 'The Hard Sell' gets a run with its riff and groove that sounds like it could've come straight out of the 80's and I fuckin' love it. 'No World for Tomorrow' rocks it way back up and wow, not really knowing that one I have to say that it pretty much blew every other song out of the water tonight. That was magnificent. How do you follow that up? With 'The Crowing' of course… and musically I love this, the off beats and the big melodic style rock vibe that soars through the chorus is huge. This band really knows how to craft a song.
Although as rockin' as the gig has been it's time to slow it way down, and back to the new album with its closer in 'Peace To The Mountain' as the acoustic guitars come out again to deliver the most sombre song of the evening. What a song it is though and it just takes on a completely different feel in a live setting, I have a newfound appreciation for it, and it was a great way to end the main part of the set as the band leave the stage…
They're back and they've got spirit, kid. Literally. This one from 'The Color Before The Sun' was our first taste of the album and what a taste it was. It's great seeing the way the fans have latched onto this one too, and singing along is a must in this one. I love that they play the outro too. Awesome. 'Everything Evil' started by a simple drum beat sends the crowd into a tizzy and it's on… With some great crowd participation it lifts this one to another level.
Closing out the set with 'Welcome Home' and you know those guitars that are like double guitars… Yep… The place just lost its mind. Watching the smiles on the bands faces as the crowd sang the entire first verse was amazing but to then watch Claudio and Travis trade licks was outstanding. It really was the only way this set could finish and they did it with the same amount of gusto and passion from the first second of the show. Kudos to a consummate professional band and it was exactly what I'd hoped for in my first headline Coheed and Cambria show. I won't be missing them again. Ever.
Check out our video interview with Josh Eppard of Coheed and Cambria HERE
Essential Information
Venue: The Metro Theatre – Sydney
Date: May 5, 2016
Presented by: Taperjean Touring, Select Touring, Metropolis Touring, and Hysteria
Website: http://www.coheedandcambria.com
Support: Closure In Moscow
Photo By: Gwendolyn Lee – Gwendolyn Lee Photography
Set List:
Ghost
In Keeping Secrets of Silent Earth: 3
Blood Red Summer
Island
Devil in Jersey City
Key Entity Extraction V: Sentry the Defiant
A Favor House Atlantic
Here to Mars
Eraser
The Hard Sell
No World for Tomorrow
The Crowing
Peace to the Mountain
You Got Spirit, Kid
Everything Evil
Welcome Home