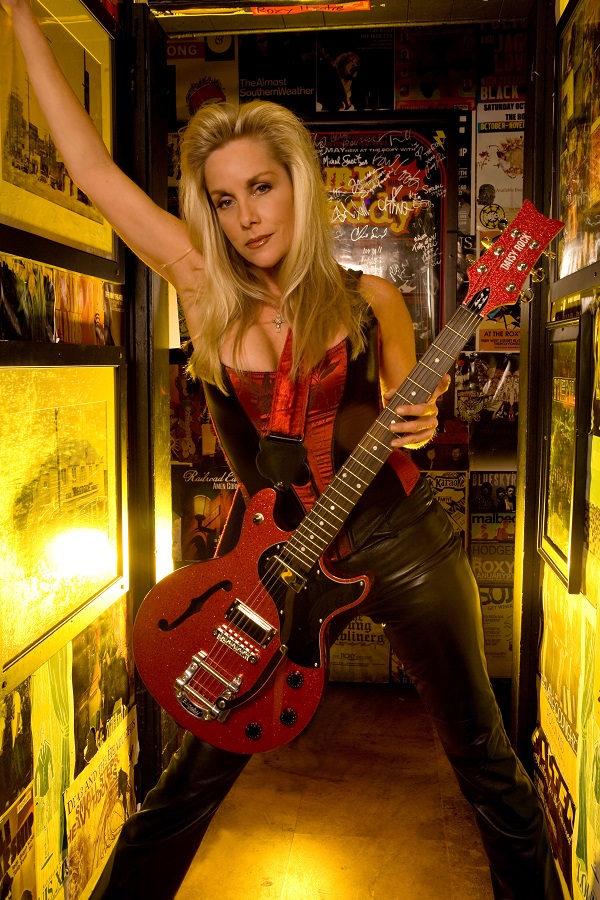 "I just don't feel any different to when I was a kid, I think it's truly all in your head, my parents at fifty six, my Dad especially and my grandparents they thought they were way over the hill at fifty, and to me I'm still like a teenager I'm out there carving and still like I was in my twenties. So it's all truly a state of mind, some of us are just born to be forever young."
From release: The Runaways were one of the biggest stories on the 70's and will go down in history for their legacy as an all teenage girl hard rock act that sparked controversy and every teenage boy's desire. CHERIE CURRIE fronted the band that have had timeless hits like CHERRY BOMB & I LOVE PLAYIN' WITH FIRE. Their story was so compelling it prompted the making of the 2010 movie The Runaways, in which Dakota Fanning portrayed Currie! The Runaways never made it downunder, so don't miss seeing the original "Cherry Bomb" for Cherie Currie's first ever Australia and New Zealand tour.
In Los Angeles we gave the absolutely delightful Cherie Currie a call to talk about her upcoming tour of Australia, old music, new music, legacy and much, much more…
This is amazingly your first tour to Australia, what are you most looking forward to about heading down here?
I have wanted to come to Australia for forty years, it has been a dream come true for me the possibility… I was gonna come eventually, possibly, even if it was in a walker but the fact that I've been asked to come now is a gift, I feel like I must have done something right in my life.
How are you planning to shape the set for these shows?
I'm actually using the same band that I used for my UK tour in November, they're fantastic, and I am a strong believer in giving fans what they want, because hey, I'm a fan and any time I've gone to see bands or solo artists I always want to hear my favourite songs and I am going to deliver that to The Runaways fans in Australia and have a couple of surprises along the way as well.
You've kept busy over the years with solo albums as well as acting and with your art, as a performer what do you enjoy about the balance of these mediums?
Well, as far as being on stage for me it's just so natural that it's a joy, just a complete joy, I love the audiences and the people that I get to meet. Chainsaw art, I love the fact that I'm my own boss and I don't have somebody telling me what to do, the chainsaw though sometimes tries to tell me, so I have to wrestle with that a little bit, but I love the fact I was able to overcome something as scary as a chainsaw and work so up close and personal with such a dangerous piece of machinery for the last fifteen years and keep myself intact. Acting is something I don't really do much anymore, but I certainly did enjoy it when I did, and if something ever came up I would definitely do it. I never say no to things anymore.
Last year you released 'Reverie', your first solo album in quite some time. Why was now the right time for a new album?
I'd actually made a record with Matt Sorum for Blackheart Records back in 2010 which is actually finally going to be coming out in September but that album was shelved for a few years and I got very frustrated so I left my management company there at Blackheart and decided to go out on the road myself. So I did four tours and then when I got back Kim Fowley and I had rekindled a friendship and spent countless hours going over the past and getting all that in order which was very important for me to do, and then he became very ill and then he reached out about making a record with him which of course I just jumped at the chance, because my goodness, I'm not this terrified naïve little girl anymore, I'm a woman that actually really was interested in working with him again, and bring my son along with me. Jake and Kim wrote together beautifully and worked together and of course when Kim got very ill after the fourth song, he turned the entire record over to Jake, so it was quite an experience. I just wish we would have finished it, he died two weeks before the album was finished.  He actually moved into my home, he was bed ridden, but I took care of him for almost ten days then he had to go back into the hospital for surgery. Those are days I will always cherish because forty years changes a person, and he was not the same man, he still had the brilliance and the wit that Kim always had but he was a different person and it was great to know him now before he passed away instead of walking around with this misconception of what I thought that he might still be. So for me it was a great opportunity. It gave me the possibility to put the past behind me and all the things that troubled me as a young girl, now I've replaced them with wonderful memories and I'm so grateful for that.
In another almost rekindling, what was it like playing with Lita again on 'Reverie'?
Well actually I'd worked with Lita for about a year before this record happened and she actually reached out to me to do a duet for a Christmas single she had written called 'Rock This Christmas Down' and I flew in from my last day on tour, and went directly from the airport to the studio and worked with her for the first time in forty years and it was absolutely so much fun. Then we had a friendship and she would ask me to do shows with her and I loved it, and then when this album happened she was involved from almost the very beginning, she was there when we were writing songs and leant her voice to 'Dark World' which was awesome, and then of course when we decided to do a couple of Runaways songs I had to have her involved, I couldn't not. So now that she's a singer I had her sing with me, so that was really cool.
Has this given you a taste for it again and can we expect more music more often from you?
I don't know, I really don't… I think it's something I'll always do because it's the easiest thing that I do in my life and that's performing and meeting people. I guess when you started as young as I was it's something that just comes very naturally and it's something that I feel I was meant to do, but we'll just see, after this tour, I just kind of take it day by day and see what happens. I do know for sure that the Blackheart record coming out in September, more than likely I will continue to tour.
Was it even a thought in your mind back when The Runaways were at their peak of how influential they'd be in music so many years on?
I had a hope for it and of course how popular we got in the two years we were together definitely made me see that we were doing something that was changing people's ideas of what not only young girls being able to play but being tough enough to be in a male dominated business. Then I thought that we had all but been forgotten, especially when everybody said Madonna was the first one to put a corset on I went no that's not true and she should know better and she should give me kudos which she didn't *laughs*. You know, I just feel so blessed that I was a part of such a ground breaking band.
Along with each member going on to do great things which is kind of unheard of with bands, is that a testament to the talent that was in the band?
I definitely think so, I feel bad that Sandy who unfortunately passed away, it would have meant so much for her to see this movie happen but I do believe that she is still with us in spirit, so that gives me a lot of comfort.
It's so great that you guys are still out there rockin' too…
I just don't feel any different to when I was a kid, I think it's truly all in your head, my parents at fifty six, my Dad especially and my grandparents they thought they were way over the hill at fifty, and to me I'm still like a teenager I'm out there carving and still like I was in my twenties. So it's all truly a state of mind.
Completely, I'm the same, it's all about just going out and having fun, that's what it's all about I think…
Yes!  Some of us are just born to be forever young. That's what I think, Troy, what about you? *laughs*
Oh yeah, I sit here and go to gigs and interview rock stars and have a ball doing it, I don't feel my age at all…
Well you know what? You're really good at it too so you're definitely doing the right thing.
Thank you very much! Now, so how does it make you feel that a song like 'Cherry Bomb' is so loved after over 40 years?
Oh my gosh, thrilled! You know what? The thing I feel that's lacking in music today is that and I talk about this when you've got TV shows like 'The Voice' or 'Idol' and all of these huge expectations that are laid on young people of today, I mean how could anyone move forward, even if they're born to do it without trepidation and fear, and I feel that's the one thing about this stretch of time in music where either you are the best of the best of the best or you're thrown off a stage in disgrace. We wouldn't have had Mick Jagger and Rolling Stones, we wouldn't have had so many amazing performers had it been that way as it is today. I can't wait until we have more people out there just baring their soles that aren't these great, amazing almost impossible singers because it doesn't do anything for me. I haven't listened to current music is so many years now because it's just overdone and produced and every note has to be perfect and to me life isn't like that, so yeah….
So what do you like to listen to?
Well I listen to my son's band Maudlin Strangers, I listen to classic rock, and again, like I say what I'm gonna give to the people that come to my shows, the music I grew up with meant something to me and that's 70's rock and roll.
You've talked about music and the industry being a much different place now than it was when you were in The Runaways, what for you is the most notable change in the way music is created and broadcast to the world now?
Well, my goodness, you don't even need a record company to have a record out these days and everything is just right at your fingertips with iPhones. I kind of miss the days where you had to actually save up your money and go down to the local record store after you've saved up for a month to get a Bowie record, or something like that. It's so different in this day and age, I long for the old days really.
Over your career has there been a stand out moment that will always stick with you?
I will have to say, well there were many… meeting David Bowie for the first time at The Rathskeller a tiny little club that he came to when we played in Boston, and meeting Debbie Harry, and also stepping off the plane in japan to just a sea of Beatlemania where we really realised that all that work we had been doing for the past two years actually meant something.
I love that you were together for only two years and the impact was so big that it continues after forty years…
Thanks, well those are my memories and they were really great ones, and you know what? I can't wait to make memories in Australia. I've been waiting for this for forty years *laughs*
Lastly let's look ahead to the future, finish this sentence for me, the one thing Cherie Currie wants to do in 2016 is…
Come to Australia… *laughs*
Catch Cherie Currie on her first ever tour of Australia at the following dates:
May 26th | The Triffid, BRISBANE
May 27th | Manning Bar, SYDNEY
May 28th | Corner Hotel, MELBOURNE
May 31st | The Gov, ADELAIDE
June 1st | Rosemount Hotel, PERTH
Presented by David Roy Williams and Tombowler
Essential Information
From: Los Angeles, CA, USA
Band Members: Cherie Currie
Website: http://www.cheriecurrie.com
Latest Release: 'Reverie' (Out Now)