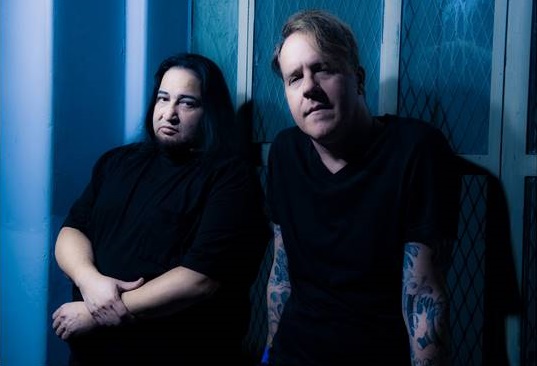 "It's all about education and people need to be educated about the reality of being an artist in today's world. It's hard, hard working musicians like Fear Factory we have to tour non-stop just so we can continue surviving in a way we want to survive by doing music."
From Release: The FEAR FACTORY machine is at its most confident and passionate than ever before and they will be bringing every sonic weapon in its arsenal to the fore when they stampede across Australia this June. With nine critically acclaimed albums under their belt Fear Factory will be reaching deep into their storied history to bring an unparalleled experience to Australian fans. Their most recent shows around the world have been met with universal astonishment:
We gave Burton a call while on a day off in Cleveland to talk about the band's upcoming Australian tour, their live show, Genexus, having a voice, and much more…
You are of course heading back to Australia to see us in June, what can we expect of this run of shows?
More Fear Factory music *laughs* tha's about it, were gonna be highlighting our album Genexus.
With nine albums under your belt now how do you go about shaping a set list these days, is it a cae of focusing more on the new album?
Yeah we like to focus on it more, the album that's out and then we just try and make the set list really flow with a lot of energy and make it make sense, have it all very cohesive and a good show.
Your shows are always something to witness, and the crowds are a huge part of the spectacle, as a front man how much do you draw from the crowd to deliver your shows?
At least 90% *laughs* the crowd that is really vibing very well, has a lot of energy I will feed off of that and it just makes the night even better. If the crowd is dull and just like standing there, it rarely happens but it happens *laughs* it just makes it not so fun, it's like wow, why am I even here… that usually happens in Switzerland… it happens in Switzerland because they have a db noise level, it's something ridiculous like 92 so it gets annoying when I have to tell people to stop talking in front of me because they're distracting me, it's like you can hear people whispering to each other in the audience.
What do you think it is that Australian fans just get about Fear Factory?
That's a good question, you know I don't know, man *laughs* it's something that I've noticed from the very beginning, maybe it's the live performance, we really go off live, we're not really a showy band, we're not about smokes and mirrors and explosives, we're about sonic intensity and the energy on stage and maybe that's what the Australians are all about, they like the real intensity of it.
So other than the shows, what's your favourite thing to do in Australia?
Something that I don't get much of a chance to do and that's travel *laughs* take some time off and travel somewhere else and check out some other place. I'm a bit of an adventurer at heart so I like to explore and maybe go somewhere I've never been. It's been a dream of mine ever since I was in high school and a teenager was to go to Australia and one of my things now is to go there and get a motorcycle, nothing fancy just something I can get from point A to point B on, but one that can actually travel cross country on. Instead of a walkabout it can be a rideabout *laughs* come along!
Genexus is your highest charting album in Australia, what does a market like ours mean to the band?
Since 93, in Australia the first time we toured over there since then we've had an immense response and I would say it's one of the top three markets for Fear Factory, I would say we do really well in Europe and The UK, Australia is second and United States is third.
The album itself is a monster, what keeps you inspired and driven as a band?
Well, just the will to survive for one, and two, there's plenty to be inspired about. The topics I've been talking about or writing about since the early days and ever since then those topics are still pertinent then, there's still so much going on in this world, the powers that be, the authoritative figures of education and religion, the government, you just see the blatant lies that are being spewed on the public media, on the television, on the corporate media owned by corporate conglomerates, all pushing their own agenda and you can see it. The blatant lies are part of the opressionist full outright obvious and it pisses me off the feelings of anti-establishment that I had as a teenager and still very pertinent and real in me today, and I see social injustice and it just sucks.
Thankfully you now have a voice to share that with people…
Yeah, and a lot of people feel the same way and I think that's another thing that really draws the audience to Fear Factory, we get a certain type of audience member that I will say that they're a bit more in touch with what's going on in the world and they're really passionate about it and no matter where they come from they understand what we're writing about and they a lot of times I've engaged in a conversation about what's happening in The United States, or what's happening overseas with social issues and it's very office.
Not to mention your upcoming Presidential race probably making it worse…
Stupid. So fuckin' stupid… *laughs*
You just dropped the video for 'Expiration Date', and it's such a killer song too, almost an industrial power ballad, how did you go about writing a song like this that's a little bit different for the band?
On every record we like to end the album with something that can calm the listener, put them in a trance if you will after having been beat with a barrage of beats and riffs of a highly mechanical nature for nearly an hour and we like to bring them down to reflect and almost hypnotise them, so we just really try to get into a mode, when you sit down with your writing and it's hard to say where inspiration comes from for me, but when we sit down and we get together we know what kind of song we want to write and the song must come out, so we just get it out there. People seem to like the video too.
So let's look back, in the twenty three years since your debut album, rather than ask what's changed about the band I want to know what's the one thing you think has stayed the same about Fear Factory in that time?
*laughs* I've been the singer for almost twenty six years…
Besides you…
*laughs* What's stayed the same, I don't know, that's a good question… the band has changed somewhat, our sound has changed, we haven't alienated anybody but our sound has changed in some ways not drastically as we never wanted to alienate our audience, it's a good music… what hasn't changed? The music industry has changed, as individuals we've changed and maybe just the concept of Fear Factory has stayed the same.
You talk about the industry changing and it is a much different place now than it was in the early 90's, what for you had been the most notable change in music and the industry now compared to then?
The onset of the internet changed everything and in some ways good, and in a lot of ways not so good. Album sales have gone down 99%, and that effects concerts as well, luckily people are fans of nostalgia so touring off 'Demanufacture' has helped greatly to bring the audience out, but the music industry is trying to hang in there and the big guns like Warner Brothers and Sony are trying to hold on to whatever they have but even they're losing grasp of the reality that the industry is changing and things need to change… there's copyright laws here in The States that need to change to really help the artist that the large record labels and corporations built their corporations on and everyone is surviving except the artist and that needs to change. It's all about education and people need to be educated about the reality of being an artist in today's world. It's hard, hard working musicians like Fear Factory we have to tour non-stop just so we can continue surviving in a way we want to survive by doing music.
So other than Australia, what are your touring plans looking like for the remainder of the year?
After Australia we're going to south Africa, and Europe, we're doing European festivals in August and after that I have no clue…
Wherever they tell you to go…
Yeah *laughs*
So over your career what's the one thing you've always wanted to do but haven't yet had the chance to do?
Hmm… Live comfortably for a change *laughs* what else? Burton C Bell still has a lot under his sleeve to present to the world, so I got a lot of things coming up that the fans will appreciate I believe. I just did a graphic novel and I want to do another one, I just did a novel, I want to get my photographs out there, so there's still a lot for Burton C Bell to get to happen.
Speaking of photography, you should come down here and shoot Australia…
Oh my gosh you have no idea how much I want to do that. There's so many places I want to go and so many things I want to shoot, there's actually this fantastic documentary called 'Salt' about this fella that went to the salt flats in Australia and he camped out there just by himself in a tent for three months he was out there and living alone, solitary confinement so to speak, but the pictures he took of the sky is just unbelievable, the night time sky and that's what I want to see.
Lastly let's look ahead to the future, so finish this sentence for me. The one thing that Fear Factory want to do in 2016 is?
Start recording a new album!
Already? You're back into it again?
You know, if we start writing and recording in 2016 it will be out by 2017, yeah… You'll get one for sure, man.
Catch Fear Factory on tour!
THURSDAY 2 JUNE – BRISBANE, THE TIVOLI – 18+
Tickets from www.ticketmaster.com.au or Ticketmaster Outlets
FRIDAY 3 JUNE – SYDNEY, UNSW ROUNDHOUSE – 18+
Tickets from www.ticketek.com.au or Ticketek Outlets
SATURDAY 4 JUNE – MELBOURNE, PRINCE OF WALES – 18+
Tickets from www.tickets.destroyalllines.com or Oztix Outlets
TUESDAY 7 JUNE – ADELAIDE, HQ – 18+
Tickets from www.tickets.destroyalllines.com or Oztix Outlets
WEDNESDAY 8 JUNE – PERTH, METROPOLIS FREMANTLE – 18+
Tickets from www.tickets.destroyalllines.com or Oztix Outlets
Presented by Destroy All Lines and Chugg Entertainment
Essential Information
From: Los Angeles, CA, USA
Band members: Burton C Bell – Vocals, Dino Cazares – Guitars, Mike Heller – Drums, Tony Campos – Bass
Website: http://www.fearfactory.com
Latest release: Genexus – (out now- Nuclear Blast)