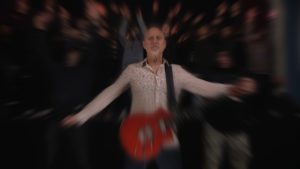 Bob Spencer, songwriter and guitarist for The Angels and Skyhooks, is releasing his new single 'Who Are These People?' on May 13. This is the first single from his highly anticipated album 'Saints and Murderers' due for release later this year.
The track is inspired by, and is a light hearted look at some of the whacky and disturbing things he reads on his Facebook feed. In the rock/pop vein, it is a really catchy tune with a video that suits to a tee!
Bob has funded this project with a crowd funding campaign through Pozible. The journey has been quite an experience for him and it has been quite overwhelming in many ways.
"I've learned a lot, it's been a great experience, and I would do it all again" – Bob Spencer
Bob also supports two charities, whose focus is those suffering from depression and anxiety:- Act For Kids, which helps kids from abusive environments, and, giving back to those who have helped him over the course of his long career, the Australian Road Crew Association, supporting road crew and the families of crew who have taken their own lives. He will be donating money from the amount received over his target amount, which was reached after only two weeks. He will donate 10% before his expenses to these charities.
Check out Bob's socials here:
www.facebook.com/BobSpencerOfficial
Comments
comments