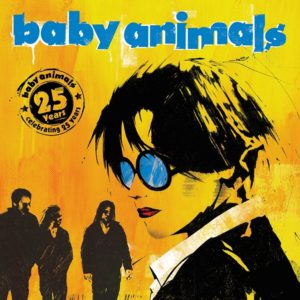 They came blazing out of the radio with the aptly titled 'Early Warning'. "Too young to know," Suze DeMarchi sang. "Too old to listen."
Was it really 25 years ago?
Baby Animals were everywhere in 1991. Twenty-five years later, their self-titled debut album remains one of the greatest Australian debuts of all time and one of the great rock records.
The 25th Anniversary Deluxe Edition features the original classic album, as well as showing Baby Animals in their natural habitat – live on stage, with a concert recorded in Boston when the band was on tour with Van Halen in 1992.
Baby Animals was released in September 1991, the same month as Nirvana's Nevermind. Baby Animals sold 600,000 copies in Australia, keeping Nevermind (which sold 350,000) out of top spot on the Australian charts.
"I look back on that whole time with great affection," Suze says. "It was a really thrilling time for all of us. I always said that Baby Animals was the only band for me, and it really has been the only band for me."
Baby Animals were on the road with Van Halen in America when they discovered the album had topped the Australian charts. "We were backstage, just about to go on, and our manager came up and told us we'd gone to number one in Australia," Suze recalls. "It was an amazing moment."
The album spent six weeks at number one.
Baby Animals was recorded at Bearsville Studios in Woodstock in America, engineered by Kevin 'Caveman' Shirley and produced by the legendary Mike Chapman, an Australian who found fame internationally, working with Suzi Quatro, Blondie, The Knack and The Sweet. "When we found out he wrote 'Ballroom Blitz', we were sold," Dave Leslie said. "We knew he was the guy."
Mike Chapman fondly recalls working with the band. "Suze reminded me of very early Suzi Quatro, that bold female 'I'm the boss' attitude."
Five singles were released from the album: 'Early Warning', 'Rush You', 'Painless', 'One Word' and 'Ain't Gonna Get'.
Baby Animals went eight times platinum in Australia and won three ARIA Awards – Best Album, Best Debut Album and Best Debut Single ('Early Warning'). The album was declared one of the Top 25 albums of 1992 in UK rock bible Kerrang! and the band performed 'Painless' on Late Night with David Letterman.
But the band had little time to celebrate their success. They couldn't even go to the ARIA Awards – they were on the road with Van Halen at the time. "All I really remember is going from country to country and gig to gig," Suze smiles.
Suze laughs when asked what she remembers of the Van Halen tour. "I can't repeat many of the stories. There was a lot of craziness on that tour."
Eddie Van Halen signed the band's tour poster: "Thanks for letting Van Halen close the show!"
Baby Animals is featured in the book The 100 Best Australian Albums, with the entry stating: "Baby Animals exploded on the Australian music scene with a bracing fusion of heavy metal bravura, a touch of glam dynamics and a look and a swagger … it was all perfectly captured in a great debut album … a crunching melange of primal rhythms, spitfire guitars and vocal sass."
The band's manager at the time, John Woodruff, later said his biggest regret was that Baby Animals didn't become global stars. "They were just so close on that first album," John said. "Suze was the biggest star out of everyone I ever had." High praise, indeed, considering that Woody also guided the careers of Savage Garden, The Angels and Diesel.
But Suze has no regrets. "We achieved some great things," she says. "And we've still got more to do."
The band's original line-up – singer/guitarist Suze DeMarchi, guitarist Dave Leslie, bass player Eddie Parise and drummer Frank Celenza – are re-forming to play the album from start to finish at two big shows in Melbourne and Sydney.
Baby Animals
(All shows 18+)
Tickets on sale now

Fri 21 May
Forum Theatre (18+)
Melbourne, VIC
ticketmaster.com.au
136 100
Fri 28 May
Enmore Theatre (18+)
Sydney, NSW
ticketek.com.au
132 849
Baby Animals 25th Anniversary Deluxe Edition tracklist
Rush You
Early Warning
Painless
Make It End
Working For The Enemy
One Word
Break My Heart
Waste Of Time
One Too Many
Ain't Gonna Get
Rush You (Live from Boston)
Somethings Are Better (Live From Boston)
Baby Animals (Live from Boston)
Working For The Enemy (Live from Boston)
Big Boys (Live from Boston)
Smile On My Face (Live from Boston)
Painless (Live from Boston)
One Word (Live from Boston)
Waste Of Time (Live from Boston)
One Too Many (Live from Boston)
Ain't Gonna Get (Live from Boston)
Impossible To Fly (Live from Boston)
Early Warning (Live from Boston)
Fire (Live from Boston)
25th Anniversary Deluxe Edition – Baby Animals
Out May 20 through Liberation Music
Pre-order here