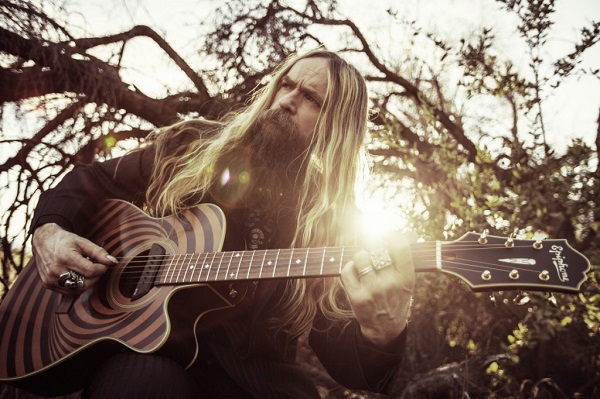 "…it's not like I've been sitting around writing these songs for twenty years, because Black Label's been working for the last twenty years basically, so I'm always making records and I'm always recording. You give me a month, you manage me and say 'Zakk, the fellas are gonna be coming out to The Vatican in about a month' and I'm like alright, well I've got a month to make a record."
From release: Zakk Wylde's powerful pipes, mayhem-inducing charisma, mischievous humor, and instantly recognizable pinch-harmonic driven blues based histrionic guitar shredding have made him the world's most beloved American Guitar Hero, and the fearlessly introspective melancholy and melody of Book of Shadows helped to make its follow-up one of Rolling Stone's Most Anticipated Albums of 2016. As fierce and diverse as his work in BLS and as large as his accomplishments as lead guitarist for Ozzy Osbourne have been, Book of Shadows II offers an even richer look into the spirit and psyche of one of the most beloved pillars of the hard rock community.
With the release of 'Book of Shadows II' we gave Zakk a call who is out on the road with Generation Axe at the moment to chat and have a good laugh with him about the album, why it took twenty years to make, playing with Generation Axe, touring Australia, and much more…
You could say that 'Book of Shadows II' has been twenty years in the making… Why was now the right time for it to see the light of day?
Well you figure 'Chinese Democracy' took fifteen years to make and when we got to sixteen years on 'Book of Shadows II' I figured ahh the hell with it, why don't we just go another four years that'll be twenty years and this way we'll hold the record for most time unemployed between records. The way I look at it is the only one that can go twenty years without making a record, without making any money and be able to pay for the light bills and pay for a pizza would have to be Richard Branson. I figure that's the only guy that could beat this record of twenty years *laughs* that was one of the motivating factors. Also the fact that we did an 'Unblackened' run from New York to L.A. after we've been touring behind 'Catacombs of The Black Vatican' for two years doing the heavy stuff I said man this feels good doing the mellow stuff, since it's the twenty year anniversary why don't we knock out another one of these Book of Shadows records because you know, our Black Label family, everybody's always asked no matter what chapter we're hanging out with around the world and on tour. They're like "Zakk do you think you're ever gonna make another one of those records because I really dig the mellow stuff and it's a cool road trip record" and I was like you know, if I get around to it between changing the diapers, cleaning the dog run, bringing about world peace and then coming up with a cure for herpes, gonorrhoea and the common cold then that's before brunch then we'll see if we can fit it in.
So you haven't been busy at all then?
Yeah *laughs* exactly…
So what was it that inspired the songs that became the album?
Nothin', well for me it's not like I've been sitting around writing these songs for twenty years, because Black Label's been working for the last twenty years basically, so I'm always making records and I'm always recording. You give me a month, you manage me and say 'Zakk, the fellas are gonna be coming out to The Vatican in about a month' and I'm like alright, well I've got a month to make a record. Let me grab a cup of Valhalla Java and get started on that… I've got a month to write a record and the way I always look at it, is like if me and you were digging for dinosaur bones we know they're around here within this two to three mile radius, we'll dig over here today and hopefully we find something, if we don't find anything we'll go out and get something to eat, chill and go and see a movie and then tomorrow we'll start again and hopefully we'll find something over there. We know they're out here it's just a matter of me and you finding them, so I don't get into panic mode… if I told you you had to write a record in a month and I'd be like 'hey how you doin?' you'd be like 'yeah I got two ideas yesterday' and if tomorrow you don't get anything well maybe the next day you wake up and you write three more, who knows? So it's no big deal.
When you look at the first album what for you are the biggest differences you encountered when creating its sequel?
Nothin', to me like you said the bottom line is let's say me and you managed Led Zeppelin after they write 'Stairway To Heaven', after Led Zeppelin IV, you're like oh wow it's great, so when they're going to do the next album I mean obviously we're not telling the fellas what to write, we're just like whatever the side of the bed they wake up that day is whatever mood you're in and you're gonna write. I'd say 'did you hear any of the new stuff' and that would've been 'Houses of the Holy' after Led Zeppelin IV and you're like 'yeah Zakk they've got this song called 'The Rain' song and it's amazing, then they've got this other song called 'The Ocean' which is awesome, and this other thing called 'Over the Hills and Far Away' it's killer' so that's the next batch of tunes. You wonder if they're gonna top this one and all of a sudden they write 'Kashmir' and like wow. If me and you ever managed anybody you can't tell people what to write or tell Salvador Dali what to paint, it's just like whatever side of the bed you wake up on that day I guess that's what we got.
OK I reckon we should get into management, who should we pick up? Who's good at the moment?
Let me see… the whole thing is, whoever we're gonna get it's chess moves, we just have to make sure that they're successful, that's what our job is. We're world leaders, we've gotta make everyone happy and make sure everyone's got enough money so they can actually pay their bills and they've got enough left over so they can buy a toy. Then me and you will go down as the greatest leaders of all time.
So when you go in to make an album like 'Book of Shadows II' do you have to go in with a different mindset than when you make a Black Label album?
No, not at all, even when I'm writing with Oz, I write some cool riffs, that's about it, or write some mellow stuff, whether we're doing 'Momma I'm Coming Home' or doing 'No More Tears' or 'Miracle Man' or anything, you know 'Perry Mason', Oz would go "what you got Zakk?" I'd say "Here you go, Oz, here's a riff" and he'd say keep playing let me sing something on it. That's about it.  I think that's the beautiful thing about music you just go in and it's a box of Cracker Jacks, you don't know what you're gonna get until you get to the bottom of it and that's the joy of it.
I have to say the joy of it was listening to the new record, it's just so chilled and so easy to listen to, so thank you…
I appreciate it, brother, yeah like I said it's just like a cool road trip record. Put it this way when we'd be touring back in the day with Oz or Black Label we'd be sitting in the front of the submarine and I'd be making you whether you're drinking Jack and Coke or a beer I'd be making you a cocktail in a high ball and we'd be sitting up the front listening to Van Morrison, The Band, The Eagles, Elton John, Percy Sledge, Sam Cooke, you know all this cool mellow stuff, Crowded House, whatever, and just solving the problems of the world and it's just all the mellow stuff. So the mentality was to just make a cool road trip record.
We have of course seen you here with Black Label and the love for you and that band is something you have to witness to believe, do you think we maybe see you back here as just you to play the Book of Shadows albums for us?
Hopefully, the tour starts right when we get done with the Generation Axe tour we're gonna head out on the road pretty soon after that, so yeah without a doubt. We're going over to Europe and then hopefully we'll go down to Australia to see the Australian Chapter, the Canadian chapter, you know, round the whole world, why not?
I don't know what it is but there is just such passion for you and your music, what do you think it is that just draws people in?
Well I think it's payola, cocaine and strippers and it seems to be working *laughs* and they say payola's not alive and well… you pay everyone to enjoy it. *laughs*
I have to ask about Generation Axe, how did you get to become involved with it and what can we expect from Generation Axe moving forward?
I ran into Steve in a back alley and he put a gun up against my head and said "Dude I will kill you if you don't" and I said it really doesn't have to come down to that, then he kneed me in the balls and then I said I'll see you on Tuesday… so that's pretty much it *laughs*. No, so Father Steve just called me, this is his brain child, he said Zakk I want to round up some of the fellas and then we'll all go out and have a good time. I said no problem count me in, man. It's been a blast, aside from hearing everyone kill it every night, the stories and the comedy about the music business in general is just awesome, it's a constant laugh fest, but it's been a great time, man. We've known all the guys, well I've never met Tosin before, but I've known pretty much everybody that's on it we've known each other for years so it's definitely it's an ass kickin' time. *Nuno Bettencourt takes the phone* and I do believe he is the best guitar player on this tour… after me *laughs*… *back to Zakk* That was Nuno *laughs*
Australians love the instrumental stuff like G3, are there plans to bring something like Generation Axe down here?
Actually I was talking to Father Steve about that, you know maybe going to Europe and down to Australia, New Zealand, Canada, you know basically taking it on tour around the world. That would be great man, for sure.
Who do you consider the next up and comer in the guitar world?
Well I mean Tosin is out here killing it every night, he's amazing. No, there's the guys in Avenged Sevenfold I know it's not a new band, but those guys are the torch bearers for inspiring all the younger kids which I think is a beautiful thing. So you keep the bloodline alive and well for sure.
You're a busy man, it seems like you never stop but what does Zakk Wylde like to do in his downtime?
Like a vacation for me is actually going home *laughs* but I love travelling, like if we're in New York, 'The Immortal Beloved' will come out and we have a blast, so it's constant vacation and you can bring everyone out, like where other kids only see it in a book you can bring your kids out whether you're going to Paris or London, or Canada or Australia or whatever. People can see pictures of Australia and you take your kids there and they can say, yeah, I was there, so I mean I'm blessed in that regard, I'm definitely fortunate, and I love it. I've got some buddies of mine that don't like to tour anymore, guys that I started back with Oz back in '87 – '88 and they're like 'Nah Zakk I really got tired of it' but I still love it, so to me it never gets old.
Other side of that is that as you said you've been doing this a long time, but is there anything you want to do or somewhere you want to go that you haven't yet gotten the chance to?
Well no, I'm blessed, right now I started Wylde Audio and I've got my paper route and mowing lawns with my own music company and now I'm cleaning pools, so it's just another job which I love doing. To me it's not work and I always tell kids who as can you give me any advice? I say well who wants to have a crummy job? You love playing music right? And they say 'yeah that's what I want to do with my life' and I say well make the band your job. Everything should be the band if you're not practicing you should be doing something in regard to the band whether it's the artwork, the T-shirts, promoting the band, trying to figure out how you're going to book a tour, it should all be revolved around music and the band if that's what you want to do with the rest of your life. I mean if me and you were going to open a pub or a restaurant we'd start with the one and then we'd build from there, but it's all based around our job which is that restaurant and making sure it's awesome, then we'd shape up and start another one, then another one, then another one, so it's always revolved around us being successful.
So if it's taken twenty years for your second Book of Shadows album, does that mean we have to wait another five years for Steel Dragon to get back together for a sequel to Rock Star? 
*laughs* Yeah maybe… maybe that's what it would have to be… *laughs* Fuckin' A.
Maybe, make it six, then you've got twenty one and beaten this record…
*laughs* Yeah exactly…
Lastly let's grab the crystal ball and look ahead to the future so finish this sentence for me. The one thing Zakk Wylde wants to do in 2016 is…
Let's see… I don't know I'm doing everything that I want to do… I can't think of anything, I'm out here doing Generation Axe with Father Steve, Nuno, Yngwie and Father Tosin which is awesome every night. Then after that I guess we start the 'Book of Shadows' tour, and then I don't know, maybe get a footsy rub from the wife… oh who am I kidding that's never gonna happen *laughs* so anyways… *laughs*
You make it sound like there's more chance of a new Steel Dragon record…
*laughs* Yeah exactly… we could do that…
Zakk, it's always a pleasure, so thanks again for your time…
Alright brother, great talking to you, talk to you in a bit.
Essential Information
From: USA
Band Members: Zakk Wylde
Website: http://www.zakkwylde.com
Latest Release: Book of Shadows II (Out Now – eOne)