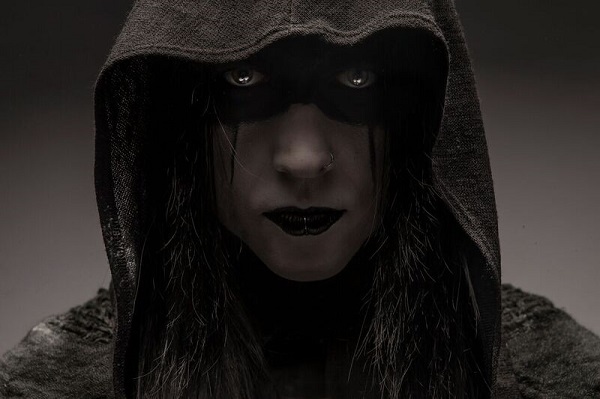 "I think it'll just get a little more ugly this time, we'll get a little more dirty, a little louder and heavier this time. So yeah, it's gonna be fun, it's been two years since we've been there and we're super stoked to be coming back."
From Release: WEDNESDAY 13 has firmly cemented himself as the undisputed leader in Horrorpunk. With a vivid and vile imagination that has endeared him to countless fans of riff-driven macabre over the last two decades, WEDNESDAY 13 has been one of rock's most prolific protagonists, spreading his credo of grave-robbing rock 'n' roll and Hallowe'en debauchery around the globe and unleashing a seemingly endless stream of blood-spattered albums and EPs. WEDNESDAY 13 will be bringing his gore-filled, ghoul-fest, sleazy live shows to Australia in April and will leave fans begging for more! His live shows have reached epic proportions
In LA, we gave our old mate Wednesday 13 a call to talk about the upcoming Australian tour, his love of our fine country, new music, videos and much more…
You're headed back to Australia to see us again, what can we expect in the way of a show on this run of shows?
Oh, I mean every time we tour with a new record we kind of change it up a bit, we don't have a huge production or anything so we pretty much are the show, I think it'll just get a little more ugly this time, we'll get a little more dirty, a little louder and heavier this time. So yeah, it's gonna be fun, it's been two years since we've been there and we're super stoked to be coming back.
You've always had a great reception in Australia, what do you think it is about us down here that gets and loves what you do?
I don't know, I wish I knew the secret because I would tell everybody else around the world *laughs* but Australia is amazing for us, it's probably my favourite place to tour and it's just our biggest reception next to The UK, maybe even bigger than The UK, especially over the last couple of years. I don't know, but I'm not going to complain, I love it and I want some more of it.
'Monsters of the Universe' has been out for a year now, how has the last year been for you since its release?
It's been great, man. You know it was a really different record and I didn't know how the fans were going to respond to it, I love the record and I was really happy with it, but again I know it was a different record, I called it a concept record so it was kind of a little bit out of the box from my normal campy, spooky kind of horror lyrics, and I wasn't sure how the reaction was going to be, but I knew it was a strong record and I was kind of hoping that people would dig it as much as I did. Then it came out and it got great reviews all over the place, the fans loved it and they compared it to my first album 'Transylvania…' as far as one of their favourites since then. That's good, I feel like I hit a home run with it, and the songs translate well live and we'll be playing a whole chunk of this record live on the Australian tour. Yeah, it's a lot of fun, it was a really fun record to make and it's really fun to play.
Other than the Aussie tour, you're about to head out and do an acoustic run in the UK. With the new album out, have you had a chance to rework any of these newer songs into their acoustic versions?
Yeah there's a couple that kind of work in new music form, some of them just don't and that's kind of my joke when I do an acoustic tour I'm like "some of these songs work and some of these songs don't, so I'll show you the ones that work and I'll show you the ones that don't" we'll actually play a couple of bars and say "see how stupid that sounds?" *laughs* we can't do that… So there's a few we can pick out for that, but yeah the acoustic thing is a lot of fun for me too, I can just step back and play the songs simply and tell stories and it's a cool little campfire ordeal.
Have you ever thought about doing that down here?
I would love to, as far as like this tour getting the three dates and as soon as that happened people started complaining 'oh you're not coming to Adelaide, you're not coming to Perth, motherfucker what are you doing?' and I would love to spend a month there, I would love to come back next time and do an acoustic run and maybe that's something we can do and I'll talk to promoters to bring us down and maybe we can do it. You don't have to twist my arm to get me to come to Australia.
You never seem to stop working, have you got anything in the pipeline you're working on at the moment?
We have a bunch of tours coming up, we've got some US dates, that keeps us busy up until June, then we're spending June, July and August writing the follow up to 'Monsters' then we're going back out in September, October and November and touring again, so I'll a new album out at the start of the year and start the touring cycle all over again and that's just pretty much what it is. So, been busy busy but we're gonna spend three months writing and recording this record, we've got a lot written for it so we're just gotta spend a lot of time in the summer instead of touring just working on it to get it finished.
I know we've talked in the past about the prospect of movies and the visual aspect of you as an artist. Can we expect more in the way of this from you?
Yeah I would love to it's just the matter of money and getting all that stuff done, I usually get most of my money back from touring and merchandise and I pretty much do all of that myself, I'm not a label, I don't have a manager anymore, I do everything myself. I only have a booking agent and promoter to help me get tours so I would love to do a video where it's just full on crazy and over the top, but they cost a fair bit of money. I live in LA now and I've made a whole lot of friends and connections so I'm hoping that can help as far as the videos go, I haven't done a video in quite some time, so that's definitely on my list of things to get done, it needs to happen.
You've also been doing this for over twenty years, and the industry and music is in a much different place now, what for you has been the biggest and most notable change you've witnessed over the last twenty years?
So many to name I don't even know where to start… I mean when I first started Murderdolls as far as touring around the world it was sort of the death of Nu-Metal so I've seen a bunch of different styles come and go and things like that. I don't know, it's definitely an ever changing landscape as far as sounds and just people and I'm just glad that I've survived sort of the atomic bomb of the rock bands because a lot of bands were around when I first started now aren't even around anymore, so I think I've been that cockroach that survived the atomic bomb just survived it all and lived to tell the story so far.
Other side of that, what's the one thing you want to do as an artist that you haven't yet had the opportunity to do?
Make a movie, that's the one thing that's on my bucket list that I have to do, and not just make a movie, make a cool movie and do it right and not do it half-assed and spend as much time on it as I would an album or something. So that's something on my list to do, it won't be anytime soon but it's definitely on the list.
So, I just turned forty and I know you do this year too, are you freaking out about it as much as I am?
Oh yeah it fuckin' sucks, I don't like it, I;m not happy about it, I don't realise I was turning forty until somebody brought it up in an interview last year and I was like " WHAT? I am not turning forty, I'll be thirty nine…" then I realised, dude, you're turning forty… so yeah, I've got about five more months until I'm forty, so I'm not very happy about it but I'm trying to find ways to look at it where it doesn't bother me. So hopefully when it gets there I won't be as freaking out about it as I am now.
Lastly let's look ahead to the future. Finish this sentence for me. The one thing Wednesday 13 wants to do in 2016 is…
Sleep… I'd like to have a good night's sleep for one night… it's one thing I don't really do is rest.
Well it's a long flight over, you can sleep then…
Oh yeah, I'll be passed out.
You can catch Wednesday 13 on tour in Australia at the following dates:

Thursday April 14 Melbourne, Corner Hotel 18+
Friday April 15 Brisbane, The Brightside 18+
Saturday April 16 Sydney, Factory Theatre 18+
Tickets available from tickets.destroyalllines.com
Presented by Destroy All Lines and Chugg Entertainment
Essential Information
From: Hollywood, CA, USA
Band Members: Wednesday 13
Website: http://www.officialwednesday13.com
Latest Release: Monsters Of The Universe (Out Now)