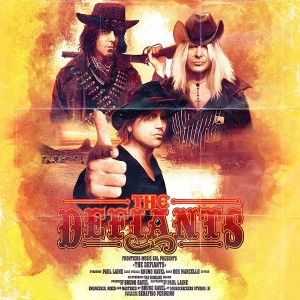 It's not often I get to the end of an album and audibly say 'Wow' when I'm the only one here, but I just finished my first listen through The Defiants album and let me tell you why that 'Wow' happened and why you can expect to do exactly the same thing as well when you get through these twelve tracks of absolutely amazing melodic rock goodness.
The coming together of old Danger Danger band mates Paul Laine, Bruno Ravel and Rob Marcello are the machine behind this and to hear them back together again and not even just that, to make an album of this calibre is something else. After an intro piece we get straight into 'Love and Bullets' and with a hook like that you may as well bring ALL the fish home as you're gonna catch them all. THIS is the kind of music the world needs, that the majority of the world is oblivious to and that needs to change, I don't know why the world can't embrace this kind of music all round? It confuses me, BUT for those that do hear it and do understand it they are the lucky ones that get to appreciate a piece of art and this certainly is just that. 'When The Lights Go Down' is a big rocker, with an even bigger gang vocal chorus makes this one stand out, and the breakdown before the final chorus is a great arrangement and allows Rob to show off a little, man, that cat can play, and this one just gets better with a fade out, I love those.
'Waiting On A Heartbreak' sounds like it should be a big ballad, or am I just confusing it with Winger? I kid, I like Winger, but this one is no ballad, it's in fact a really well produced rocker, the guitar tone in this one as it chunks through the verses is perfect leading into once again a killer solo. Then with a solo outro being something I've always been a fan of and this one does it well making this track a stand out for sure. A count in for 'Runaway' and this is already my favourite song on the album, the instant groove it hits with the piano and finger clicks taking the lead before the musical onslaught kicks in with a chorus you instantly start singing along with, it may be simple but holy shit, it's so good and just makes you enjoy it, I challenge you to not like it, I seriously do, whoa oh oh oh oh, sorry just had to join in. Oh shit, no you didn't… middle 8 for the win!! 'Lil Miss Rock 'n' Roll' is another catchy little ditty and I did enjoy the naughty naughty thrown in for a bit of a D2 reference. Sometimes I wish people could see me doing these reviews, I'm sitting here tapping my foot as my head is nodding along to the beat, this is by far not a chore to listen to! We go from the fun tap along of 'Lil Miss Rock 'n' Roll' to the fast paced 'The Last Kiss' which for me sounds most like it could've come straight off of one of Laine's Danger Danger albums so that should give you an idea of what it sounds like.
'Save Me Tonight' is the first slower track from the album and what it has it a big power ballad type chorus and I'm ok with that, you should all know if you're a reader of the site of my love of a big ballad and this one delivers nicely. Hey bands everywhere, write more ballads please! If you've been up to date on all things happening in The Defiants camp you may have heard this next track already, the big 'Take Me Back' and all its melodic glory, and I love this one lyrically too, just a damn fun song and the title tells you what it's about, throw yourself back into the world, remember how it was and live it again and this mother fucker has a key change!! Guys, at least buy me dinner first before you bring out the big guns! I'm a happy camper with this one, it's now my favourite on the record as it just ticks all the boxes. The rock never stops as 'We All Fall Down' and its bitchin' bridge take the prize for this one, as it rocks its way through the solo outro and perfect rock formula I grew up with, I guess maybe that's why I'm absolutely loving this as it's taking me back to a place I loved and still love, yeah that's it.
Sadly there are only two more tracks left on the album, the first being 'That's When I'll Stop Loving You' and the second ballad on the album and it's as good if not better than the last, and once again Bruno who's on producer duties has done an amazing job on this one that clocks in just under seven minutes, and seven minutes that doesn't drag as you get into the song, and before you know it we're headstrong into 'Underneath The Stars' to close out the album, and what a way to go out, remember those hooks from the opener, well they obviously kept some aside as this one is outstanding, you know what? THIS one, the final track on the album is actually now my favourite, and that's testament to a band that has made a collectively perfect record. Go on, tell me when track twelve is your favourite on any album… that's right, it's damn near impossible.
So yeah, I feel my 'Wow' from the start of the review was warranted, as I just got to listen to what actually could be the best album I listen to all year and it's only April. Thank you to The Defiants for creating an album this good, and an album that will make people truly enjoy what music is all about, great songs, amazing musicianship and a sound that just makes you so damn happy.
Essential Information
From: USA
Release date: 15 April 2016
Produced By: Bruno Ravel
Record label: Frontiers Records
Website: Official Facebook Page
Track Listing:
Intro (Carillon's Theme)
Love And Bullets
When The Lights Go Down
Waiting On A Heartbreak
Runaway
Lil' Miss Rock 'n' Roll
The Last Kiss
Save Me Tonight
Take Me Back
We All Fall Down
That's When I'll Stop Loving You
Underneath The Stars