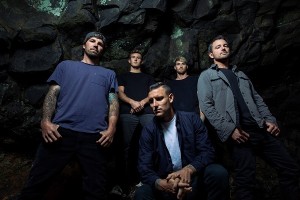 Parkway Drive
gave fans the chance to name their Australian East Coast Regional tour, so why the fans? Winston says,
"Honestly, we we're just kind of stuck for names. We could have called it anything, but we figured if that was the case we may as well let our fans throw some names at us."
After sifting through hundreds of entries and hours of deliberating, the guys hand picked All Aussie Adventure Tour by Justin Fimmel as the winner. "We had so many great entries. Many hours of laughs, which was what we were hoping for. We ended up going with "All Aussie Adventure" because it fit the tour for all the bands playing, Parkway, Make Them Suffer and the local bands at every stop. Plus we all love Russell Coight so that gave the entry the winning edge." says Winston
The All Aussie Adventure Tour kicks off on Wednesday 15 June starting in Cairns and makes its way down the East Coast hitting towns such as Townsville, Toowoomba, Sunshine Coast through to Bateau Bay, Wollongong, Albury and towns in between wrapping up the tour on Sunday 3 July in Frankston.
Winston says the band can't wait to get back on the road and revisit all the places they haven't seen in a long time. "The last time we did a regional run was over three years ago I think, which is far too long. We're stoked to be finally coming back to these towns that we haven't seen in so long. We have amazing memories of many, many, many wild shows, plus its always great to see how things have grown and changed with time and see the local musical talent that has sprung up since we've been away."  
Tickets are on sale Wednesday 13 April so grab yourself a ticket and head down to a show near you.
PARKWAY DRIVE
ALL AUSSIE ADVENTURE TOUR
JUNE/JULY 2016
TICKETS ON SALE FRIDAY 15 APRIL
WEDNESDAY 15 JUNE – BROTHERS, CAIRNS (ALL AGES)
Tickets available from
www.brotherscairns.com.au
THURSDAY 16 JUNE – THE VENUE, TOWNSVILLE (ALL AGES)
Tickets available from Moshtix outlets and www.moshtix.com.au
FRIDAY 17 JUNE – LAKE KAWANA, SUNSHINE COAST (ALL AGES)
Tickets available from www.scvenuesandevents.com.au
SATURDAY 18 JUNE – POWERHOUSE, TOOWOOMBA (ALL AGES)
Tickets available from Oztix outlets and www.oztix.com.au
SUNDAY 19 JUNE – CONVENTION AND EXHIBITION CENTRE, GOLD COAST (ALL AGES)
Tickets available from Ticketek and ticketek.com.au
THURSDAY 23 JUNE – PCYC, BATEAU BAY (ALL AGES)
Tickets available from Oztix outlets and www.oztix.com.au
FRIDAY 24 JUNE – PANTHERS, PENRITH (ALL AGES)
Tickets available from Ticketek and ticketek.com.au
SATURDAY 25 JUNE – WOLLONGONG UNI, WOLLONGONG (ALL AGES)
Tickets available from Moshtix outlets and www.moshtix.com.au
SUNDAY 26 JUNE – ENTERTAINMENT CENTRE, SUTHERLAND (ALL AGES)
Tickets available from the venue and www.sutherlandshire.nsw.gov.au/Community/Entertainment-Centre
THURSDAY 30 JUNE – THE CUBE, ALBURY (ALL AGES)
Tickets available from www.thecubewodonga.com.au
FRIDAY 1 JULY- BENDIGO STADIUM, BENDIGO (ALL AGES)
Tickets available from Oztix outlets and www.oztix.com.au
SATURDAY 2 JULY – THE ARENA, GEELONG (ALL AGES)
Tickets available from Ticketek and ticketek.com.au
SUNDAY 3 JULY – CHELSEA HEIGHTS, FRANKSTON (18+)
Tickets available from Moshtix outlets and www.moshtix.com.au