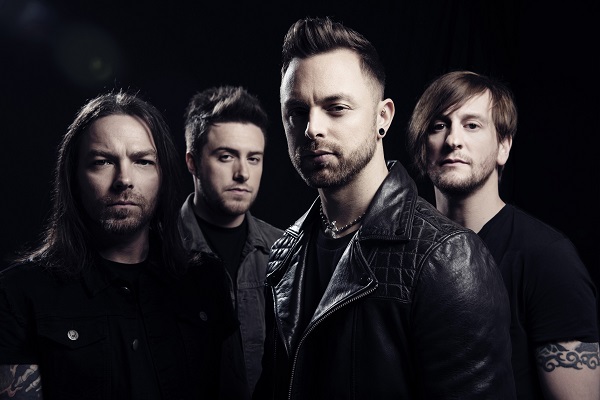 "We've never wanted to be a band that just is what it is, we've always thrived to be the biggest band in the world, and that's a very big statement to have *laughs* and a big goal to try and achieve that and I think we've done incredibly well in having that ambition that served us so well…"
From Release:  BULLET FOR MY VALENTINE will bring their world renowned slam dunk  live show to Australia once again this October. Fresh from destroying stages on the US Warped Tour, the Welsh metal quartet will still be riding high off the success of their 2015 Australian #1, fifth LP 'Venom'. These masters of metal have spent the last decade wearing their classic metal influences on their sleeve with pride and doing their predecessors proud with headline level sets at huge festivals like Download and Soundwave, and a slew of Kerrang! and Metal Hammer Golden Gods Awards.
At home in London on a bit of downtime, Matt gave us a call to discuss the upcoming Australian tour, new labels, new music, evolution and much more…
We're here because you're heading back to Australia to see us this October, what kind of mayhem can we expect from you guys on this run?
Oh pure mayhem, we're coming to fuck shit up *laughs* we haven't been there for so long and everything has always been against us for the last four years to get over there to do a headline tour so we're super excited. Coming off the back of a number one record as well is an amazing thing, so yeah, we're just super excited, it's been long overdue and we just can't wait to get it on.
You've got Atreyu and Cane Hill coming along for the ride, have you guys spent much time touring with either band before?
Atreyu yeah, we've done a lot of stuff in the past with those guys before they went on hiatus, we've toured America with them, The UK, we've done Australia and New Zealand with them as well with Avenged Sevenfold I think it was 2007, so we know those guys very, very well we've done a lot of touring with them and kind of came up through the ranks at the same time their debut album was out, so yeah, looking forward to getting back on stage with those guys. Cane Hill, no, they're a new band we've never seen them live, I've heard a lot of really good things about them and we're actually taking them out on tour in about two weeks for the second part of our US tour. So by the time we hit Australia we should have a good rapport and good relationship and should be nice.
You've always killed it down here, what do you think it is that people down here love about Bullet For My Valentine?
I think it comes down to the music, we've always had a very loyal hardcore fan base around the world and Australia thankfully has been the same, so ultimately I think we just do something right with what we do as a band and the songs we write just connect with a lot of people, so it's a place that we've loved coming in the past and for many reasons we haven't been able to do shows there for three or so years and with Soundwave going and then not having it all come together because of scheduling in 2013 it's something that we feel bad for but thankfully we've managed to get some availability on dates and venues because I think as soon as Soundwave went everyone had exactly the same idea *laughs* to do their own stuff. So it's been a bit of a challenge to get some availability but we're on our way, it's happening, we can't wait, and it's going to be a lot of fun.
Other than the shows, what's your favourite thing to do in Australia?
Just having down time and just hanging out and going site seeing and chilling out on the beaches, it's just a really nice place to be especially when you have a day off there. There's just so much to do and especially the nature side, I'm an animal lover and a nature lover so we love going to the zoo and going out on bikes, the last time we came we took Harleys and did a day riding down the coast. It's just a nice place to be and it's still one of my favourite places in the world, so we're very excited to come back and do the shows but also excited for a little down time as well.
'Venom' has been out since mid-last year, how has the cycle been so far for you?
It's amazing, it's been super intense we haven't really had any time off. We had about six weeks from the end of November until mid-January, and even before Venom came out we were on tour with Slipknot in the States and since then it hasn't stopped. We went to Japan and we're going to Japan again on the weekend, we just came back from a month tour in The States and Canada, we're going to Russia, all around Europe, back to Australia… it's just mental. It's just been a massive success and thankfully helped us have a heavy touring schedule for the next eighteen months, so it's been brilliant.
Five albums in, what do you see as the biggest evolution that's taken place within the band over this time from the first album to where you are now?
The biggest evolution would be the performance side, the live side you know? We've worked very hard on it for years now to be the best we could be and I think the Bullet from 2004 to now is a completely different animal, now we're really, really proud of what we've become as a live band and that's taken a long time to get there but obviously the more we've done it the better we've become, and the better the band has become the better the performances have become, so for me that's the biggest evolution of the band, it's the live side.
You've also just joined a new label in Search and Destroy / Spinefarm / Caroline here, can you tell us about how that came about and what that means to the band…
Yeah, it came about, Venom was the last album with Sony so we had the first opportunity to get a new deal really, so the last six months we'd been going back and forth with many different labels and sorting out what we want as a band and letting people that love the band pitch to us and we had a lot of big hitters on the table but Spinefarm seemed to be the best fit, and seemed to want the band more than anyone and that was really important for us. We wanted someone to take on the band and we've done all the hard work, so what we wanted them to do was take us to the next level, you don't need to break the band you know, it was more just them to have the band and love the band and do the best they can for us rather than anything financially or anything. So Spinefarm easily had the best pitch, they came up with the best deal and they wanted us more than anyone else so it just felt like it was the right thing to do.
Has work begun on new material for a follow up to 'Venom'?
No, we haven't really had an opportunity to get stuck into anything new, like I said the touring schedule has been relentless and it is until December. So we're always writing stuff on the road and we try and capture as many ideas and riffs and stuff as possible, but I think the touring stuff, the live side and the band's downtime we try and keep those three things very separate from each other as things can get very mushy otherwise. We just like to keep the writing side, when the touring's done that's when we'll think of a new record.
In the eleven or so years since 'The Poison', it's easy to say what's changed in that time, but what would you say is the one thing that's stayed the same throughout your time in the band?
I think everyone's attitude of how they want to be in the band, just wanting to be the best band that we can be. We've never wanted to be a band that just is what it is, we've always thrived to be the biggest band in the world, and that's a very big statement to have *laughs* and a big goal to try and achieve that and I think we've done incredibly well in having that ambition that served us so well, you know we're never satisfied with anything, we always want bigger and better and above and I think that's the one thing that has never changed, that ambition to be the biggest band that we can be.
So after playing music now for close to twenty years, what's the main thing you take from the experience of making and playing music?
To just love what we do and just be happy with what we do, it's very easy to listen to other people's opinions, but the one thing we've learned as the albums have gone on is that we have to make ourselves happy, we have to be selfish in that way because we're the ones that have to stand by it and fight for it should anyone kind of feel otherwise. As soon as you start writing for the wrong reasons it just kind of becomes not selling out but it just doesn't feel real anymore, nothing you can genuinely be proud of and that's something we've learnt as our records have gone on, is to just make ourselves happy before anyone else because at least if that goes tits up at least our heads can be high as we did what we wanted to do and how we wanted to do it basically.
'Venom' was such a big album for you guys, has that allowed you to tour territories you'd never been to?
Not really, it's just finding that time in the schedule to go somewhere new, it's harder than it sounds, we've become a global band anyway so we've kind of been famous everywhere so to find somewhere new is actually kind of hard *laughs* and it just feels like that we have to prioritize certain places over others which sounds bad, but that's just the way you have to do things when you're in a band you know? I don't know, we've never been to India, that's always something that's come up in conversation with the boys of somewhere we'd like to go, so India would on the wish list if there was one place to go, but again trying to find free spots in the calendar is difficult, really, really difficult and it has to make sense business wise as well which is really boring, but there's no point going there unless it pays for itself you know? Again, trying to make a tour work financially is a lot more difficult than it sounds as well.
It's not really a bad problem to have when you have pretty much been everywhere…
No we've been super lucky, we've worked our balls off to be where we are today, so we're very comfortable where we're at and we're very comfortable with what we've achieved and should these other places get thrown into the mix, that'd be great as well, we're always up for going somewhere new, like you said we've pretty much hit up everywhere we wanted to go and everywhere that wants us to be, so we're doing alright.
Lastly, let's look ahead to the future, finish this sentence for me, the one thing that Bullet For My Valentine want to do in 2016 is…
*laughs* oh gosh… well I kind of know everything that's happening in 2016, so the one thing that I wish would happen is that we headline a major European festival main stage, I think that would be the icing on the cake for any band ever, not just a metal band, so yeah that would be it.
Well we're looking forward to seeing you guys back here, so safe travels and see you in October…
Yeah we can't wait to come back, it's been a long time so we're super excited we just can't wait to get on the plane now.

Catch BULLET FOR MY VALENTINE, ATREYU + CANE HILL on their Australian Tour 2016
Tickets on sale 9am local time Mon Apr 18
THURSDAY 20th OCTOBER – Metro City, Perth (18+)
FRIDAY 21st OCTOBER – HQ, Adelaide (18+)
TUESDAY 25th OCTOBER – 170 Russell, Melbourne (18+)
THURSDAY 27th OCTOBER – Big Top, Sydney (Lic A/A)
FRIDAY 28th OCTOBER – Eatons Hill, Brisbane (Lic A/A)
Presented by triple j's The Racket and Destroy All Lines & Chugg Entertainment….
Essential Information
From: Bridgend, Wales
Band members: Matthew "Matt" Tuck – vocals, guitars Michael "Padge" Paget – guitars, Michael "Moose" Thomas – drums, Jamie Mathias – bass, vocals
Website:  http://www.bulletformyvalentine.com
Latest release: Venom – (out now – Sony Music Australia)