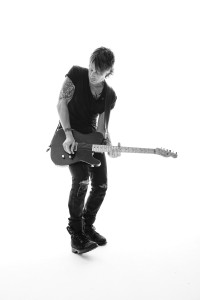 Multi-Grammy and ARIA Award winning artist Keith Urban, who will release his eighth studio album RIPCORD on May 6th, has announced that he will be bringing his "ripCORD World Tour 2016", home to Australia this December. The tour, which will feature the 7-time Grammy-award winning, multi-platinum superstar Carrie Underwood, will no doubt send Keith's legion of fans here into a frenzy. Keith, whose concerts are always a non-stop, electrifying roller-coaster ride featuring world class production and a set-list jammed with all of his biggest hits, is known as one of the industry's best live performers. In fact, it was following Keith's 2014 tour, when he picked up the ARIA Award for Best Live Act.
"The last time we brought our tour to Australia the energy level was off the hook – unlike anything that we'd ever seen before," said Urban. "And I can tell you now, that the music on this album RIPCORD, is born of and made for playing live. It's gonna go to a whole other level and I can't wait to get it airborne!!"
The "ripCORD World Tour 2016" kicks off in the US on June 2nd and will see Keith showcasing songs from his new studio album RIPCORD, including his US No. 1, "Break On Me", the new single "Wasted Time" and an extensive repertoire of hits such as "Days Go By", "Somebody Like You", "Making Memories Of Us", "Long Hot Summer", and "Without You".
Keith's eighth studio album RIPCORD is a 13-track, heartfelt collection of songs, including "The Fighter", featuring Underwood, is the result of collaborations with an eclectic group of Award-winning writers and co-producers. They include Jeff Bhasker, busbee, Greg Wells and Nile Rodgers, as well as long-time collaborators Shane McAnally, Ross Cooperman, Dann Huff and Nathan Chapman, all of whom worked with Urban on his previous No. 1 album FUSE.
Joining Keith on the Australian leg of his "ripCORD World Tour 2016" will be chart-topping US singer, songwriter, Carrie Underwood. Currently on her highly successful arena tour in North America, Carrie has sold 20 million albums worldwide. This tour will be Carrie's third trip to Australia, having been here before for extensive album promotion in 2011 and again in 2012 when she also took her "Blown Away" Tour to Melbourne, Tamworth, Brisbane, and Sydney — wrapping with 2 sold-out nights at the iconic Sydney Opera House.
KEITH URBAN'S "ripCORD WORLD TOUR 2016" AUSTRALIAN TOUR DATES:
Tuesday December 6th Adelaide – Entertainment Centre
Thursday December 8th Melbourne – Rod Laver Arena
Saturday December 10th Canberra – GIO Stadium
Monday December 12th Sydney – Allphones Arena
Friday December 16th Brisbane – Entertainment Centre
Saturday December 17th Brisbane – Entertainment Centre
TICKETING INFORMATION:
The Telstra Thanks PRE-SALE, for Telstra customers starts 2pm Tuesday 12th April. Head to www.telstra.com/music for more details on how to purchase.
Tickets will be available to the general public at www.ticketek.com.au from 2pm, Friday 15th April.
For all official Keith Urban news and ticket information, go to www.keithurban.net.
ABOUT TEG LIVE:
TEG Live is wholly owned by TEG Pty Limited, Australia's leading integrated live entertainment solutions company with extensive capabilities in ticketing, digital, data and the promotion of live sport and entertainment events. TEG Live has been designed to enhance the quality of the Australian live entertainment and events industry through the development and commercialisation of live content across all entertainment genres. TEG Live's core service includes touring, exhibitions, brand partnerships, sponsorship and corporate hospitality, event management and consulting.