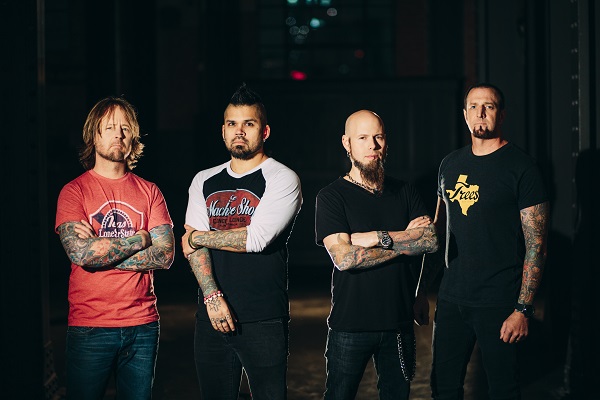 "It's not as if the band lost Dave, the world lost Dave and Drowning Pool fans lost Dave and I think through that tragedy people were brought together and that created a lasting relationship and I think it's all testament and all due to the fans continuing loyalty and support that Drowning Pool continues to be able do anything…"
From release: Drowning Pool burst onto the hard rock scene 15 years ago with their platinum selling debut album 'Sinner' and remain to be relevant. Heading to Australia to support their critically acclaimed new material 'Hellelujah' this is the album their diehard fans demanded and the aggressive heavy rock world at large deserved. Reenergized with the addition of fierce front man Jasen Moreno, proudly amongst the soul of Drowning Pool original members CJ Pierce, Stevie Benton and Mike Luce; this is a rebranded monster ready with teeth bared heading straight for the jugular!
At home in Dallas we gave Jasen a call to talk about the upcoming return of Drowning Pool to Australia, their new album 'Hallelujah', the loyalty of the band's fans and much more…
This is the band's first headlining Australian tour; what can fans expect from a headline Drowning Pool set?
All the hits, a lot of new material, a lot of smiles, a lot of sweat, a lot of energy, a lot of passion and a lot of fun. No half measures, we go for it.
Obviously 'Bodies' is a crowd favourite, but what's the one track that you get to sing up on stage that means the most to you?
Oh 'Bodies' for sure, I remember hearing 'Bodies' before the guys were signed back here in Dallas, I was local, they were local, and I've known the guys for such a long time, so 'Bodies' it's the way that I get to pay my respect to Dave and it never fails to amaze me the reaction that it elicits and I'm serious now, I never get tired of that. We've got to make a big deal about that song obviously, so we build it up and make sure that people know what's about to happen and when it finally kicks in and everything explodes it's an amazing thing to witness. That's by far the one song that I feel very grateful to be singing.
It's been a long time between visits for the band, but have you ever been down to Australia before?
No *laughs* I have not, I can't wait to come. Obviously it's a very popular destination for people wanting to travel and I'm no different in that sense but there's an added incentive when you hear the guys talk about their time in Australia and the one time that they went it made such an impression that they've been wanting to get back all this time. So I'm really looking forward to it. To hear them talking about it, they've been wanting to get back since they left, CJ in particular wanted to stay, he didn't want to go home he wanted to move there.
 'Hallelujah' is your second album with the band, after 'Resilience' and being out on the road for the cycle, was it easier to go back in to make this new album?
Yeah in a lot of ways, you know I was pretty green when I came in and we did 'Resilience' and it's not necessarily a bad thing and it's not like I'm not proud of 'Resilience' I just think 'Hallelujah' was a lot closer to the record we were trying to make ever since I joined the band and obviously the two years that I spent with the band in support of 'Resilience' really set us up to write and record 'hallelujah'. Then with the label switch that really helped as well because eOne didn't have to hear a single song and there are different approaches to that, some labels want to hear everything and they want to make sure that they're getting their single and really be involved, and eOne was not like that at all, they didn't ask to hear a single piece of music it was pretty unprecedented and truly unbelievable, as we thought for sure we were going to deliver this record and they were going to fire us then, they didn't man, they love the record and they're pushing the record and I'm super grateful for that. So it was a lot easier on all fronts, from the label to the producer that we worked with Jason Suecof and it was a pleasure to have the added time on stage and off stage with the guys to really gel and come together as a band.
Were you able to get more involved in the song writing this time around whereas with 'Resilience' some tracks were already written was 'Hallelujah' a complete collective effort?
Oh yeah without a doubt, for 'Resilience' the guys wrote all the music and I did all the lyrics so this was totally a group effort, I wrote music, Stevie and CJ wrote a lot of the lyrics, and the added time we've had to grow together really allowed us to not pull any punches, I mean we were brutal with each other and I think honesty really sets the record well off because if it wasn't strong enough to make it onto the record it didn't make it, didn't matter how passionate you were about it, if just one of us thought it was sub-par we tweaked it or we killed it. So I wrote music, they guys wrote lyrics, it was great.
It's been out now for a couple of months, how has the reaction been to it so far?
I'd like to say it's been positive, especially in comparison to 'Resilience' I mean they just tore my ass up when we did that record, I can't say I blame people for getting pissed about it *laughs*. People can hear the passion in the music and the honesty in the lyrics and I think that it's a lot closer to what a lot of people expect from Drowning Pool. Overall it's been well received.
You're the fourth singer in the band which is almost unheard of, yet the band is still going strong, what do you think it is about Drowning Pool that people will always appreciate and stay loyal to?
You know that is a question I've thought about a little bit… you know, is it really Drowning Pool or is it the fans? I think that's more a testament to the fans, as you say they are without a doubt some of the most loyal fans ever and I think Drowning Pool is able to still be relevant and still be here because of the fans, the fans keep us around. I know when Dave was around it was magic because you couldn't have been in the local scene and not known it was going to happen, and then Jason Jones is a great singer and Ryan McCombs is a fabulous singer and I think as long as Drowning Pool continues to put out honest music and continues to grow as a band and evolve and not try and pedal some half assed BS to fans then the fans will respect that and continue to have their back. It's not as if the band lost Dave, the world lost Dave and Drowning Pool fans lost Dave and I think through that tragedy people were brought together and that created a lasting relationship and I think it's all testament and all due to the fans continuing loyalty and support that Drowning Pool continues to be able do anything, and I'm not taking away from the band…
Coming in to a band well into their career, it seems like it didn't take you any time at all to find your footing or to adapt to their routine was it almost simple for you to slip in and get in there?
As far as the inner workings of the band that was easy, as I said I've known the guys for years since before they were ever signed, I think it helped that we had a prior relationship, and doing shows I've been singing for a long time in the local scene. That didn't prepare me to travel the world and do giant shows every night by any means but at the end of the day it's your band up there doing what you do, so that part wasn't hard at all.
Are you on tour at the moment?
No we're on a little break, we just finished up the first leg in support of 'Hallelujah', this time we're not doing realty long hauls, we're splitting it up and doing some little mini tours five or six weeks here and a few days off and go out, but we're busy. It's all through the year though.
So is there one thing as a collective band that you want to do that you haven't had the chance to do yet?
I would definitely like to accomplish things that we have control over, one of those things being getting back to Australia and revisiting some of the markets that have been vocal over social media that want Drowning Pool to come and visit, so for me personally and as a band I know that's something that we're trying to accomplish. Australia is one of them, I'm not BS-ing that the guys have been wanting to get back to Australia since they left and now it's happening. Me personally I'd like to go to Japan, I think as a band we just want to take our music to wherever it's most wanted, that's really what we're trying to accomplish as a band I think.
Lastly, let's look ahead to the future, finish this sentence for me, the one thing that Drowning Pool want to do in 2016 is…
Write a new record, tour all year, we don't want to slow down, we want to continue and evolve and want to keep working.
Well I know I can't wait to see you guys, so I'll see you in Sydney…
Without a doubt, if you're there you should get up and do 'Bodies' with us…
Catch DROWNING POOL on their Australian & New Zealand Tour Dates
Sunday 24th July Auckland – Kings Arms
Tuesday 26th July Adelaide – The Gov
Thursday 28th July Brisbane – Max Watts
Friday 29th July Sydney – Manning Bar
Saturday 30th July Melbourne – Max Watts
Sunday 31st July Perth – Capitol
Presented by Metropolis Touring
Tickets available from: http://www.metropolistouring.com/drowningpool
Essential Information
From: Dallas, TX, USA
Band Members: Jasen Moreno – Vocals, CJ Pierce – Guitar, Stevie Benton – Bass, Mike Luce – Drums
Website: http://www.drowningpool.com
Latest Release: Hallelujah (Out Now – eOne)

Comments
comments