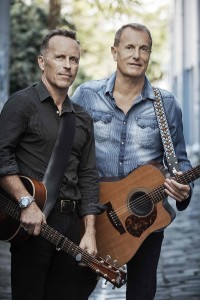 "When will you two play together again?" is the question both James Reyne and Mark Seymour have fielded many a time in the past nine years.  For fans of these iconic singer songwriters, the wait is nearly over, with a national tour "And The Rest Is History", confirmed for the third quarter of this year.
The live relationship between James Reyne and Mark Seymour began back in 2007, when they embarked on a massive 90 date national tour, showcasing an extraordinary catalogue of some of Australia's most loved songs.   The 2016 incarnation will be a limited national run, with Mark and James hitting the stage both together and alone, performing classics from Hunters & Collectors, Australian Crawl and each of their extensive solo works.
In a semi acoustic format, both artists will deliver a set of the uniquely Australian songs we all know and love, and have guaranteed that they'll throw in a few surprises!
Mark Seymour said today, "Yes. I'm really looking forward to it… it was huge last time… Apart from all the songs, the crowd singing and the big band at the end, James Reyne is a very funny man.. not many people know that. " 
James Reyne echoed this sentiment, saying, "I thoroughly enjoyed the last time we toured together and it worked a treat. Dare I say it, but there's a fair cache of songs to play and enjoy as well. Mark's a lovely, talented guy, so come join the fun."
Don't miss this very special opportunity to be part of "And The Rest Is History" with James Reyne and Mark Seymour.
 "And The Rest Is History" Tour Dates
Tickets on sale Monday 11th April
July
Friday 29                    Palms at Crown, Melbourne
Ticketmaster  136 100  www.ticketmaster.com.au
August
Thursday 4                 Anita's Theatre, Thirroul, NSW
Ticketmaster  136 100  www.ticketmaster.com.au
Friday 5                      Panthers, Penrith, NSW
Ticketek 132 849  www.ticketek.com.au
Saturday 6                 Metro, Sydney
Ticketek 132 849  www.ticketek.com.au
Friday 12                    Twin Towns, Tweed Heads, QLD
Venue  1800 014 014  www.twintowns.com.au
Friday 19                    Wrest Point, Hobart
TIXTAS 1300 795 257  http://tixtas.com.au
Saturday 20               Country Club, Launceston
TIXTAS 1300 795 257  http://tixtas.com.au
Friday 26                    The Gov, Adelaide
Oztix   1300 762 545  www.oztix.com.au
September
Friday 2                      The Charles Hotel, Perth
Ticketmaster  136 100  www.ticketmaster.com.au
Friday 9                      Castle Hill Tavern, Castle Hill, NSW
Venue   (02) 8858 4800   www.castlehillrsl.com.au
Saturday 10               Wenty Leagues CLUB, Wentworthville, NSW
Venue  (02) 8868 9200  www.wentyleagues.com.au
Friday 16                    The Triffid, Brisbane
Oztix   1300 762 545  www.oztix.com.au
For further tour information, ticketing and updates:
www.jamesreyne.com.au and www.markseymour.com.au
ABOUT JAMES REYNE:
Singer songwriter James Reyne, OAM, is a recording artist who has sold more than two million albums and written some of the most memorable Australian songs of all time.
His songs have provided the soundtrack to endless Australian summers, including "The Boys Light Up", "Reckless", "Beautiful People", "Fall Of Rome", "Hammerhead", "Motor's Too Fast" and "Slave".
James has been a part of our lives since making an unforgettable debut on Countdown in 1979, with both arms in plaster (the result of being hit by a car, crossing Swanston Street in Melbourne).
James was a member of Australian Crawl for seven years, releasing four studio albums in five frenetic years in the '80s. He's been a solo artist for the past 28 years, releasing eight studio albums, plus two acoustic collections, a covers album and two live albums. Most recently he released a six-track EP, titled "James Reyne & The Magnificent Few".
Australian Crawl sold more than one million albums in Australia, placing four albums in the Top 5, including 11 weeks at number one.   Only four local bands – Skyhooks, The Seekers, Savage Garden and Midnight Oil – have spent more time on top of the Australian albums chart.
James Reyne's songs have been covered by Paul Kelly and John Farnham, and he has had 19 Top 40 hits (seven with Australian Crawl, 12 solo) and 10 Top 10 albums.
For further James Reyne information, please visit:
ABOUT MARK SEYMOUR:
Mark Seymour formed Hunters and Collectors in 1980, with a bunch of Uni friends.  The band became famous for its rhythmic power and very quickly became touted as the "next big thing".  The Album "Human Frailty" was recorded in Melbourne in 1985.
This record has proven to be one of the most important and enduring records of the eighties and Hunters and Collectors were still playing a large part of this cut in 1998 when they retired.  With "Human Frailty" Mark discovered, love, loss, and pop melody.  His solo records are directly connected to this era and bear the same stamp of raw honesty and emotional power.
Hunters and Collectors went on to record some of this country's most successful rock albums, including multi-platinum releases "Ghost Nation" and "Cut", and became a huge touring operation.
By 1998, Mark felt that he had done all that he could as the front man of Hunters and Collectors. After eighteen years of touring with what became one of Australia's most successful and deeply loved rock bands, he found himself alone on stage with just an acoustic guitar.
As a solo artist, Mark continues to search for the emotional truth in a song.  Mark Seymour's strength as a performer remains undiminished despite the ever-present shadow of the band he used to be in.
As well as 13 Hunters & Collectors albums, Mark has released seven solo albums and three with his current band, The Undertow.  Throughout it all, he has shown he is one of our finest songwriters, capturing our stories of love, loss, human courage and achievement.
For further Mark Seymour information, please visit:
www.facebook.com/MarkSeymourOfficial
https://twitter.com/_MarkSeymour