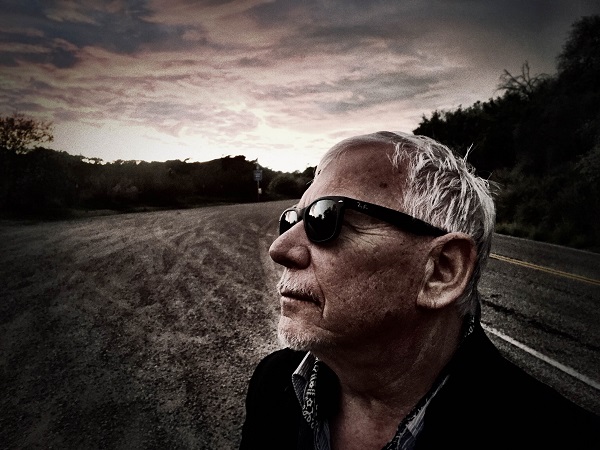 "I could have hung up my shoes when I returned for an amazing sold out show at the Olympia Paris a few years back. I felt like I'd come full circle. But as a performer, it's hard to walk away from the applause and the love of an audience.  So I didn't. Retirement is not a word in my vocabulary but I'm certainly slowing down, especially in terms of travel."
From Release: Eric Burdon's musical journey began in the coal-mining town of Newcastle, England, where he immersed himself in American blues and jazz.  As one of the most distinctive and soulful voices in rock and roll, Eric is an accomplished painter, author, recording artist and has been a traveling bluesman for over 50 years. He has shared the stage with legends such as Chuck Berry, Jimi Hendrix, Jimmy Witherspoon and Otis Redding – and was cited by cutting edge musicians Patti Smith and Iggy Pop as being in their personal top ten favorite lists. With a stellar cast of special local guests and thrilling renditions of the most timeless rock music ever recorded, Eric Burdon & The Animals 2016 Australian Tour will be a high watermark on this year's touring calendar.
We had the pleasure of being asked to send some questions to Eric for him to answer and that he did. We get the lo-down on the upcoming Australian tour, memories of previous trips, new music, old music and experiences that we can only dream of…
Thank you for your time today, Eric, and welcome to May the Rock be with You. We're of course here because you're heading back to Australia, and with a catalogue spanning over fifty years is it tough putting a set list together for shows that aren't around six hours long?
It is a big challenge. We haven't decided exactly as to what the set list will be. I definitely like to please my audience and I know there are certain songs I feel that I have to do, that the audience expects to hear. In order to keep it interesting for myself, and for them, I need to mix the old with the new, such as songs from my latest album, 'Til Your River Runs Dry, as well as throw in some surprises. My new band, which I will be introducing for the first time in Australia, is comprised of young, energetic, enthusiastic musicians who are eager to try new things, revisiting songs that I haven't performed in years as well as some of the old favorites, from Chuck Berry to Ray Charles to you-name-it, whether they make the final list or not, we've been having fun in the studio. They breathe a lot of new life into those songs. Sometimes I feel they even go out of their way to challenge me with forgotten songs from my catalog.
Being to Australia numerous times over the years, have you seen your audiences become generational as your fans grow up with you and introduce their children to your music?
It's been almost a decade since I was in Australia last, so I do hope to see some young faces in the audience, the kids and even grandkids.  It's a pleasure to see the fans getting older – and getting younger – as it makes me realize that music is timeless.
Do you have a favourite memory from one of your previous Australian tours you can share with us?
Back in the 80's, while on tour, Snuffy Walden, Tony Braunagel and myself; Two Texans and a Pom, we were driving through the outback in a rental car.  I can't recall where we were headed, but we seemed to have left civilization behind. Open, flat lands seemed to stretch out forever. "Well, fuck me," a lone kangaroo in the middle of the landscape. We stopped to take photos. We got closer and closer. She didn't move. She showed no fear. We advanced slowly through the rough grass, singing "Hello little fellow." She seemed frozen in time and space. I held out a peeled banana. She smelled it and wrapped her claws around the fresh fruit. I don't know what went through my head but I took off my red Nike t-shirt. We were endorsed by Nike back then. Snuffy Walden gently moved her right paw away from the fruit, enabling Tony Braunagel and me to slip my t-shirt on, over her head.  Then, the left paw. She appeared at ease. From behind I pulled the t-shirt down slowly. Done. She was still working on the fruit. We got a classic shot of the Roo, in the wild and I remember Nike blew up the picture to poster size and put it up on the wall of their headquarters. I often dream of her, the Red Nike t-shirt in shreds…Just do it.
'House of the Rising Sun' was one of the first songs I ever learned on the guitar thirty or so years ago, and it's stuck with me ever since and holds a special spot with me, what do you think it is about your songs that resonates with people?
It is still one of the first songs that every guitar player learns. I think the song still resonates because it has a haunting melody and a universal theme of sorrow and redemption. The more things change, the more they stay the same.
Your most recent release ''Til Your River Runs Dry' was released back in 2013, are you currently working on new material for a possible release?
This new band and I have been recording every rehearsal, not necessarily to release as a record, but I am sure an album will come out of this soon.
How has the creative process changed for you over your career?
It hasn't changed all that much. I get ideas for songs and stories and I write lyrics on any surface or any scrap of paper I can find. I don't like to spend much time with a song and most of my recordings are spontaneous. I like to go in to a studio to record the process, as it happens. I prefer to have the band in the room with me and get it down on tape right away. I don't care for a lot of rehearsal or overdubbing. For me, it's about seizing the moment and capturing the ambience.
You've had an amazing career so far, but is there one thing you haven't had the opportunity to do, or a place you haven't toured that you still want to?
For me, I could have hung up my shoes when I returned for an amazing sold out show at the Olympia Paris a few years back. I felt like I'd come full circle. But as a performer, it's hard to walk away from the applause and the love of an audience.  So I didn't. Retirement is not a word in my vocabulary but I'm certainly slowing down, especially in terms of travel. Just a few months ago, I played at Carnegie Hall last year for the first time in a tribute to Lead Belly and now I have the chance to visit Australia one more time and get to play in a place like the Enmore in Sydney.
On the other side of that, has there been one moment that simply can't be topped as something you've experienced as a musician?
There have been many great moments so it's hard to pick out just one. I got to sing with Sonny Boy Williamson when I was very young. I have jammed with Jimi Hendrix and with Jimmy Witherspoon. I got to sing with the Chieftains and, just in the recent past, with Bruce Springsteen and Van Morrison, just to name a few. When I step back and have a look, there have been a lot of great moments.
Music and the industry is a much, much different place than it was when you started making music, so what do you see as the best change and the worst change to happen to music you've witnessed over the years?
Technology certainly took music to a different level. There are so many platforms for music nowadays. It's much easier for people to create music and to be heard. Social media has taken the place of radio and TV and now it's all available for you on youtube, 24 hours a day. In some ways, though, that has made it seem less special. You can travel the world and you hold thousands of songs on a device in the palm of your hand. But it's easy to get lost. We used to live and breathe for the next Chuck Berry album and it was a topic of conversation. Considering the technical quality that exists for recording it's unfortunate that the quality of sound on the consumer end has dropped so dramatically and we've accepted it. I am glad to see the return of vinyl and in great sound.
Lastly, let's look ahead to the future, so finish this sentence for us, the one this that Eric Burdon wants to do in 2016 is…
Finish my book, make a new record and enjoy some quiet time at home with my wife.
Best of luck with the tour, Eric and thanks again for your time.
Thank you, Troy. See you in Australia.
Eric Burdon & The Animals 2016 Australian Tour Dates
12TH. MAY WREST POINT ENTERTAINMENT CENTRE, HOBART
www.tixtas.com.au
13TH. MAY CANBERRA THEATRE, CANBERRA
www.canberraticketing.com.au / www.ticketek.com.au
14TH. MAY ANITAS THEATRE, THIRROUL – With special guests The Kevin Borich Express
www.ticketmaster.com.au
17TH. MAY ENMORE THEATRE, SYDNEY – With special guests The Kevin Borich Express
www.ticketek.com.au
18TH. MAY PALAIS THEATRE, MELBOURNE – With special guests Joe Camilleri and The Black Sorrows / Renee Geyer
www.ticketmaster.com.au
20TH. MAY EVAN THEATRE, PENRITH
www.ticketek.com.au
21ST. MAY EVENTS CENTRE, CALOUNDRA – With special guest Kevin Borich (solo)
22ND. MAY BLUES ON BROADBEACH BLUES FESTIVAL, GOLD COAST
www.bluesonbroadbeach.com
Presented by Lennard Promotions
Essential Information
From: Newcastle upon Tyne
Band Members: Eric Burdon
Website: http://www.ericburdon.com
Latest Release: 'Til Your River Runs Dry' (Out Now)

Comments
comments