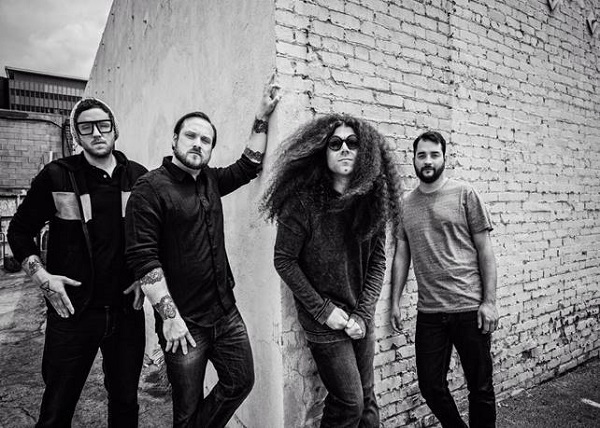 "…when I'm on stage I get to be something else, there's this strange transformation that happens that kind of brings out a part of my personality that doesn't get exercised all that often in everyday life. So that's what I love about it, I get to meet another side of me."
From Release: After traversing the outer limits of science fiction over seven acclaimed concept albums, COHEED AND CAMBRIA's latest offering 'The Color Before The Sun' marks the bands first non – conceptual album and the first to be recorded live in the studio. Founder and songwriter Claudio Sanchez explores his emotions nakedly, plainly and unabashedly. COHEED AND CAMBRIA continue their love affair with Australia by bringing their signature sound down under once again, serving up a selection of musical delights both new and old from their storied career spanning over 2 decades.
While at home in Brooklyn NY, we gave Claudio Sanchez a call to discuss the upcoming Coheed and Cambria tour, The Color Before The Sun, stepping away from The Amory Wars, creativity and much more…
You're heading back to Australia, with the new album out, how are you shaping your set lists these days?
You know we're actually just about to start doing that tomorrow, we start rehearsals for the US Run so we're going to start to put together what we think is the right move for the support of 'The Color Before The Sun'. I mean I would imagine that the set will probably be heavy on the newer stuff but there will definitely be those main stays, those staples that we put in there. Of course coming to Australia we don't always get the chance to come all that often, so we'll keep that in mind when addressing the set, probably won't be as close as to what it is in the States, but a nice rounded selection of songs that are new, but a lot of old that we don't get to play all that often there.
Being here a number of times and your live show always being an experience for the fans, what do you personally take away from performing live?
When I play live there's a part of my personality that isn't really extended in my everyday life, like when I'm home and in my comfort zone, not to say that I'm not in my comfort zone on stage, but when I'm at home and relaxing I tend to be very introverted and quiet. Like for example I live in New York City but there's an anonymity that comes with being here there's so many people you're almost invisible in a way and I very much like that, but when I'm on stage I get to be something else, there's this strange transformation that happens that kind of brings out a part of my personality that doesn't get exercised all that often in everyday life. So that's what I love about it, I get to meet another side of me.
'The Color Before The Sun' is the band's first to step away from The Amory Wars, why was now the time to try something different?
You know I think it's because I'm old enough now, when I created the idea of The Amory Wars and the concept record for Coheed and Cambria I did it because like I said I was very shy, very introverted, I kept to myself and as a front man I didn't really realise the sort of thing that you give up when you're that person, so I created this concept to basically hide my true feelings. All of the Coheed records come from a very real place, so for me it was a way to basically create a mask, and now at thirty seven years old and experiencing the things I have I feel really comfortable with just allowing pulling back the curtain and just sort of showcasing my experiences without that disguise.
Was it somewhat difficult to step away from what you've done for so long in terms of working around a concept or idea or as you said was it as simple as growing older?
It came in a strange way was a product of the circumstance, I had moved out of my country home and into the city situation and while there I found I wasn't creating as I normally did and I found it very frustrating and hard, but with that came this sense of exposure and I don't know, there was just something about it and I attribute it a lot to living here. So at first I guess you could say it came naturally but it came with a fight… it was just something hard for me to understand, and it wasn't until my wife had expressed to me that we were pregnant with our son Atlas that everything kind of came into focus and I decided to not fight what I was creating and just allow it to grow naturally.
So musically have we seen the end of The Amory Wars?
Absolutely notttttt *laughs* The best part about 'The Color Before The Sun' is that it's actually allowed me to look at The Amory Wars objectively and start to finish some of the pre-existing stories that haven't been told yet in comic book form and also ponder and contemplate what is going to happen next, and I've already started to outline some of those things, so I foresee Coheed and Cambria going back into The Amory Wars and continuing.
Now, there are certain songs that come along in music that just hit me, and 'Here To Mars' did that and was my favourite song of the year last year. When you come up with a song like this what's the vibe like in the studio and when you finally get to listen to the finished product?
Oh I mean even in the studio that was great, but even when I came up with the song and listening to it back on the demos, and realising that it was something very special, certainly for the relationship with my wife, again that song kind of spawned out of us realising that we are collaborators in art, but here we were about to collaborate in life and it just resonated so strongly that it just came in a song. Just listening back to it, even in the demo stages it just felt very positive and exciting, so yeah…
Eight albums in, what keeps you driven? What keeps me driven?
Life really… it's just wonderful. I take everything and utilise it as fuel for art, for me it's just life that keeps me excited and just experience.
With you being the creative man behind the music as well as the comics, how does it differ for you in the creation side of story vs music?
It's not all that different, certainly coming from the root of it when I first started writing comics it was very much partnered up with The Amory Wars, and so a lot of those kind of stories came out of those songs and so I kind of find this symbiotic relationship between the two, like I almost feel like if I feel like there's a writer's block in terms of musically I'll go to the comics and the comics will then sort of inspire something musically and vice versa. So it's hard, like I don't really find it all that difficult, but at the same time it is a different chemistry certainly with my wife being a collaborator on a lot of the stories outside of The Amory Wars, and now we're actually working on one of The Amory Wars titles together, that's a little different because there is a relationship there that's not like the one in Coheed, although the band members are my collaborators as well, it's really the only difference between the two.
The imagery of Coheed and Cambria has always been a major part of the band and Coheed fans are very dedicated, my mate JD has numerous Coheed tattoos, what do you think it is about your band that commands this type of dedication?
You know I have no idea *laughs* I don't know… You know I think to me it really feels like that those fans that dedicate a part of their body to what we do, I think they really understand that yes there is a concept that is a counterpart of what we do, but at the root of everything there is a very personal message that I think everyone really relates to. That's what I think is very special and that's the connection that pulls that certain someone into showcasing it on their skin, so yeah.
There was talk some time ago that you were trying to make movie (animated possibly) of the Amory Wars story. Is this something that is still happening?
No, it is and it isn't… it's definitely something that we continue to pursue, but it's such a waiting game, so part of me is like I can't say anything is truly happening because it is, but no wheels have truly been put in motion. I mean at one point there were and then it falls by the wayside and then gets picked back up, it comes in waves the interest so we'll see, maybe one day.
If it does happen, JD has asked if he can be in it?
Oh sure, if they give me that liberty *laughs*.
You've been a part of Coheed and Cambria for twenty years now, it's easy to say what's changed in that time, but what would you say is the one thing that's stayed the same throughout the past two decades?
It's heart… we just continue to persevere and there's something about this band and I know I'm a part of it so I guess I have to say something positive but I don't know, I've watched a lot of our peers come and go and we've been faced with some very big trials in our lineage, losing half the band, some guys coming back, big arrests happening due to chemical dependencies, we just continue to figure out ways to persevere because it's a love and a passion that we just can't deny, that we have for what we do artistically. So I think that's it.
Lastly, let's look ahead to the future, so finish this sentence for me, the one thing Coheed and Cambria want to do in 2016 is…
Ooh… I don't know… well we're playing Madison Square Garden but it's the theatre at Madison Square Garden, so it's not the actual Garden proper, but it's close enough, so that's happening. *laughs*
Catch Coheed and Cambria in Australia at the following dates:
Thursday 5th May – The Metro, Sydney
Friday 6th May – Max Watt's Melbourne (SOLD OUT)
Saturday 7th May – Max Watt's Melbourne
Monday 9th May – The Cambridge Hotel, Newcastle
Tuesday 10th May – Max Watt's Brisbane
Wednesday 11th May – The Gov, Adelaide
Friday 13th May – Capitol, Perth
PRESENTED BY TAPERJEAN TOURING, SELECT TOURING, METROPOLIS TOURING AND HYSTERIA MAG
Essential Information
From: Nyack, NY, USA
Band Members: Claudio Sanchez – lead vocals, guitar, Travis Stever – guitar, Josh Eppard – drums, Zach Cooper – bass
Website: http://www.coheedandcambria.com
Latest Release: The Color Before The Sun (Out now – 300 Entertainment)