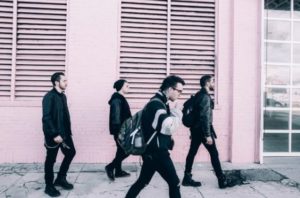 NOLA metal band Cane Hill has premiered a video for the first new song, (The New) Jesus, from their debut record, Smile, which is due out on July 15 via Rise Records/Cooking Vinyl Australia.
Watch Cane Hill's provocative new video for (The New) Jesus Here:
"(The) New Jesus is the beginning. It is the end. It is everything in between. It's time to reconsider who you idolize/worship. The video itself enters you into who Cane Hill really is. Grab your lube y'all it's getting sticky." – Elijah Witt
Cane Hill's debut album Smile was produced by WZRD BLD in Hollywood, CA and features 10 vicious tracks that are incredibly heavy and aggressive. The record follows their 2015 breakout, self-titled EP, which spawned fan favourite tracks like Time Bomb (feat. Tyler "Scout" Acord), Sunday School and Ox Blood.   The band will embark on a year long worldwide tour that will include performances at Welcome to Rockville, Carolina Rebellion and Rock on The Range, a summer long run on the Vans Warped Tour and their first Australian tour with Bullet For My Valentine and Atreyu in October.
BULLET FOR MY VALENTINE ATREYU + CANE HILL Australian Tour 2016
THURSDAY 20 OCTOBER – METRO CITY, PERTH (18+)
FRIDAY 21 OCTOBER – HQ, ADELAIDE(18+)
TUESDAY 25 OCTOBER – 170 RUSSELL, MELBOURNE (18+)
THURSDAY 27 OCTOBER – BIG TOP, SYDNEY (Lic A/A)
FRIDAY 28 OCTOBER – EATONS HILL, BRISBANE (Lic A/A)
01. MGGDA
02. (The New) Jesus
03. True Love
04. St. Veronica
05. Fountain Of Youth
06. Cream Pie
07. You're So Wonderful
08. Ugly Model Mannequin
09. Screwtape
10. Strange Candy