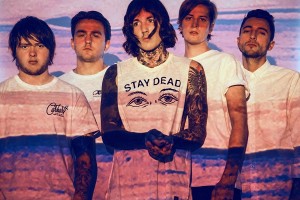 BRING ME THE HORIZON have announced that special guests ARCHITECTS and '68 will be added to their upcoming Australian Tour in September.
Following the sell-out of their first Melbourne show on September 22, to meet overwhelming demand a second and FINAL Melbourne show has been added to the tour.
Tickets for this extra Melbourne date – at Margaret Court Arena on Friday September 23 – will be available from midday this Thursday April 28.
Tickets for all other shows on the That's The Spirit Australian Tour are on sale now. No further shows will be added to the tour, which has become one of the hottest rock tickets of 2016.
For complete tour and ticketing details, visit: livenation.com.au.
Since the release of their fifth and most diverse album, That's The Spirit, in September 2015, BRING ME THE HORIZON have become one of the hottest tickets in rock music, selling out arena shows across the world. The album has been a critical and commercial success, with esteemed publications like Kerrang, Rock Sound and Alternative Press giving the record full marks. That's The Spirit debuted at #1 in Australia and the USA, and #2 on the UK Album charts, and has been certified Gold in both the UK and Australia.
Bring Me The Horizon are in no way strangers to the Australian market. Since 2006, they have made the country a staple in their worldwide touring plot, last appearing via a sold out 2013 headline tour in support of their smash hit Sempiternal album. And the Australian fans have returned the love – That's The Spirit (out through Sony Music Australia) was their third consecutive #1 album in the ARIA Charts and was voted the #1 album of 2015 by Blunt and Hysteria magazines.
Brighton, England, five-piece ARCHITECTS will release their hugely anticipated new album All Our Gods Have Abandoned Us on May 27 via UNFD. Following on from their previous work Lost Forever // Lost Together – which peaked on the ARIA chart at #13 – their seventh studio album is the heaviest and darkest work the band have ever put their name to. Backed by a vicious and crushing live show, Architects will be an unrelenting force when they return to Australia this September.
Hailing from Atlanta, '68 are a two-piece that demonstrate the loud beauty of alarming simplicity. A guy bashing his drums, another dude wielding a guitar like a percussive, blunt weapon while howling into a mic somehow manages to sound bigger and brasher than the computerized bombast of every six-piece metal band. Their debut album, In Humor and Sadness, is available now.
AUSTRALIAN TOUR DATES
HBF STADIUM, PERTH
WEDNESDAY SEPTEMBER 14  
All Ages
RIVERSTAGE, BRISBANE
FRIDAY SEPTEMBER 16
Licensed / All Ages
HORDERN PAVILION, SYDNEY
SATURDAY SEPTEMBER 17 – SOLD OUT!
SUNDAY SEPTEMBER 18 – 2nd SHOW
Licensed / All Ages
AEC THEATRE, ADELAIDE
TUESDAY SEPTEMBER 20
Licensed / All Ages
MARGARET COURT ARENA, MELBOURNE
THURSDAY SEPTEMBER 22 – SOLD OUT!
FRIDAY SEPTEMBER 23 – NEW SHOW! *
Licensed / All Ages
*TICKETS ON SALE
MIDDAY THURSDAY APRIL 28
*My Live Nation pre-sale: 12pm April 27 until 10am April 28
Tickets for all other shows are on sale now
For complete tour and ticketing information, visit:
www.bmthofficial.com  &  www.livenation.com.au