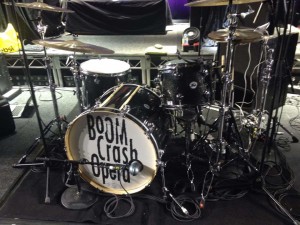 With 2017 marking 30 years since their debut release,
Boom Crash Opera announce Winter dates as a prelude to a big year ahead
Boom Crash Opera have always had a reputation for exciting live shows that blend boisterous, angular rock with soulful singing and a sense surging of joy and camaraderie.  They have a classic repertoire of hit songs – Onionskin, Great Wall, The Best Thing and Hands Up In The Air  to name a few.
BCO songs are woven into 80s and 90s pop culture, featuring in films such as The Big Steal and Don't Tell Mom The Babysitter's Dead to name a couple. Of recent time 'Dancing In The Storm' featured heavily in a nationally aired Mount Franklin water TVC.
"Back in the 90s it felt like whenever a political party needed an anthem they turned to our song, Bettadaze", says guitarist/songwriter Peter Farnan.
2017 marks the 30th Anniversary of the bands debut self titled album and they plan to be hitting the road solidly in celebration of this landmark event. This top 20 album delivered a top 5 ARIA hit in 'Great Wall', a top 20 hit in 'Hands Up In The Air' and a top 40 hit in 'Her Charity'.
Boom Crash Opera are embarking on a run of live dates in June and July.
These will be the first shows debuting Andrew De Silva after the departure of Dale Ryder in 2015.
June
Friday 3 June – SSA Club, Albury NSW
Saturday 4 June – Mulwala Ski Club, Mulwala NSW
Saturday 11 June – The Whalers Hotel, Warrnambool VIC
July
Saturday 2 July – Workers Club, Geelong VIC
Saturday 23 July – Caravan Music Club, Oakleigh VIC