"We're trying to bring the fun back into the live scene. We're serious about what we do but try not to take ourselves too seriously. We're all about giving everyone a great show that they'll remember."
From Bio: Like all great things in the world, Ablaze started out as an idea over beers at the local pub, intent on rocking out and partying hard. The hard rock guitar riffs, head banger drum beats and loin-quivering bass grooves will get your fists pumping and your liver begging for mercy.
We dig the rock and roll stylings of Ablaze, so we got front man Danny to let us know why they're one of the Best Things You've Never Heard…
Let's start with the basics; for those that aren't aware of you, can you please give us the abridged version of the Ablaze story, how you all came to be and the decision on the name of the band?
The decision of the band name came about because we were finding that every name we came up with, we found that it was already taken. Then someone said that Ablaze wasn't taken so being that the name fit so well with our style of rock, it seemed like it was fate and we went with that.
Ablaze originally formed back in 2010 by a group of mates, fresh out of high school and wanting to belt out some riff-driven Aussie pub rock'n'roll. After jamming on covers for a couple of weeks, the young blokes quickly became bored of playing other people's songs, and the desire to write originals grew quickly. Once they started, they didn't stop, quickly pumping out a set's worth of material, scrubbing up their favourite old AC/DC and Screaming Jets covers and began cutting their teeth at any Open Mic night and Battle of the Bands that would take them.
Soon after, Ablaze began gigging hard around town, playing any and every stage they could. From Friday night pub gigs to local festivals, opening at dive bars to headlining the Espy Gershwin room, Ablaze did it all and more to hone their on-stage skills. They kept their writing muscles flexed too, pumping out song after song as they went.
After a couple of lineup changes, we record our first single, 'The Hard Way', late in 2014 and both the track and accompanying film clip catapulted them onto the radar of the Australian music scene. Armed with a killer live show brimming with energy and a good soaking of beer and Jägermeister, Ablaze spent 2015 gigging hard around Melbourne, and by the end of the year we were back in the studio recording an EP. The 'No Turning Back' EP.
Can you now please introduce each band member including yourself, and give us a rock 'n' roll fact or myth about each of you?
Dan 'Mango' Mangano: Mango is the reason for our thunderous drum sound and massive backing vocals/harmonies. He is definitely 'Mr. Perfect Pitch'. A little known fact is that Mango is a killer saxophone player who's musicianship would rival the 'sexy sax guy' from The Lost Boys and Tina Turners 'We Don't Need Another Hero'.
Ben Anderson: The riff master and guitar hook king of the band. He plays lead guitar and is so musically diverse that he could shred like Vai and have feel like B.B King! There's a massive myth going around that Ben and Mango are brothers. We really don't know how this started but they can definitely fight like husband and wife. I'll let you decide who is who in that situation!
Matthew John 'Half Gospel' Dynon: Matt is our super solid rhythm guitarist. When writing, he doesn't waste anyone's time with half baked ideas. When he contributes something it's either mega funny or so good that we just look at each other in amazement and wonder how or where he pulled it out from! Little do people in the scene know that he is a super intelligent human being. Big on the sciences and theories. Don't let his mannerisms and bad jokes fool you, he will one day change the world for the better.
Matt 'Lentil' Ientile: Lentil is the bass slinger and newest member of the band. He brings in his super bottom end, sultry sexiness, and a stage presence that is second to none. His sick sense of humour and overly affectionate nature has helped him really cemented his place in the Ablaze family. A little known fact about him that he hates being called Lentil… But we call him that anyway.
Danny Slaviero: Myself, I am the singer/elder statesman/co songwriter/part time tambourinist/business man/all round nice guy of the band. You can see me every other weekend being the God of Thunder.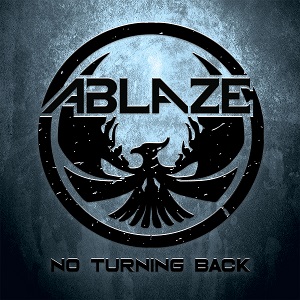 You have just released your EP 'No Turning Back', so instead of giving us a standard review, let's say if you had to give us your best door to door sales pitch to try and convince someone to listen to it before they slam the door in your face, what do you say to them?
All we'd do is have Luca Brasi hold a gun to their head and assure them that either their brains, or their signature, would be on the contract. Hahahaha!!!
Seriously though, this is less of an EP and of more of a mini album so that gave us a chance to set up a little storyline with the song order. It'll take you on a bit of a journey, and it's definitely more bang for your buck. It also gave us a chance to show diversity with our songwriting and styles to show that we're not just a one trick pony.
In terms of your song writing, what do you consider to be the most important ingredients that make up one of your songs?
It has to be relatable, catchy, and we try to encompass as many hooks as we can. We write collaboratively rather than having an individual bringing a song in and everyone else learning it. We think that's also the key to writing a good song.
Lyrically and musically, currently who or what inspires/influences your music the most?
Because we write music as a band, it's hard to answer this because we all have different influences and draw inspiration in different ways. Lyrically we tend to write about our life experiences, living in the moment, and what drives us.
On the other side of that, what bands did you grow up listening to and how did they help create the style of music that can now be heard throughout your music?
We grew up listening to classic bands like AC/DC, Kiss, Iron Maiden, Black Sabbath, Van Halen, Motley Crue, Led Zeppelin, Guns & Roses, Deep Purple… The list really could go on but you can really hear that kind of stuff come through in our music. Even though we may not sound like any of those bands, you can sometimes spot where the inspiration from a certain lick or melody came from.
In terms of touring, here's your chance to plug any upcoming shows, and also for those that haven't seen you, how would you describe a typical Ablaze live show?
Everyone should get themselves to our EP launch on April 1st at the Elephant & Wheelbarrow in St. Kilda with guests Darcee Fox, Sudden State, and Atomic Riot. We constantly plug our shows on our Facebook page – www.facebook.com/ablazeband – so get on it! There will be a string of dates released soon for our upcoming EP launch tour.
A typical Ablaze show is basically just a big party. We're trying to bring the fun back into the live scene. We're serious about what we do but try not to take ourselves too seriously. We're all about giving everyone a great show that they'll remember.
For a bit of fun, say you get the chance to open for any artist or band in the world, who would they be and why?
It would definitely be Slash and the Conspirators. We are huge fans of them as a band and feel that our music would really suit as a main support.
If you could cover one song in your live set that no one would ever expect, what would it be and why?
The Ghostbusters theme song! We love the idea of taking a pop song/movie anthem and giving it the Ablaze treatment.
What kind of movie do you think your music would be best suited to and why?
The Hangover! Being that we're mostly about living in the moment and having a good time, we all know that doesn't go without the consequences the morning after.
Is there a message you want to get across with the music of Ablaze?
Have fun, live life, and don't take yourself too seriously. With all the terrible things going on in the world, there is always someone who is worse off. Suck it up, enjoy what you have, and keep pushing forward.
Lastly, with 2016 well under way, here's a chance to gaze into your crystal ball and see the future.  So, by the end of 2016, Ablaze will:
1.Lentil will most likely get someone pregnant
2.Have done heaps touring and gigging
3. Be half way through writing for our new album which will hopefully due in the second half of 2017
Essential Information
From: Melbourne, Australia
Band Members: Danny Slaviero – Lead vocals, Ben Anderson – Lead guitar, Matt Dynon – Rhythm guitar, Dan Mangano – Drums, Matt Ientile – Bass
Website: http://www.ablazeband.com
Latest Release: No Turning Back (EP – Out Now)