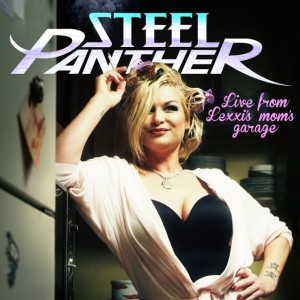 So it may have come out at the end of February and I'm a little late to the party, but when it's Steel Panther, the party never ends, so I'm here, I've grabbed a drink, and I'm ready to go!
This isn't technically a new Steel Panther album, but it's something they haven't done before which is a live acoustic album, I'm hoping for some reinventions of some tracks but if not I'll be happy as these songs have always been well written, well played and always hilarious. The best part about this release is that you get the songs but you also get the banter that Steel Panther are pretty damn good at. Opening with 'Party Like Tomorrow Is The End of The World' of course, into one of my favourite tracks of theirs, 'Fat Girl' and you can't help but just love this song and still after many years find yourself 'whoa-ohing' along. What's good about the acoustic setting is that they can play songs that we may not hear in the bands traditional live set, and even though it was a single 'If You Really, Really Love Me' is one of those tracks and on this release it gets a run.
Some songs you'd not really ever expect to hear in an acoustic environment and 'Gloryhole' is absolutely one of them! What I must say is even though it takes on the same tempo and vibe of the original, the acoustic riff really works, man that Satchel is one hell of a player, and the breakdown mid song is a classic, for a song like this it makes it even funnier acoustically. They stay with 'All You Can Eat' with my favourite from it and in my opinion their best 'ballad' since 'Community Property', you've gotta love 'Bukkake Tears', well the song, maybe not the actual event… the addition of some strings really makes it stand out, nothing says heavy metal like violin! Banter about women as expected, followed by more strings and another from 'All You Can Eat' with 'The Burden of Being Wonderful' and again as mentioned before, not really one played live very much, so the fact they're doing this acoustic release is great and allows the guys to showcase their songs like this. With any live albums there's the traditional crowd noise, but with a crowd full of women, there's a lot of love let's just say that.
Stix gets some praise before hitting the ivories for 'Weenie Ride' and a really cool guitar solo actually makes me like this song! What's that? A new song? Why yes! 'That's When You Came In' is its name and lyrically it's what you'd expect from the title, a whole lot of entendre and a whole lot more, I mean it's Steel Panther, what else were you expecting? It does have a damn catchy chorus to sing along with though! Hopefully the first of many new tracks leading to a new album. A little more banter leading into their "most popular song" and yes, they are correct, well it's my favourite anyway, and I'll keep saying it, arguably the best power ballad of the last ten years. It is of course 'Community Property' and even without the 'power' of the guitars, the song sounds amazing this way, and right now it's hard typing one handed, oh stop it, I'm holding a lighter up.
Closing out with the traditional show closer 'Death To All But Metal' and it's the first reworking of one of their tracks, a slower almost bluesy type version of really works actually and I've dropped the lighter to click along with this one. Still a great song lyrically, a fun way to end the show and the set, and as much as sometime you think 'Man, Steel Panther are a bit much', or 'I've heard it all before' they go and do something different like this and deliver a great sounding, amazingly played acoustic album. I mean I suppose you get that from four guys that are truly good at their craft. I'd pay to see them do a tour of acoustic tracks, maybe something to look at for the future oh Panther of Steel…
Essential Information
From: Los Angeles, CA, USA
Release date: 26 February 2015
Record label: Open E Records, Kobalt
Website: http://www.steelpantherrocks.com
Track Listing:
Show Intro/Say Yeah (Banter)
Party Like Tomorrow Is The End Of The World
Fat Girl (Thar She Blows)
If You Really, Really Love Me
Gloryhole
Bukkake Tears
The Burden Of Being Wonderful
Weenie Ride
That's When You Came In
Michael Don't Know (Banter)
Community Property
Grindy and Sexy (Banter)
Death To All But Metal