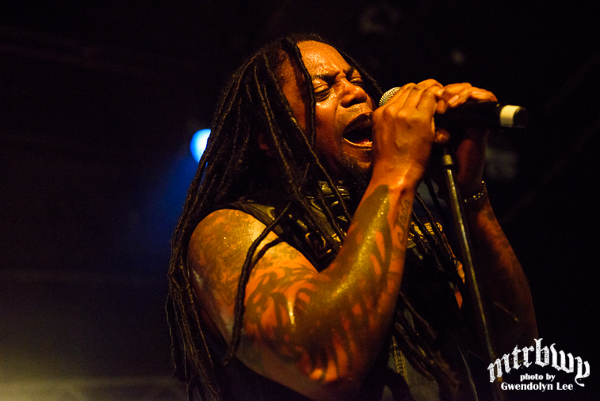 Sevendust are finally back in Australia for a headline tour, that of which ends tonight in Sydney and the sold out crowd here are all up in my grill and ready to block my view of the stage to witness one of the best live bands I've ever seen.
With a couple of supports tonight in Tensions Arise and Horrorwood Mannequins both bands playing to a pretty much full Metro due to that sold out sign and people wanting to get their prime position for Sevendust, they both did their best to entertain those here and both bands kicked it in heavy to great a great, receptive crowd and set the scene for the rest of tonight's festivities…
As AC/DC's 'Back in Black' plays the lights dim Sevendust take to the stage to a thunderous reception and man, this is gonna be insane. Opening with ironically the song they are actually back with, 'Black' and just hearing the crowd shout it back to the stage is something else, all five guys in the band are like energizer bunnies and it's impossible to focus on one member as there's just so much going on. Two songs in and I'll be surprised if this place still has a roof on it by the end of the night because this thing is being blown off right now with 'Driven' my god this is heavy, and with 'Alpha' being one of the bands heaviest in my opinion this one takes it up a notch tonight. Then 'Denial' from 'Home' has the entire floor going ballistic with these older tracks but fuck me, I need a moment… 'Praise' four songs in?! Are you kidding me? The place has just lost its mind. A staple encore or even closer for the band has just made its way in this early and I've never seen such excitement simply from one song.
An extremely thankful and appreciate LJ addresses the crowd and promises a return and residency in Australia, we can only wish as the set continues with 'Waffle' and this band are so tight that no water is getting in that seal… See, I told you they were good!! 'Enemy' oh my god! This is amazing, I knew they'd play it, but again this early the place is going berserk. This is actually my favourite Sevendust track so as I thrust my fist in the air and shout back every word I look around to see everyone doing the same. This is one truly loved and missed band in Australia.
'Angel's Son' is back in the Sevendust set and is just a beautiful song, so to hear it tonight and just what it means to the band and people here is something special. I continued to look around to see the emotion is provokes and to see guys hugging and just taking it in, really a moment. From the soothing 'Angel's Son' to the brutality of 'Pieces' I'm just lapping every bit of this up, I can't fault a damn thing about it. 'Dead Set' takes us back to 'Animosity' and the energy that hasn't wavered in the slightest is stronger than ever from both band and crowd, it's so hard to explain unless you're here.
'Disease' from 'Seasons' followed by 'Decay' the only inclusion from 'Black Out The Sun' a song which had John Connolly and Clint Lowery trading solos kicked ass and showed to me just how important it is having Lowry back where he belongs. 'Shine' was worthy of its reception and adoration too, and you can tell how much the crowd love the 'Animosity' record, so hearing anything from it tonight is a bonus. I know it sounds like I'm gushing, but seriously, this set and show is impossible to find a flaw from where I am and anyone here would more than likely agree with me. 'Thank You' from 'Kill The Flaw' is surprisingly the only song from the band's newest album tonight and could almost go down as the heaviest riff of the night, but this Grammy nominated song earned its place in the set and by the number of fists being thrust towards the stage it's evident that this one is a winner. The band leave the stage to the same thunderous reception they got when they came on as we now await their return…
As the 'Sevendust' chants begin, the band returns to the stage with only one left it's a big one, 'Face to Face' and its sheer brutality with Morgan Rose's vocal to kick it in sends the place into a tizzy, and the melody of not only this one but Sevendust's entire catalogue really make this band what they are, and this once specifically shows why this band are adored by those here. It was a perfect closer and seeing how much this show meant to the band was truly something to witness.
You may be able to 'Kill The Flaw' but you must also praise the flawless and tonight that was Sevendust. I look forward to any other gig this year even trying to top this one because it'll be pretty fuckin' hard to do.
Essential Information
Venue: The Metro Theatre – Sydney
Date: March 19, 2016
Presented by: Metropolis Touring
Website: http://www.sevendust.com
Support bands: Tensions Arise & Horrorwood Mannequins
Photo By: Gwendolyn Lee – Gwendolyn Lee Photography – Full Gallery HERE
Set List:
Black
Driven
Denial
Praise
Waffle
Enemy
Angel's Son
Pieces
Dead Set
Disease
Decay
Shine
Thank You
Face To Face