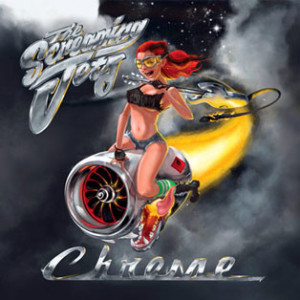 As one of the country's most rockin' album bands, The Screaming Jets are back after eight years with a new studio release – Chrome. To say the band are f**king excited would be an understatement, their seventh studio album has been a labour of love and by all accounts, sits up there with their best. Supporting the highly anticipated release, The Screaming Jets are hitting the road for a special run of tour dates, not only showcasing their new material, but keeping true to their rockin' history by pulling out all their biggest hits.
It was only two years ago that the band, once dubbed Australia's hardest working touring band, celebrated their silver anniversary – a quarter of a century of rock. It is evident that the former Novocastrians haven't rested on their laurels, they are still working as hard as ever and pumping out some killer rock. Lead singer Dave Gleeson says the band can't wait to get out on the road and share their new album with fans.
"We had a great response to the new songs on the tour we did last year," he says. "We have introduced everyone to about half a dozen new songs and people will be able to know the words and come and sing along. We are excited about getting out there and doing new stuff. We will play most of the whole album, as well as doing all the songs people know and want to hear. It is always exciting to play new material."
Performing a handful of new songs on the Rock n Roll Rampage tour last year was a great experience. The band slipped a few new tracks in amongst their impressive back catalogue and noticed that fans didn't miss a beat. The new material was as warmly embraced as their hit songs. "The best indication you have is when you slip those new songs in and the fists keep pumping and they just get carried up in the new songs. The songs fit our repertoire – that is the tester."
The band's last studio album Do Ya was released in 2008. The break between albums wasn't meant to span eight years, but like all musicians worth their salt, The Screaming Jets wanted to make sure that they had the right songs to dedicate to another album. They started preparing for the album three years ago and took the time to make sure they had the right team in place to bring their sound to fruition. Recorded under the guise of legendary producer Steve James – who originally worked on the band's All For One and Tear For Thought albums – so it was a bit like getting the old crew back together.
"We think this is probably as complete an album as we have ever done," says Dave. "It sits very well beside Tear For Thought. There are plenty of different textures and great big fat rock songs, as well as some quiet moments. We hit the nail right on the head with this album of what the Jets sound like."
Heading into the studio was actually an easy process, as the band quickly found their niche workshopping the songs. "Paul Woseen wrote a bunch of songs and we decided we would take them into the studio in their bare bones," says Dave. "It was very exciting to see how we built those songs up with just us five guys, seeing them go from basically sketches to full blown songs. Everyone was so focused on doing what we possibly could for the album. I know things have changed in the landscape for releasing product, but The Screaming Jets are an album band, so we will keep doing the thing we do."
Aside from releasing rock albums that firmly sit in the shelves alongside the best of what the Australian and international music scene has to offer, The Screaming Jets are also revered as one of the country's best live bands. Every time the band hits the road, they play to packed houses of old and new fans, all who want to embrace the spirit of true Aussie rock. For the band, there is nothing better than taking to the stage and rockin' the f*&k out!
"It is a testament to all the hard work we have done over the years," says Dave. "The first ten years, where we didn't take a break at all, our fans realised that every time they see the band, it absolutely goes off. We still put on a show that is hard to beat. We hang our hat on the fact that if you come and see us play, you will be blow away… even though we are advancing in our years!"
Tickets to The Screaming Jets Chrome album tour are on sale now. Chrome is due for release on Thursday 5th May 2016 through independent label Dinner For Wolves (Rocket Distribution / InGrooves).
The Screaming Jets are Dave Gleeson [vocals], Paul Woseen [bass], Scott Kingman [guitars], Jimi Hocking [guitars] and Mickl Sayers [drums].
For more information, visit www.thescreamingjets.com.au
TOUR DATES:
Friday 6th May 2016
Hallam Hotel, HALLAM VIC www.hallamhotel.com.au
Saturday 7th May 2016
Corner Hotel, MELBOURNE VIC www.cornerhotel.com
Friday 13th May 2016
The Gov, ADELAIDE SA www.thegov.com.au
Saturday 14th May 2016
Charles Hotel, PERTH WA www.charleshotel.com.au
Friday 20th May 2016
Villa Noosa Hotel, SUNSHINE COAST QLD www.villanoosa.com.au
Saturday 21st May 2016
Hamilton Hotel, BRISBANE QLD www.hamiltonhotel.com.au
Sunday 22nd May 2016
Blue Mountain Hotel, TOOWOOMBA QLD www.bluemountainhotel.com.au
Thursday 26th May 2016
Bridge Hotel, ROZELLE NSW www.facebook.com/thebridgehotel
Friday 27th May 2016
Rooty Hill RSL, ROOTY HILL NSW www.rootyhillrsl.com.au
Saturday 28th May 2016
Belmont 16s, NEWCASTLE NSW www.16s.com.au
Join The Screaming Jets on social media at www.facebook.com/TheScreamingJets