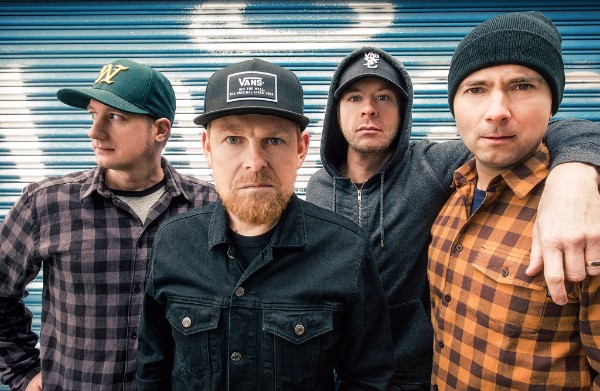 "I mean when we started the band it was to have something to do and have fun with friends and I think in a lot of ways it's the same thing, as we do have fun together and that's an important thing because if we put out an album every year or every second year it wouldn't be that fun, it would be too much work and we're actually trying to keep that sort of balance of having fun and enjoying…"
From release: Millencolin fans are always waging wars, pitting so many of their brilliant records against each other to see which comes out the victor. It's a war that never will be won considering they are always shaking up their modus operandi and playing outside their comfort zone. The one consolation fans can take when the band tour here this April is that Millencolin will be playing an arsenal of hits from across their massive catalogue. Most bands never make it this far in their careers, at least not without a handful of ex-members, lawsuits and various skeletons in their respective closets. Millencolin buck the trend on all that and one listen to their new album True Brew will tell you that they are back, their as strong as they've been in a decade or more and they've never lost that fire…
While having breakfast at home in Sweden, we gave Nikola of Millencolin a call to discuss the band's upcoming Australian tour, longevity, plans for the future and much more…
We're here because you're heading back to Australia, tell us what we can expect on this True Brew tour…
On the True Brew tour, I mean we played in Australia recently but that was just before the album came out, so now that the album is out, we'll play a few songs, a handful, maybe five or six songs off the new album. Otherwise it's just any other Millencolin show *laughs* a good mix of all the songs from all the albums, a lot of energy and good times…
With eight albums under your belt now does it get harder creating set lists?
Not really, of course sometimes there's songs that should be in the set list but can't because you can't play for two hours, so sometimes there's not enough time to play all the songs that you want. I mean it's a luxury problem, it's not a big problem. I guess it would be worse to have it the opposite way around with no good songs in the set.
Being here numerous times before, what's the one thing you've noticed about Australian crowds compared to those around the world?
Good question, I think appreciation is a key sort of word, I think people in Australia really appreciate that the bands are coming from afar, from overseas, and at least that's my experience and picture of it. We always felt very, very welcome coming to Australia and it just seemed like people were really appreciating us coming and as well we came back all the time.
It's also been a long time you've been coming, I think it's twenty years now back in 1996 you first came, am I correct?
Yeah, I think it was March 1996, so yeah actually celebrating our twentieth anniversary of going to Australia.
Crazily True Brew was your first studio album in almost seven years, was it in a way hard to put together a new record after that long I mean was there too much material to choose?
No, it was I guess the hard part was to decide that we wanted to make a new album. The songs were there and we knew pretty much right after we finished 'Machine 15' what kind of album we wanted to make but were just waiting for the right feeling and for everybody to recharge their batteries and be ready to release a new album. I mean we could I guess make a new album every year if we wanted to, I mean the songs are there but the one thing you need after making seven or eight album, you want the next one to be something good and you have all this reference of old albums that you measure against. We needed to wait a while and that's what we did, we didn't force ourselves to make a new album, even though people have been waiting a long time, but you have to do what is right for you.
You've also just released the 'True Brew' EP, what was the idea behind releasing this?
Well we had a couple of songs that we recorded  for this album that didn't make it on the album, so we had these extra songs that we wanted to release and then we just felt as we were still out touring on this album it needed another push, and we wanted to release 'True Brew' as a single too, and we also had an idea of recording a Swedish version of it, so that's what we did, and we felt it's going to be four songs, the Swedish version and the two new songs, so let's make an EP of it on vinyl. Our drummer Larzon is running his own label, small label putting out vinyl, so it just felt like a good thing to do and a fun thing to do too.
Is there a new fire lit under the band, and can we expect more music sooner rather than later?
Yeah you mean like a new album? I don't know, maybe in seven or eight years… no… hopefully a lot sooner, but right now we're busy being on tour and being in the moment so let's wait and see. The music is being written every day, but it has to be good of course *laughs*
Last year was twenty years since 'Life on a Plate' when you look back at that time did you even think you'd still be making music two decades later?
No, I mean I don't think anyone is thinking that far ahead you know? Same thing for us, we were twenty or twenty two years old and we were just doing what we were doing. When we started this band I guess our main goal at that point was to release something, like an EP, we didn't even think as far as releasing an album and get signed and all that stuff. No we never thought that far of course.
At almost twenty five years into your career, what keeps you driven?
I mean when we started the band it was to have something to do and have fun with friends and I think in a lot of ways it's the same thing, as we do have fun together and that's an important thing because if we put out an album every year or every second year it wouldn't be that fun, it would be too much work and we're actually trying to keep that sort of balance of having fun and enjoying… The biggest enjoyment is also writing something and being creative with other people and I guess that's why we also started the band to create sometime and that's the same thing now, I get the same kick of writing and being creative.
The one thing truly remarkable about Millencolin is that it's been the same four guys in your whole time together, what is it about this band that just works?
It's not been a walk in the park, every album has its sort of problems and we have our fights here and there and we know that some people go this way and others that way and we have no compromises and it's not easy but I guess what we have is a good mix of people, people who have a dedication and people that want to do things and have a drive. We're also different people so in a way we're complimentary to each other so there's a good mix of people and we all have different roles in the band and everyone is involved and puts in his sort of thing into it. Just like a good working company, you have the guy who's the creative guy, the admin guy, the guy doing artwork and people have a financial part, and everyone has his role. Of course we're all good friends before we started the band and we've always tried to keep the friendship, it's an important part of course, we're still friends and being friends and also being partners in business I guess sometimes can get complicated, but it doesn't matter who wrote the songs and whatnot, we always shared everything equally and I think that's a key thing too. I guess with a lot of bands if there's an argument it leads getting into a discussion of money and who's making what, and we've never had that problem because we share everything and since everyone is doing their part there's no problem with that.
So rather than asking what you think has changed in your time together, what would you say is the one thing that's stayed the same?
Well it's friendship, as I said before sort of the joy of making music and being creative. I guess those two things.
Is there still one thing you want to do as a band that you haven't had the opportunity to do?
Maybe a Christmas album *laughs* I don't know… but it would be cool to do something completely different, not necessarily a Christmas album but you know, something unexpected, because being in a band this long a lot of things you do you've done before, so it would be cool to do something completely different that would give us a new sort of injection, we'll see, I don't know…
Well if it is a Christmas album, you can call it Millenchristmas…
*laughs* Yeah!
Lastly, let's predict the future. Finish this sentence for me, the one thing Millencolin wants to do in 2016 is…
That's a good one… we want to make our own beer *laughs*
True Brew!
*laughs* Exactly!
Well I'll happily be a tester for you if you want to send some down when it's done…
Yeah, actually it's in the works actually and since I'm a brewer myself, I'm not going to brew it on my own, but we're going to brew it with as it looks a brewery in London, England but I'm going to be involved with working out the recipe and also there for the brew day. It's in the works.
Catch Millencolin in Australia on their True Brew tour at the following dates:
Tuesday, 26th April – Metropolis, Fremantle 18+
Tickets from tickets.destroyalllines.com, www.oztix.com.au or Oztix Outlets
Thursday, 28th April – HQ, Adelaide 18+
Tickets from tickets.destroyalllines.com, www.oztix.com.au or Oztix Outlets
Friday, 29th April – Roundhouse, Sydney Lic AA 
Tickets from tickets.destroyalllines.com, www.ticketek.com.au or Ticketek Outlets
Saturday, 30th April – Coolangatta Hotel, Coolangatta 18+
Tickets from tickets.destroyalllines.com, www.oztix.com.au or Oztix Outlets
Sunday, 1st May – The Tivoli, Brisbane 18+
Tickets from tickets.destroyalllines.com, www.ticketmaster.com.au or Ticketmaster Outlets
Monday, 2nd May – 170 Russell, Melbourne 18+ – NEW SHOW ADDED! 
Tickets from tickets.destroyalllines.com, 170russell.com or the Corner Hotel Box Office
Tuesday, 3rd May – 170 Russell, Melbourne 18+ – SOLD OUT!
Presented by Destroy All  Lines and Chugg Entertainment
Essential Information
From: Orebro, Sweden
Band Members: Nikola Sarcevic – bass guitar, lead vocals, Mathias Färm – lead guitar, backing vocals, Erik Ohlsson – rhythm guitar, backing vocals, Fredrik Larzon – drums, percussion
Website: http://www.millencolin.com
Latest Release: True Brew  and True Brew EP (Out Now – Epitaph)