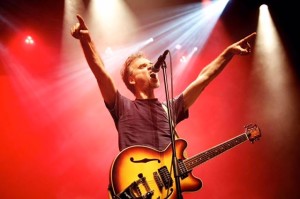 Following the success of their recent four month, 32 date National tour as 'special guests' of James Reyne, Moving Pictures return this May to celebrate the 35th Anniversary of the classic Australian album 'Days Of Innocence'.
Often referenced within 'Classic Australian Album' countdowns, 'Days Of Innocence' spent seven weeks at the top of Australian Music charts and spawned the iconic single 'What About Me'.
This May Moving Pictures, featuring much loved band members Alex Smith and Garry Frost, will hit the East Coast to celebrate this landmark event- with some added surprises!
MOVING PICTURES – DAYS OF INNOCENCE 35th Anniversary Live
Tickets on sale now
Friday, 6 May 2016 – Belmont 16s, Newcastle, NSW
http://www.16s.com.au
(02) 4945 0888
Saturday, 14 May 2016 – Memo Music Hall, St Kilda, Vic
http://www.memomusichall.com.au/
Friday, 20 May 2016 – Twin Towns, Gold Coast, QLD
http://www.twintowns.com.au/show/moving-pictures
1800 014 014
Friday, 27 May 2016 – Bankstown Sports, Bankstown, NSW
http://bankstownsports.com/showroom-entertainment.html
(02) 9722 9888
Saturday, 28 May 2016 – Wenty Leagues, Wentworthville, NSW
http://www.wentyleagues.com.au/show/moving-pictures
(02) 8868 9200
Friday, 3 June 2016 – Bridge Hotel, Rozelle, NSW
http://www.moshtix.com.au/v2/event/moving-pictures/84582 / 1300 438 849
http://www.oztix.com.au/ / 1300 762 545
http://www.ticketek.com.au / 13 28 49
Saturday, 4 June 2016 – Narrabeen RSL, Narrabeen, NSW
http://www.narrabeenrsl.com.au/Events
About Moving Pictures:
Moving Pictures formed in 1978. Their debut album, Days of Innocence, was issued in October 1981 and eventually peaked at No. 1 on the Kent Music Report Albums Chart in February the following year. In January 1982 they released their single, "What About Me", which reached No. 1 on the related Kent Music Report Singles Chart. Late that year Elektra Records issued Days of Innocence and "What About Me" in North America. The single reached No. 29 on the Billboard Hot 100 and appeared on the associated year-end Hot 100 list for 1983.
In November 1982 another single, "Winners", peaked at No. 12 in Australia. In October 1983 their second album, Matinee, was released. It reached No. 16 and, of its four singles, only the lead single, "Back to the Streets", reached the Top 40. Their non-album single, "Never", was used for two film soundtracks, Footloose (1984) and Hot Rod (2007).
2015 saw the release of 'Picture This', a stripped back album featuring re-interpretations of past songs.
The Summer of 2015/ 2016 saw the band embark on a 32 date National Tour with James Reyne
http://moving-pictures-band.com/