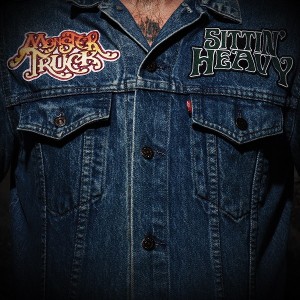 When an album starts with a straight up rock and roll energy the way that Monster Truck's new album 'Sittin' Heavy' does, well you get the feeling you're in for a bit of an injection of what many people are missing these days, and that is what might save your life tonight… Rock and Roll! I mean the track is called 'Why Are You Not Rocking?' and I can already hear venue managers crying over the repair bill to have the roof put back on their venue after this one blows it off when the guys hit any town. The opener is short, sharp and to the point, I say welcome back Monster Truck. We got a taste of the new album when the band was on tour in Australia with 'Don't Tell Me How To Live' and the groove is as classic as you want plus the big chorus and Jeremy's perfect guitar tone on this one make it a winner for sure and perfect choice for a single. 'She's a Witch' keeps the riffs, well, riffing… and you honestly can't help but get the shoulders moving and foot tapping when listening to this band, I guess they found their formula and they've bottled it!
Ooh, 'For The People' gets a little bit swamptastic, I can just see the guys sitting on a porch with a couple of guitars and a box to beat on just belting this one out, it's got that vibe to it and with a slide guitar solo to boot?, damn, what a catchy ditty!! Time to slow things down a little, 'Black Forest' leads in with some killer sounding keys and it turns into almost an 'Unforgiven' by Metallica type feel, I'm already intrigued, what a great track that would sound amazing live. 'Another Man's Shoes' turns the volume way back up and I love this one lyrically, in the midst of the onslaught of rock and roll this one is deep and you need to check it out, also you'll be 'ooh ooh ooohing' along with it, trust me! 'Thing Get Better' well not in the way of the album because it's already been awesome, so I'll say it's getting awesomer (totally a word) and this one continues what the band have done thus far and will keep doing, rockin' and I have no issue with that. Fuck I wish more bands were making albums like this one…
Continuing on with 'The Enforcer' and more big gang vocals, and what a set of pipes Jon has, that man was born to do this, and oh wow, this one could actually be my favourite so far, what a groove! So yeah, Monster Truck if you can come back to Australia soon to play these new tracks for us, that would be great… these are songs that need to be heard all around the world on the stage and in seeing them before, they know how to play and watch out if they're opening for you because you may, no you will get showed up.  There's only three to go, and 'To The Flame' sounds like it should be a slower one, and it is, in almost a doomy type vibe, damn, why am I reviewing this in the middle of the day, I need atmosphere! I can only say so many times how big the guitars and riffs and vocals are, but hey what do you expect when an album delivers just that on every song? This is so great!
Two to go and 'New Soul' sounds like it gets some 80's style distortion on the guitars, but what I do like about this one is the arrangement, the verses are prominently vocals and drums with almost underlying guitars which sounds great. Last track starts with soothing lullaby style keyboards, thanks Brandon, but we get to 'Enjoy The Time' for close to six minutes on the closer and it feels like an old school Black Crowes track which I dig, but with the rolling guitar parts in there, this one let's itself build to the big sing along type chorus, I can see lighters held aloft and arms being waved and that's just mine.
So this band tells you not to fuck with the truck, well I recommend you continue in that fashion, let them fuck with you though because this Monster Truck will fuck you up in the absolute best way possible for forty six minutes, with a collection of straight up rock and roll tracks, and you'll enjoy every second of it. I fuckin' love this band.
Essential Information
From: Hamilton, ON, Canada
Release date: 19 February 2016
Produced By: Eric Ratz
Record label: Dine Alone Records/Cooking Vinyl
Website:  http://www.ilovemonstertruck.com

Track Listing:
01. Why Are You Not Rocking?
02. Don't Tell Me How to Live
03. She's A Witch
04. For The People
05. Black Forest
06. Another Man's Shoes
07. Things Get Better
08. The Enforcer
09. To The Flame
10. New Soul
11. Enjoy The Time