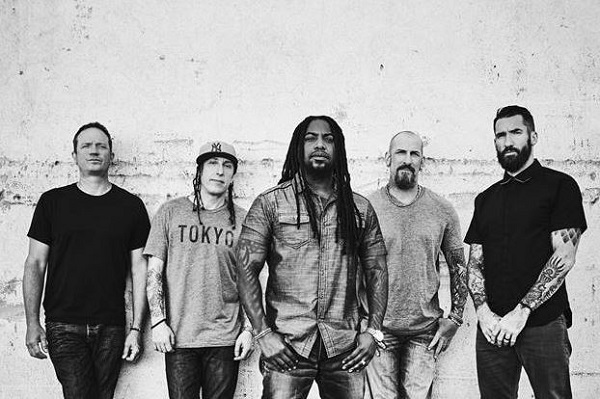 "…the first time we were together there was a certain type of magic that was there that I felt just something that I couldn't put my finger on at the time but I knew that we had something special and we still have that when we get together on stage. I don't know, we just get up there and throw it down, it comes naturally to us. *laughs*"
From release: SEVENDUST kicked off their illustrious career with an untouchable string of three gold albums, beginning with their self-titled 1997 debut and continuing with Home in 1999 and Animosity in 2001. Along the way, they've sold out shows everywhere and given unforgettable performances at the likes of Rock On The Range, Woodstock and OZZfest. However, the new chapter starts now. The blistering new album "Kill The Flaw" has received some of the best reviews of the band's careers, displaying a re-invigouration of creativity and signaling a rejuvenated take-no-prisoners stance akin to that initial 3 album burst of mayhem.
We gave LJ a call to talk about the upcoming tour of Australia, the band's newest album 'Kill The Flaw', the magic of the band on stage and much, much more… Look at the view…
You're FINALLY heading back to Australia! Also for a headline tour which is amazing, as it's been a while between tours can tell us what we can expect?
Man you know, us to really get down there and put on a great show and to just share the energy, the emotion that we have and I think it's even more important for us to make sure it's the best because we've been waiting so long to get back to you guys, man, so we're very excited to put on a great show with a lot of great music.
As a live band Sevendust pretty much blow everyone else out of the water, what is it about you five guys on stage that makes this magic happen?
Man you know what I think it's because we've been together for so long but I don't know if I'm saying this right because the first time we were together there was a certain type of magic that was there that I felt just something that I couldn't put my finger on at the time but I knew that we had something special and we still have that when we get together on stage. I don't know, we just get up there and throw it down, it comes naturally to us. *laughs*
Being here a number of times though, do you have a stand out memory from one of your previous trips here?
You know what? Anytime that we're there is just beautiful, to me it's a different world, everyone's so nice and friendly I don't think there's not a pretty place in Australia that I've seem *laughs* so I look forward to being there with the energy, the weather's always beautiful and like I said, to me Australia is a magic place and I can't wait to be there.
I remember when we spoke last you were telling me there was a guy that had his little "Australia, look at the view…"
Oh my god, we still say that, we still say it to this day, brother *laughs* Australia! Look at the view *laughs*
Of course you're back with a new album, and with a catalogue of ten albums now how do you go about putting a set list together for your shows these days?
Oh my god it's the worst *laughs* but this time around on this Shinedown and Breaking Benjamin tour we bought on a few old songs like 'Shine', we put 'Angel's Son' back in the set, let's see… we put 'Driven' in the set and it's fun to have that many different songs, but you know after a while sometimes it gets hard because some people want to play these songs and when you have over a hundred songs to choose from it gets weird with timing but we try to pick the ones that we think people will enjoy the most.
Almost like a best of set?
Yeah exactly, kinda like that, absolutely. *laughs*
Talking about the set, can I just ask a favour and make sure these three songs will make it in?
Praise: We'll definitely play 'Praise'
Enemy: We could do that now that you say it…
Karma: Oh my God, that's one of my favourites, we could do that too… I tell you what… how about we do this, you guys put together a set list that you would like to hear? We should do that, all those songs you said are definitely songs that we can play *laughs*.
I'm so jealous of the Shinedown and Breaking Benjamin package, that's just a dream line up for me…
Man, we were trying to get over with Breaking Benjamin but unfortunately not on this run but maybe in the future because we love touring with Ben and those guys are great, it's been a great tour.
Yeah when I spoke to Ben, obviously he doesn't fly so they've never been here, he said they'd come by boat…
Yep, we were talking about that, trying to ride on the boat together… I don't know if I'd like the boat… maybe if you let me ride the boat for five days then helicopter me out *laughs*… that's awesome…
The last time we spoke was when 'Cold Day Memory' was released, so let's catch up. How have the last five years been for the band?
Crazy! Man, going to getting away from old management to new management which has changed our lives completely to the new people that have come into our lives and completely kicked butt and changed things. We've been working here in the States, trying to get there unfortunately we weren't able to and we kind of got bashed by that but I think with this new promoter that's bringing us over we cannot wait to build a relationship that we feel like we've been missing on building but it wasn't due to us not wanting to be there at all, I just think that we have a lot of work to do and I can't wait to start it and get there. This time we are definitely coming *laughs* we can't wait.
On the new album, it's an absolute monster, I feel like it's your best in years…
Thank you we're very excited and happy about it, brother. It was so incredible to go in and unplug because we did a whole unplugged acoustic thing, the last album we did was unplugged and played that round on an acoustic tour, so when we went back in finally after a year of doing that, man, it was really time for us to throw on those electric instruments and stay away from the acoustic guitars and went in and be the band that we were when we started… we didn't have any material we just went in and worked from twelve noon to twelve midnight every day except for Saturday's and we would go right back in on Sunday's and it was like a bee-hive of music. We had two stages that we would set everything up on and everything was miced so it was an exciting process and we had a great time doing it.
But seriously, the album sounds like it's lit a fire under you guys, what was it like for you hearing the finished product from start to finish?
Wow… very exciting because I think we kind of stepped outside the box in a really crazy way, so we didn't really know what it was going to sound like at the end of it after working so hard in so short of a time that we held ourselves to have, so it was very exciting, I was so excited for everyone else to hear what we've done and like I said I just can't wait to be out there and just share these songs and perform them and feel the energy and get the feedback because it's been great so far.
So we have 'Thank You' on this album, we've had 'Praise' way back when, knowing how much you love Australia what are the chances you could write an Aussie thank you song, you could call it 'Good Onya', thoughts?
Oh man, you know what? Thank you for saying that, now that I have the permission to do that, guess what, it's done *laughs* you got it for sure!
I recently introduced my friend to you guys with 'Kill The Flaw', now she's hooked. Do you find that every time you release a new album you get a whole new audience discovering your music?
Yeah absolutely I think that's a beautiful thing to have new ears, you know it's great to have people that have been with us and have grown up with us, that's amazing. I'm forty three years old now and to be able to look out and see a guy that's my same age and has kids like me, like we do and now his kids are at the show and not only his kids at the show but his kids are old enough to have boyfriend's and girlfriend's, they're at the show and oh my gosh they've got a baby and now a damn grandkid *laughs* it's really cool to look out and see that and be a part of that. Then also to have these people that never heard of us, being a part of these tours, normally they would never come and see Sevendust or maybe not even listen to us on the radio, and to see their faces and to win them over and build that relationship right in front of us, I always say, you can love us, you can hate us, but you can never ignore us. So it's been really cool to be a part of that.
So it's been twenty one years you've been in Sevendust so far, what for you has been the most notable change in the way the band works over that time?
Man I don't know, we've just grown up together, we're grown men now. For me it's crazy that we still love each other the way that we do and we get along and if there's a problem we bring it to the table and we fix it. We're a family, and that to me is the most incredible thing… that we're still here, we're still the original band and we're still doing it and we love it, sometimes it gets hard but we have a new fire in us and we're excited. Business is good right now and we're in a good space in our heads and in our minds and bodies so we're just ready to do it.
 I know of course there was the period where Clint left the band, but when he came back you could just tell it had to be you five guys to really make it work, you know what I mean?
Absolutely, that's the holy shit, that's the C-God, that was the beginning of it, that was our seed that grew into this tree that we call Sevendust or whatever you want to call it, so that was the original, you could still water it but there was a branch missing and we got it back *laughs*.
So we know what changed, but on the other side of that, what's been the one thing that's stayed the same?
I think us… we have really, I don't think we've really changed much, we might be bitter *laughs* but only to the fact of people that did us the wrong way in the music business, it took us a long while to become business men and I think that's something that I always say in this business, the music business be it woman or man, you need to be a business man or a business woman and stay true to your heart but also know what's going on in your career because a lot of people can have their hand in their pockets and you never know because all you want to do is live your dream and do your music, so you forget about those things. It took us a while to do that but I thank the Lord that were at that point where we're all owners of what's going on with Sevendust, we have our hands in everything so that's good, you know what I mean?
Lastly, let's look ahead to the future so I want you to finish this sentence for me. In 2016, Sevendust will…
Come to Australia and rock it all the way through, and hopefully come back again and again and again if you guys will have us because it's been a long time waiting, we love you guys and I can't wait to be over there to share and see you all again.
Sevendust Australian & NZ tour Dates
Fri March 11th – The Studio (Auckland)
Sun March 13th – Capitol (Perth)
Mon March 14th – The Gov (Adelaide)
Wed March 16th – Coolangatta Hotel (Gold Coast)
Thur March 17th – Eatons Hill (Brisbane)
Fri March 18th – 170 Russell (Melbourne) 
Sat March 19th – Metro (Sydney)
Get your tickets now HERE:
Essential Information
From: Atlanta, GA, USA
Band Members: Lajon Witherspoon (lead vocals), Clint Lowery (guitar, vocals), Morgan Rose (drums, vocals), John Connolly (guitar, vocals), Vince Hornsby (bass)
Website: http://www.sevendust.com
Latest Release: Kill The Flaw (Out Now)

Comments
comments