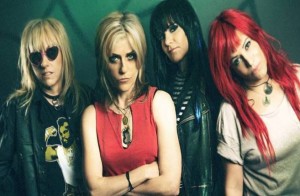 One of the most anticipated acts that were announced for Soundwave 2016, Venues across Australia are NOW about to get the roof blown off when L7 take to the stage for an ass-kicking live experience this October presented by Metropolis and Select Touring. It's been a long hiatus, but the female punk heroes are FINALLY BACK, giving Australians a down and dirty intimate club tour.
Having dominated the music scene throughout the 90's and spearheading a ferocious underground musical movement whilst defying gender expectations for the greater good of kick-ass alternative grungy punk rock, the iconic queens of rock 'n' roll L7 are exactly that, and so much more. From 1988 – 1999 they were responsible for some classic rock moments – Shitlist, Pretend We're Dead, Everglade, Slide, Andres, Fuel My Fire (originally done by our own Cosmic Psychos), Wargasm, Shove, Fast and Frightening to name a few Rolling Stone also featured the band's Butch Vig produced "Bricks Are Heavy" album in their list of Essential Recordings of the 1990's.
Being cited as a mammoth influence on many of the Riot Grrrl bands of the same decade, L7 are back to prove what all the fuss is about for the greater good of society. Since re-uniting in 2014, the punk heroes have been tearing stages to shreds ever since, demonstrating exactly why their live performances are as iconic as we say they are and showing the world once again why L7 was one of Kurt Cobain's favourite bands. Billboard describes their live show as "one of the hardest, rawest rock bands I've seen on stage in years".
Here's what recent gig reviews have been saying about the punk goddesses.
"With a sound that could fill a venue 10 times the size of this one, stage presence that makes you shut the fuck up and listen and lyrics spat with the same vehemence they were 30 years ago, L7 prove that they are not only still relevant, but necessary in a music scene that desperately needs to cut the bullshit and get back to the fundamentals." (Stereoboard)
"Thanks for taking an extended hiatus to remind us all what we've been missing." (Seattle Passive Aggressive)
"Seeing L7 reunited onstage wasn't a nostalgic pleasure – it felt more like a privilege." (Billboard)
"Like a boxer whose single punch is a haymaker. You know it's coming but it knocks you out every time." (Chicago Tribune)
"L7 was sweaty rock & roll with not an ounce of pretentious bullshit. Just headbanging and yelling like animals" (LA Weekly)
It's going to be sweaty, it's going to be un-apologetically L7 – oozing the grit and grime from the streets of Los Angeles in a viciously pissed off display of raw energy; but really, would you want it any other way? Prepare your grins now as they play all their Classics, after you see this band you won't be able to take it off your face for a long time to come!
L7 Australian Tour Dates:
Thursday 6th October PERTH Metropolis Fremantle
Friday 7th October ADELAIDE The Gov
Tuesday 11th October MELBOURNE 170 Russell
Friday 14th October BRISBANE Eatons Hill
Saturday 15th October SYDNEY Metro Theatre
Tickets on Now sale via: