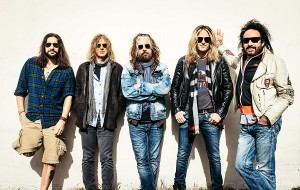 After spending the last month recording in Nashville, The Dead Daisies are heading to Germany to take part in Musikmesse Frankfurt, Europe's biggest Music Trade Show.   The band will immerse themselves in workshops and industry panels as well as performing centre stage of the fairground every day from April 7 – April 10, 2016.  They'll also play a headline club show as part of the prestigious Musikmesse Festival at Zoom Club Frankfurt on April 8, 2016.
"We are absolutely delighted to welcome The Dead Daisies as our Special Guests at Musikmesse 2016. This will be a special highlight for everyone at the event in April. We are thrilled about exclusive performances with The Dead Daisies for the first time at Musikmesse Frankfurt." – Wolfgang Lücke (Director Musikmesse)
"We are really looking forward to meeting all of our fans in Frankfurt. This will be the first performances of the new line-up with Doug Aldrich so come out and celebrate with us!" – Marco Mendoza
The band have just completed most of the tracks for their new album with producer Marti Frederiksen (Aerosmith, Gavin Rossdale, Mötley Crüe, Buckcherry), the follow up to the album Revolución. The yet to be titled album should be completed by the end of March and released globally on SPV Records later this year.
While in the studio, our friends at Planet Rock Radio in the UK, held a massive competition, offering a flight to the US and a visit to the recording studio in Nashville. Alex Rymer was the lucky winner, who not only got to listen to some new tracks but also took part in recording some backing vocals & percussion. Alex commented: "Quite a surreal weekend. Normally I would be at home walking the dog, but I was hanging out with The Dead Daisies. Unbelievable! Had a chat with the guys at a bar, had a few drinks, and hang out with them in the studio listening to them record new stuff! What a fantastic experience!"
Also getting the 'inside scoop' was Mark Hoaksey, editor in chief at UK's Powerplay Magazine, as well as Jon Norman from Planet Rock Radio, so stay tuned for some cool exclusive features!
With the year having just started, The Dead Daisies are well underway, with a killer new album in the works, massive touring being booked and fuelled by their ever-growing fan base, the band is showing no signs of letting up.
Rock 'n' Roll is alive and well!