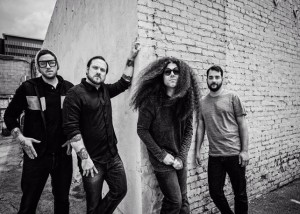 To coincide with the bands forthcoming Australian Tour, New York's legendary post-hardcore prog visionaries COHEED AND CAMBRIA are proud to unleash the 3rd single (ISLAND) taken from the bands first foray into non- conceptual albums. 'The Color Before The Sun' marks the bands first released outside of The Amory Wars story line which has to date, tied their music together.  
Following on from the bands previous singles "You Got Spirit Kid" and "Here's To Mars", "Island" sees the band delve into the world of pop rock whilst maintaining their trademark mix of momentous guitar riffs, wild percussion, formidable vocals and contagious hooks. COHEED AND CAMBRIA continue to cement themselves as one of the most thrilling, notable, and distinctive acts of their time.
""Island" reflects the feeling I had towards my living situation while writing The Color Before The Sun. In a small city apartment, surrounded by a sea of concrete,  thin walls and open ears, I struggled with the hold it had on my creative output." – Claudio Sanchez
COHEED AND CAMBRIA continue their love affair with Australia by bringing their signature sound down under once again, serving up a selection of musical delights both new and old from their storied career spanning over 2 decades. With the first Melbourne show selling out in just one week, the band have now announced a second show on SATURDAY MAY 7TH. 
Armed with an electrifying, engaging and infectious live show, don't miss COHEED AND CAMBRIA this May.