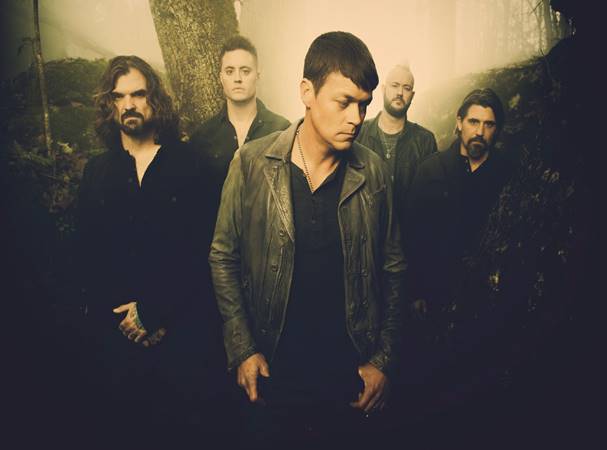 "We've had a lot of ups and downs and I think we've grown as musicians, but not only as musicians we've grown as people and I think that now after all these years everyone in this band is finally in a spot where we can finally look up and look around and finally take a breather you get what I'm saying?"
From release: 3 Doors Down first found their own voice in 1995. It's only gotten louder over the past two decades. Everything kicked off with their 2000 debut, The Better Life. The album went six-times platinum and introduced the world to their now-classic "Kryptonite." Their fan base continued to grow with 2002's triple-platinum Away from the Sun—which yielded the smashes "When I'm Gone" and "Here Without You." Both 2005's platinum-certified Seventeen Days and 3 Doors Down [2008] bowed at #1 on the Billboard Top 200 followed by Time of My Life's #3 debut in 2011. Now 3 Doors Down announce their sixth full-length album, Us And The Night , available in stores and through all digital retailers March 11th.
At home in Nashville Chris from 3 Doors Down gave us a very early morning call to chat about the band's new album 'Us And The Night', how it was put together, the magic of a song and talk about touring plans…
The album is called 'Us and The Night' as it's 4:30am here in Sydney right now and practically still night, so can you tell me about the title and what it represents?
*laughs* Man, the title comes from if you think of it as a snapshot of where the band was at while we were writing this record, and at the exact moment when this record was named after five years on hiatus we had to add new members and we had to write new music and it kind of regroup and kind of start over because of losing two guys and that's kind of how the title of the record came about, and even how the title track came about because it's "Come on come on, just enjoy the ride" don't take it too seriously, this is a good life that we lead, don't let it get away from you. That's kind of the spirit of it.
What was the creative process like with this album, did you set out to do anything differently this time around, was it hard to go into the studio with the new guys or did it all flow together?
No it was a little tough at first just because we had to feel each other out, but we went into the studio this time with a different kind of perspective, we wanted to use some different instrumentation during the writing process and not have it be so much guitar based and vocals like rock bands really are all the time. We've done that and we knew that we could go back to that if we needed to, so we just wanted to do some different things with different people and it worked out great, man. The writing process flowed a lot smoother than we anticipated, it just took a little while to get there but overall it was a great process and I can't wait to do it again.
A song like 'In The Dark' is a little bit of a departure, almost a funky track for you guys, how did this one come about and get the nod to be lead single?
Well it's funny, man. 'In The Dark' it was a dance track, I was telling you in the question before how we used some different instrumentation in the writing process and that song was actually started on an iPad in garage band, we programmed a dance track that was going to a DJ out in LA. Chet our guitar player was programming it with whatever samples he had on garage band on an iPad, like on airplanes with headphones and the back of busses and things like that. It really wasn't supposed to be a 3 Doors Down song, it just kind of hung around and hung around and hung around and the last day of production the producer Matt Wallace heard it and he was like "shit, it's time to make this a rock track" so we started working on it right then and the next day we knew we had something cool, we didn't know it would be the first single but we knew we had something really cool.
I think it's hilarious that technology is so accessible these days that you can write your first single on an iPad…
Yeah I know, man! It's weird because everyone expects, especially when you play rock and roll, not only do they expect you to write everything on guitar and bass but you're almost required to you know what I mean? You know what? It doesn't have to be that way, music is music and the way that kids are doing it these days isn't like we did back in the day all the time. It's different and it can be embraced and it can be fun and it can get the creative juices flowing.
And the end result you don't even know the difference…
It's still rock and roll, man.
Six albums in, how do you feel you've grown as a band in that time to be where you are today?
Oh wow… it's been six records and sixteen years in a signed band and twenty years as a band, it's been a learning process from day one until today. We've had a lot of ups and downs and I think we've grown as musicians, but not only as musicians we've grown as people and I think that now after all these years everyone in this band is finally in a spot where we can finally look up and look around and finally take a breather you get what I'm saying? I don't mean that in we get to take a break and do nothing, we can look up and we can enjoy a little bit of what's going on around us instead of being pushed so stinking hard and I think that's the growth process, I think being able to realise that and being able to do it without freaking out is how we've grown.
The world was introduced to you through 'Kryptonite' which is still a great tune some fifteen years on, what do you think it is about that song that resonated and still resonates with the world?
You know I have no idea man, I wish I knew and I wish I could figure it out because then I could write it down and sell it. Sell the formula to people and I'd be the richest man on the planet and its really uncanny that song just struck a chord with people, and it struck a chord not only with people that listen to the lyrics but also people that listen to the music because there's two types of music listeners out there and not all of them listen to the words, but it somehow transcended both groups and it's really hard to replicate that and hard to figure out how we did it, so man, I don't have a straight answer for that. I think maybe just lyrically when Brad writes lyrics he always just leaves an open end at the end of each line so it can be interpreted the way he meant it to be and also the way it needs to be interpreted by each person, and he's good like that, not a lot of people are. He's one of the guys that's good like that and I think that has something to do with it.
The other side of that is that you were lucky because you had the big rock song but then you had 'Here Without You' which was a huge smash down here, so you got the balance of the rocker and the big ballad, so you're doing alright…
Yeah you know I can't complain, I'm thankful *laughs* very thankful and very grateful.
It would be remiss of me not to ask, but when do you think we might see you in Australia?
You know it's funny, we've been talking about it, we don't have any definite plans, I mean we've got plans to come but we don't have definite dates but we're trying to put it all together, the record is still not on the shelf here in America, it comes out on March 11th, so once it gets out and the wheels start turning and we'll figure it out. I would say expect us sooner rather than later.
Because it has been a long time since you were here…
It's been a while, man. I want to say seven years and that's just a guesstimate I'd have to look in the books, but I know we've been three times.
Over your career thus far, what's the one thing you've always wanted to do but haven't yet had the opportunity to do?
Oh man… a couple of things… we've been to all these different countries so many times and seen so many places but I've never been to China, so I'd really love to go check that out. I know other artists that have been there but we haven't had the opportunity to go there so I would love to have that opportunity at least, that's the one thing on my mind.
So obviously throughout a band's career things change, but rather than asking what has changed, what for you has been the one thing that has stayed the same throughout your time together?
I think just the work ethic is one thing that has stayed the same and I think the romance between the fans, the band and the music because it takes all three to come together as one to make the wheels turn. I think the work ethic on our part and just the support on the fans part and the fact that we kind of write music with all that in mind and I think that all just works together and that's really stayed the same as far as we're concerned.
Lastly, let's look ahead to the future, finish this sentence for me, the one thing 3 Doors Down wants to do in 2016 is…
Oh wow… let's see… the one thing that 3 Doors Down wants to do in 2016 is get 'Us And The Night' out and get it to all our fans and come see everybody and play for every single person that we can possibly play for…
Essential Information
From: Escatawpa, Mississippi, USA
Band Members: Brad Arnold : Vocals, Chris Henderson : Lead Guitar, Greg Upchurch : Drums, Chet Roberts : Guitar, Justin Biltonen : Bass
Website: http://www.3doorsdown.com
Latest Release: Us And The Night (March 11 – Spinefarm Records / Caroline Australia)