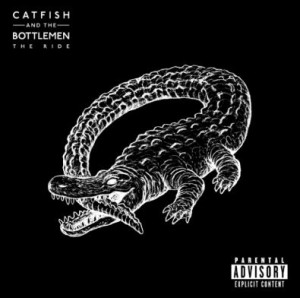 Catfish and the Bottlemen, winners of the Brit for Best British Breakthrough, unleash their much anticipated new album 'The Ride' May 27th on Island Records / Caroline Australia.
Written by Van McCann and produced by D Sardy, the album was recorded mostly in LA and features 11 bold new songs that verge on the anthemic. With explosive new single 'Soundcheck' already taking over the airwaves, Catfish and the Bottlemen are ready to make 2016 their year.
Says Van. "We wanted to stay inside the box. I always say if you can play it on an acoustic guitar and win over a bar or a kitchen even of rowdy people… the" I feel like everybody started thinking too outside the box trying to be arty and different." n you've done it… that's how I see song writing."
The follow up to their 250,000 selling debut album 'The Balcony', pulls no punches. From start to finish 'The Ride' bursts with gutsy high-octane tracks, offset by the two mellow acoustic songs 'Glasgow' and 'Heathrow'. These songs were made to be played live.
Kicking off with '7', already a fan favourite from the band's live set last year, the album features songs about being together and songs about being apart as accentuated on the measured angst of 'Twice'. Other highlights include anthem in waiting 'Oxygen' and the epic closer 'Outside', as well as current radio favourite 'Soundcheck.'
The video for 'Soundcheck' was directed by Malia James of Los Angeles punk pop band The Dum Dum Girls. Shot in the band's signature black and white, it captures the intensity of a Catfish and the Bottlemen live show.
Having made a name for themselves as Britain's most exciting band to watch live, Catfish & The Bottlemen sold out their forthcoming UK warm up tour in an astonishing 4 minutes. Locally, Catfish & The Bottlemen have had Australian fans in a frenzy since first hitting our shores in January last year where they stole hearts supporting The Kooks.
Championed by Triple J, all four singles from debut album 'The Balcony'; ("Kathleen", "Cocoon" "Hourglass" and "Pacifier") were added to rotation. The first single from 'The Ride', "Soundcheck" peaked at #1 Most Played on the station soon after release and has remained in the top ten for the past four weeks.
The Ride Tracklisting:
7
Twice
Soundcheck
Postpone
Anything
Glasgow
Oxygen
Emily
Red
Heathrow
Outside
The artwork for 'The Ride' comes from long term Catfish and the Bottlemen collaborator, New York illustrator Tim Lahan, who also produced the cover art for their debut album 'The Balcony', and the singles taken from it.
PRAISE FOR CATFISH AND THE BOTTLEMEN:
"The band's youthful energy, skilled melodicism, subtle instrumental layering, and retro production evoke memories of when The Strokes were the hottest band in town." – Music Feeds
"Surging riffs and energetically splayed choruses." –The Guardian
"Anything but anonymity beckons." – Q Magazine
"One thing's for sure, these dudes have made quite the entrance with their latest tune into the eyes and ears of international audiences – and it looks like Catfish along with The Bottlemen are definitely here to stay." – Purple Sneakers
"Like The Walkmen's 'The Rat' realised as a full band." – NME
"Killer guitar skills and major charisma." – Nylon
"Catfish & The Bottlemen are on the up, with the Welsh indie-rockers being compared to the Arctic Monkeys and The Strokes." – The Independent
"Van McCann and co have produced a hard-to-resist cocktail of buoyant harmonies and fierce guitar." -The Guardian
"THE RIDE" IS OUT ON MAY 27TH VIA
ISLAND RECORDS / CAROLINE AUSTRALIA
PRE ORDER HERE: https://caroline.lnk.to/TheRide