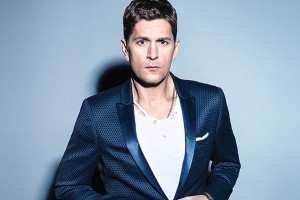 This month ROB THOMAS will make a very welcome return to Australia when he embarks on the Australian leg of The Great Unknown World Tour. 
Touring in support of his first solo album in more than six years, the long-awaited The Great Unknown, Thomas' summer tour will include a special night under the stars, 'On The Steps' at the Sydney Opera House, three winery shows, including at A Day On The Green in Queensland and Victoria, as well as a headline Melbourne arena performance and Perth and Canberra performances.
Rob Thomas has now announced a special second and final Sydney show at the State Theatre on Friday February 26. 
This will be Sydney's final chance to see Rob – the frontman, lead vocalist and key songwriter for Matchbox Twenty and major solo artist – playing his hits and classics, plus select tracks from The Great Unknown.
"I'll be playing some of the new stuff, some of the old stuff, a little bit of everything, it's pretty exciting…"said Thomas of The Great Unknown World Tour.
Tickets for this special Sydney performance will go on sale at 10am Friday, February 12.
Fan club members can be among the first to secure tickets during the exclusive pre-sale commencing 9am Monday February 8.
Telstra Thanks is bringing an exciting 48-hour pre-sale just for Telstra customers from 1pm Monday, February 8 until 1pm Wednesday, February 10. For more information on how to purchase, visit:telstra.com/music.
For complete tour and ticketing details, visit: livenation.com.au.
Multiple Grammy Award winner Rob Thomas is known worldwide as lead singer and primary composer with Matchbox Twenty, as well as for his hugely successful solo work and chart-topping collaborations. Overall, Thomas has contributed to sales of more than 80 million records.
Featuring singles 'Trust You' and 'Hold on Forever', The Great Unknown (out now through Warner Music Australia) is the third and latest solo offering from the master singer-songwriter.
Thomas delivered his solo debut in 2005. …Something To Be hit #1 on the ARIA Album Chart and earned sales of three-times platinum, adding singles 'Lonely No More', 'This Is How A Heart Breaks' and 'Streetcorner Symphony' to the list of Thomas classics. His 2009 follow up, Cradlesong, featured 'Her Diamonds', peaked at #3 on the ARIA Album Chart and achieved double-platinum sales.
Matchbox Twenty released their debut album Yourself Or Someone Like You in 1996. Home to massive hits 'Push' and '3AM', the album amassed sales of 10-times platinum in Australia. The band's most recent studio album, 2012's North – fuelled by the hit singles 'She's So Mean', 'Overjoyed' and 'Our Song' – reaped their first-ever US #1 debut and Billboard 200 chart-topper, and an ARIA Album Chart #1.
Rob Thomas, in part, also holds the title of the second-most played track on Australian radio of the past 15 years with 'Smooth', his certified worldwide smash hit collaboration with Santana for which he collected three Grammy Awards. The tune resided at #1 on Billboard's Hot 100 for a staggering 12 weeks in 1999.
With exception of the State Theatre, Sydney show, joining Rob Thomas on tour will be special guest Pete Murray, with Darren Middleton of Powderfinger fame appearing at the three winery shows.
ROD LAVER ARENA, MELBOURNE
SATURDAY FEBRUARY 20
ROYAL THEATRE, CANBERRA
MONDAY FEBRUARY 22
'ON THE STEPS',  SYDNEY OPERA HOUSE FORECOURT
WEDNESDAY FEBRUARY 24
STATE THEATRE, SYDNEY*
FRIDAY FEBRUARY 26
HOPE ESTATE WINERY, HUNTER VALLEY, NSW
SATURDAY FEBRUARY 27
ADOTG SIRROMET WINES, MT COTTON, QLD***
SUNDAY FEBRUARY 28
KINGS PARK & BOTANIC GARDEN, PERTH**
WEDNESDAY MARCH 2
ADOTG ROCHFORD WINES, YARRA VALLEY, VIC***
SATURDAY MARCH 5
Also performing at Clipsal 500, Adelaide, on Sunday March 6. www.clipsal500.com.au
*NEW SYDNEY SHOW TICKETS ON SALE 
10AM FRIDAY FEBRUARY 12
*Fan Club pre-sale:
9am until 12pm Monday February 8
*Telstra Thanks pre-sale:
1pm Monday February 8 until 1pm Wednesday February 10  
***Presented by A Day On The Green
For event & ticketing information, visit www.adayonthegreen.com.au
**Co-promoted by Mellen Events
For event & ticketing information, visit: www.mellenevents.com
For complete tour and ticket information, visit:
www.robthomasmusic.com & www.livenation.com.au