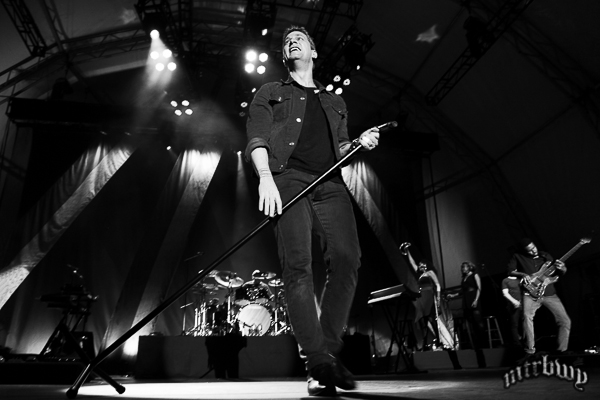 Rob Thomas most of you would know from his position as front man in Matchbox Twenty for the last twenty years, and he's visited Australia many, many times since his first visit in 1997. Tonight he returns off the back of his newest solo album 'The Great Unknown' and he's playing somewhat of an iconic venue, but more on that soon.
Pete Murray and his band open the show tonight as the Sydney Opera House can be seen in the reflection of his sunglasses. Through 'Bail Me Out', 'Better Days' and 'Imaginary Fields' the crowd start to get warmed up, well as warm as you can get with Pete Murray but he's really the perfect choice for tonight and this setting, as the sun goes down his music is just chilled and I think Pete should only ever be allowed to play outside at sunset as it's his perfect scenario. 'So Beautiful' got the biggest reaction of his set so far but 'Free' has the most energy in the set tonight and is my stand out by far. 'Always a Winner' closes out his set and he takes in his deserved applause as the ever growing crowd take relief from a now set sun and take their seat for the main act.
Rob Thomas hits the stage with 'Give Me The Meltdown' which gets the crowd buzzing as he makes his first comment on the view which I'm predicting is the first of many. 'Falling To Pieces' funks it up a bit as he points out that he has a much better view than we do which is true. The Opera House Steps shows are pretty damn special and when Rob said he saw Crowded House do it and always wanted to do the same, and now he gets to it is pretty darn cool. The crowd know the next one, actually his first solo single 'Lonely No More' and the singalongs are a bit of fun.
'Her Diamonds' let's his band shine (pun intended) and we get acoustic up in here with 'Getting Late' but as soon as that's done the electrics come out 'Mockingbird' and this one gives me a chance to watch his band and I have to commend his passionate drummer, he's rad. Rob is of course here in promotion of his new album 'The Great Unknown' and the title track takes its place in the set and what I've always liked about Rob is that he means his words, you can tell he feels every song he sings and this one in particular means a lot to him and it was amazing to hear him share it with us.
An absolutely perfect acoustic version of 'Ever the Same' just cements what I said above, his words are perfect. 'Someday' turns the volume back up and ok Rob, I think it's time for a Matchbox Twenty song… Ok so not yet… 'I Think We'd Feel Good Together' is new and very poppy but works much better in a live band environment. Pounding drums lead in 'Fire On The Mountain' is big but when it's cover time that always gets the crowd going and this one this one in particular is a good choice, it's 'Let's Dance' by of course the late, great, David Bowie, a version that does the original justice tonight, well played, Mr Thomas as he then runs off and let's his band jam this one out and it was great.
'Pieces' will be the next single from new album and it's a ballad, yeah he's good at those too as we already know. I'm a sucker for a ballad and yep love it. The phones come out and the place lights up like you would not believe. Now can we have a Matchbox song? Nope… but a great Lionel Richie story will do instead followed by his attempt at a Lionel song, 'Street Corner' gets the crowd back on their feet and funks the place back up again. Band introductions are always fun and just happened followed by Rob taking a seat down front for another little acoustic ditty 'Hold On Forever' and a piano rolls out as he tells the story of 'Little Wonders' and subsequently yet not surprisingly he played it.
FINALLY!! I know, this isn't a Matchbox Twenty show and I shouldn't be expecting an array of those hits, but as you'd expect, '3AM' sent the crowd into a tizzy and a sing along. This is the much more subdued piano version as it was originally written more like back in the Tabitha's Secret days and it's just magic and of course it got the biggest reaction of the night. As quick as my Matchbox high came, it's gone… but the buzzing guitars of 'I Am An Illusion' kinda make up for it as once again the band get to jam this one out and they're tight!
OK it's back, we get one more Matchbox Twenty song and I must say that I love these reworkings of the Matchbox tunes and when he plays one of your favourites well it kinda rules. This one is 'Unwell' and it's perfect. That's a moment. We get a story about meeting Santana and of course it's time for 'Smooth' which so many people love, I turned around at one point and everyone was singing along and just smiling, proof of a damn good song, and yeah I must admit, it's catchy as all get up. 'This is How a Heart Breaks' closes the show, the band take a well deserved bow, there is no encore.
If I had only one complaint tonight (besides my wanting of the Matchbox Twenty back catalogue) it's now that the venue isn't amazing, it's that the volume of the show is just not loud enough. I heard a few people mutter the same on the way out, and it's only small I know, but when I see a live show, I want to really hear it!
Let's not leave it at that though, to sum up the show, Rob Thomas is a storyteller, a damn good storyteller, his humour shines through in his show and it's no wonder he's still at the top of his game almost twenty years on, to me he's the same guy he was when I saw Matchbox 20 in Melbourne in 1997 on their first visit here with maybe two hundred people and I commend him for never letting it go to his head. It's fun being a part of his journey and I will continue to enjoy his stories.
Essential Information
Venue On The Steps, Sydney Opera House  Sydney
Date February 24, 2016
Presented by Live Nation
Website http://www.robthomasmusic.com
Support Pete Murray
Photo By Annette Geneva   Every Day Is Saturday
Check out our full gallery HERE
Set List:
Give Me The Meltdown
Falling To Pieces
Lonely No More
Her Diamonds
Getting Late
Mockingbird
The Great Unknown
Ever The Same
Someday
I Think We'd Feel Good Together
Fire On The Mountain
Let's Dance
Pieces
Street Corner
Hold On Forever
Little Wonders
3AM
I Am An Illusion
Unwell
Smooth
This Is How A Heart Breaks