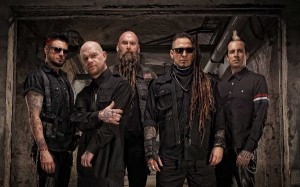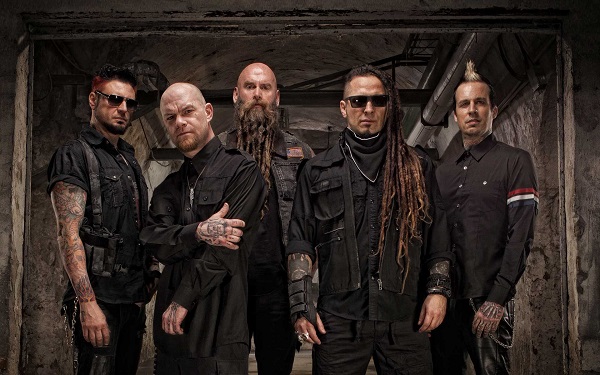 FIVE FINGER DEATH PUNCH has partnered with VEVO to exclusively debut the much-anticipated official music video for their new single My Nemesis.
The video concept was conceived by the band and realized by renowned director Nick Peterson who previously directed the band's award winning videos for "Coming Down" (2012) and "Wrong Side Of Heaven" (2014).
"My Nemesis" is the third single from the band's current album, Got Your Six and has already climbed to the Top 20 on the Active Rock radio chart.
Watch the video for My Nemesis HERE

The clip's multi-faceted storyline explores the hard and painful choices everyone has to face one time or another in life. The video is focused around the pain and grief involved in overcoming and moving on from emotionally entangled difficult situations – following various scenarios from teenage runaways to drug abuse and domestic violence. Peterson powerfully depicts this impactful message on film, similar to the band's "Wrong Side of Heaven" video in 2014.
That clip was intended to increase knowledge about the plight of veterans suffering from Post-Traumatic Stress Disorder (PTSD) and the crowd-funding campaign to support the cause raised over $ 225,000 at the time, www.5fdp4Vets.com
Zoltan Bathory (guitars) states: "In life everyone has a nemesis… it can be anything…  a self defeating thinking pattern, a bad habit, an addiction, an adversary… something or someone that puts you in an impossible scenario, where you are presented with a fork in the road. Sometimes there is no other choice but making a hard choice. You can give up and just suffer the situation, or you can use your pain to overcome it, as pain is truly the wind in the sails of change. We wanted to present a story about moving on, a story that probes and questions compassion and loyalty. Those are beautiful notions, but remember you have to be loyal and fair to yourself as well, so will you sacrifice yourself for another or will you live with the guilt that you didn't."
In support of the video and the song's message of overcoming our struggles, 5FDP is encouraging fans to share their own "Nemesis" on Facebook, Twitter and Instagram by completing the phrase – "#MyNemesis is ________ and I will #OVERCOME" –  Search the hashtag, comment and support your fellow 5FDP fans.
Everyone has a story, so share YOURS. Share your experience and the way you overcame and dealt with a seemingly impossible situation.
Share it if you are currently in it and trying to find your way out. You are not alone. We all have a Nemesis. Tell your story on Facebook, Twitter, and Instagram and hashtag #MyNemesis and #Overcome 
Fans can visit fivefingerdeathpunch.com/mynemesis to see all of the fan responses and are encouraged to send a positive message to those that resonate with them personally.
Five Finger Death Punch will be touring Australia in April with Black Sabbath
KING PARROT:
To open FFDP side shows in Melbourne and Sydney
One of Australia's most popular and outrageous heavy bands, the Aria nominated King Parrot will open for Five Finger Death Punch on their two headlining shows in Melbourne and Sydney.
With a string of international tours under their belt, the most recent being a massive European run with the legendary Soulfly, King Parrot have never been more on point and crushing with their live show.
Their latest album Dead Set crashed into the Aria album chart at #21 on release in May 2015 making it the highest debut for an Australian extreme metal release in history.
FIVE FINGER DEATH PUNCH supporting BLACK SABBATH – April 2016
Perth Arena – Friday April 15
Adelaide Entertainment Centre – Sunday, April 17
Rod Laver Arena, Melbourne – Tuesday, April 19
HEADLINE SIDE SHOW, The Forum, Melbourne – Wednesday, April 20 – with King Parrot
HEADLINE SIDE SHOW, Big Top Sydney – Friday, April 22 – with King Parrot
Allphones Arena, Sydney – Saturday, April 23
Brisbane Entertainment Centre – Monday, April 25
Telstra Presale: Friday, March 4 @ 12.00am to Sunday, March 6 @ 5pm
Live Nation member tickets onsale: Monday, March 7 @ 10.00am
General tickets onsale: Tuesday, March 8 @ 10.00am
For complete tour and ticket information as well as VIP packages offered, please, visit: 
www.fivefingerdeathpunch.com & www.livenation.com.au
Got Your Six is out now via Eleven Seven Music/Sony Music Australia
facebook.com/fivefingerdeathpunch / twitter.com/FFDP / www.instagram.com/5fdp