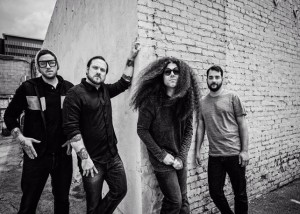 After traversing the outer limits of science fiction over seven acclaimed concept albums, COHEED AND CAMBRIA'slatest offering 'The Color Before The Sun' marks the bands first non – conceptual album and the first to be recorded live in the studio. Founder and songwriter Claudio Sanchez explores his emotions nakedly, plainly and unabashedly.
Listen to tracks from the album: "ATLAS" + "ERASER" + "GHOST" + "PEACE TO THE MOUNTAIN"
"This is the band's most accomplished, well-realised, accessible and tuneful release to date. It sparkles with invention, creativity and crushing use of dynamics" – Rock Sound
COHEED AND CAMBRIA continue their love affair with Australia by bringing their signature sound down under once again, serving up a selection of musical delights both new and old from their storied career spanning over 2 decades.
Armed with an electrifying, engaging and infectious live show, don't miss COHEED AND CAMBRIA this May.
**** Exclusive fan pre sale begins Wednesday 10th February: Sign up here:
*** TICKETS ON SALE FRIDAY 12th FEBRUARY 9am AEST
*** VIP MEET AND GREET PACKAGES AVAILABLE
www.selecttouring.com.au  | www.metropolistouring.com
TOUR DATES
THURSDAY MAY 5th – THE METRO THEATRE, SYDNEY 18+
Tickets available at www.metrotheatre.com.au   | www.ticketek.com.au
FRIDAY MAY 6th – MAX WATT'S , MELBOURNE18+
Tickets available at www.oztix.com.au
TUESDAY MAY 10th – MAX WATT'S, BRISBANE 18+
Tickets available at www.oztix.com.au
WEDNESDAY  MAY 11th – THE GOV, ADELAIDE 18+
Tickets available at www.oztix.com.au | www.moshtix.com.au
FRIDAY MAY 13th – CAPITOL, PERTH 18+
Tickets available at www.oztix.com.au | www.moshtix.com.au
PRESENTED BY TAPERJEAN TOURING, SELECT TOURING, METROPOLIS TOURING AND HYSTERIA MAG