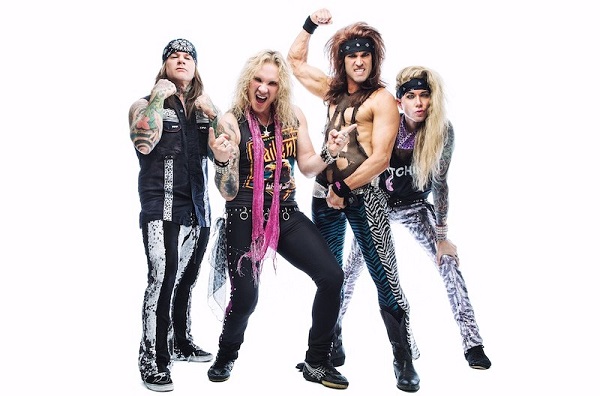 Internationally renowned glam rockers STEEL PANTHER  have officially announced 'Live From Lexxi's Mom's Garage', the band's first full length film, featuring a ten-song live acoustic concert interspersed with comedic vignettes showcasing the band's unmatched shenanigans and debauchery. The album and film will be released on CD and CD/DVD by the band's label Open E Records via Kobalt Label Services on February 26th. 
'Live From Lexxi's Mom's Garage' was taped in Los Angeles last October before a live audience of scantily clad women (and one old creepy fat guy who somehow got a ticket) inside the uncharacteristically large and professionally lit garage of Ms. Foxx (Bobbie Brown), who coincidentally also happens to be the mother of Lexxi Foxx. The musical portions of the film feature the band performing acoustic versions of their most popular songs such as 'Party Like Tomorrow Is The End Of The World' and 'Community Property' plus one new song titled, 'Then You Came In'. Several female violin players who are "very easy on the eyes," according to Stix play through the various hits with the band.
Between songs, the film follows the band as they figure out who they can and cannot sleep with; and as they navigate the world as the biggest glam rock band that never was from 1985, in 2016.  "It was so much fun playing our songs on these new wooden guitars in my mom's garage!" said Lexxi Fox. "Satchel says that he might be my new dad, but I'm not really sure what that means!"he added.
Steel Panther recently wrapped their 'Well Hungover' North American headline tour and are slated to soon kick off residencies at LA's famed Fonda Theatre and Las Vegas's House of Blues. Last year, the band sold out headlining tours in the U.K. and South America.
ABOUT STEEL PANTHER:
For the uninitiated, Steel Panther was formed in 2000 and is Michael Starr (lead singer), Satchel (guitarist), Lexxi Foxx (bass) and Stix Zadinia (drums). 
Hailing from Los Angeles, the epicentre for rock n' roll in all its debauchery and glamour, Steel Panther have established themselves as the world's premier party band, melding hard rock virtuosity with parody and criminally good looks.
With three full-length albums, worldwide touring, platinum-level Youtube status and high-profile television appearances on Jimmy Kimmel Live, Larry King Now, and FOX NFL Sunday, the band is touring in support of their LP, All You Can Eat.
Released in April, 2014 to rave reviews, the album hit #24 on the Billboard Top 200 Album chart and garnered the band their third consecutive #1 album on the Top Current Comedy chart. Check out their latest music video for 'Pussywhipped' HERE, and the truly wild video for 'The Burden of Being Wonderful' HERE.
Of 'All You Can Eat', Rolling Stone raved, "There's a reason Steel Panther have transcended their origins as a cover band playing the Sunset Strip", while Metal Sucks declared, "Steel Panther's concept is genius…their songwriting is… preposterously snappy – and relatable."