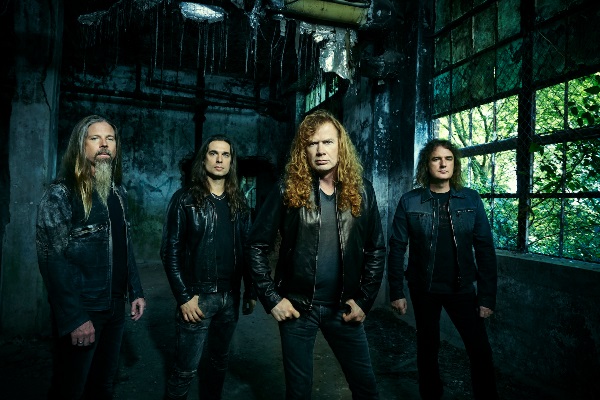 "I think probably the only thing that we try and do is not copy ourselves to make sure that we set the scales for our own self critiquing to high, not to unobtainable heights because obviously that would kill any project but just to make sure we don't take the easy way out and that we don't copy ourselves."
From release: Thrash metal genre pioneers MEGADETH will kick off the New Year with the release of their 15th studio album Dystopia. Dystopia weaves together Dave Mustaine's intricate and unique songwriting style, trademark leads and lightning riffs with harmonious precision, paying homage to MEGADETH's influential roots while continuing to break new and heavy ground.  MEGADETH burst onto the scene thirty years ago, virtually inventing a genre with their debut album Killing Is My Business… And Business Is Good!, have now sold more than 38 million albums worldwide, earning numerous accolades including 11 Grammy® nominations, scoring five consecutive platinum albums—including 1992's two-million-selling Countdown to Extinction.
In his house in Franklin, Tennessee we spoke to Dave Mustaine about 'Dystopia', its creation and more, touring, changes and how long Kenny G thinks they have to wait to win a Grammy…
Thanks for your time, Dave. To start us off, where did the title and idea of 'Dystopia' come from?
Well the band has always had *laughs* some trouble titling records as well as songs in general, and that song was called 'Tyrannicide' prior to 'Dystopia' and before that it was called 'What You Don't Know' and probably a couple of other titles before that, and we just finally got to the point that it was called 'Dystopia'. Some of those songs when you're doing a record in metal there are certain songs that just cry out to you and say I'm going to be the title track and 'Dystopia' told us that's what it was.
Did you or do you usually go into each Megadeth record with an idea or concept as a foundation?
I think probably the only thing that we try and do is not copy ourselves to make sure that we set the scales for our own self critiquing to high, not to unobtainable heights because obviously that would kill any project but just to make sure we don't take the easy way out and that we don't copy ourselves.
How has having Kiko and Chris Adler in the band helped to shape the current line up?
Well it certainly made things exciting. You know we've had great players over the years but I think right now it's probably more exciting for me than it's been in a very, very long time because Chris is influenced by Gar Samuelson who was a jazz player and a lot of my playing in the very beginning had a lot of twists and turns ala a jazz guitar player because that's a lot of what the stuff that I liked was. I liked a lot of the weird stuff that was part of the British invasion and a lot of the weird arranged music from back in the day, not just real straight ahead forward stuff.
What was the recording process like having this new blood in the studio?
Well Kiko was interesting to see how he would record, he was very knowledgeable, the difference was just a little bit of a language barrier and it wasn't even so much that he didn't speak English, just that he had a very thick accent and some of the words that he uses in his former band, some of the tools and the musical progressions and styles that they did had just different terminology, so that took a little bit of getting used to. Chris was real easy because again he was influenced a lot by Megadeth and the stuff that we'd done, I had no idea I was really, really excited and in the end rewarded in more ways than one with his being as familiar with the band as he was. If he had been in the band the whole time he wouldn't be so much a fan as he was a band member because of how familiar he is with everything. He certainly knows as much as a guy that had been in the band the whole time.
Am I right in saying this was your first solo production effort?
No, no no… this is you know, if you look at a lot of stuff we've done in the past, say for example 'Countdown To Extinction' I produced that with a co-producer Max Norman, and same thing with 'Cryptic Writings' I co-produced that with Dann Huff. This is the first time that we went into a record and it wasn't a team so to speak because Chris came along in the middle of the project, we had already started working on it and made a couple of moves with people we were working on the record and Chris had been helping us engineer and I said do you want to help me finish it and that's where that kind of came in at. This is definitely my style of how I would produce something because Chris is a relatively unknown guy so what you hear is not me being with somebody that's really great and be in one of those situations where you put your name next to somebody that's really great to make you look great *laughs*.
You were in Australia late last year and played some killer shows. What was that run like for you?
Too short, it was way too short, you know we caught a lot of grief from our fans in Adelaide and over in neighbouring New Zealand for not hitting those two stops and frankly, I I wish that the live music scene was healthier in both of your nations, I think there's been some stuff recently that's really made a lot of people a little reluctant to go see concerts and it's affected the bands that come down there like myself and the shows that we can play. Australia is a beautiful and enchanting place and to miss out on it it's incomprehensible to think that I would never get to come down there and play again.
Well hopefully you can off the back of Dystopia, I suppose there are no plans to come back and see us?
Yeah well we're definitely going to go, I'm just thinking about what it would be like to be somebody who's in a band that would never get the chance to come down there to see this nation because it truly is something to be marvelled with, it's close in age to where I'm from and yet the two nations are a lot different and I think that it's neat to be able to travel to some place you can be so comfortable in and experience a neat, different new place.
Well off that hopefully a new festival will come along that can pick it back up and those bands can come here…
Yeah I'm hoping that Gigantour is going to be successful in The States and we can take it out again because we've done it there once before and I don't think we would ever have anything that would rival Soundwave, Big Day Out or Day on The Green, but I think it's cool to be able to bring live talent out and let people come and see, especially if you're bringing bands from other countries down to Australia, I think it's really cool to be that guy that can say hey, I brought some of my friends down here to be with you guys who are my new friends.
Speaking of Australia, I wanted to ask about the imagery on the cover of 'Dystopia' is that the Sydney Harbour Bridge?
Hell if I know but I sure have heard that from a lot of people *laughs*
We'll just go with yes…
Yeah, yeah… *laughs*
Now it's been thirty years since you released your debut album back in 1985, and obviously music and the industry is a whole different beast now, so what for you is the biggest change you've witnessed since the band's inception?
The biggest change I think has been things going digital and especially with all the use of streaming and peer to peer file transfers and stuff like that, I think what was meant to be for good really hurt a  lot of people that were unable to survive that, there's a lot of bands that were able to survive that because they were live bands and bands there weren't live bands that were surviving off of sales of records and stuff, they're gone… but that's kind of like the circle of life how the music industry has a way of kind cleansing itself, if an act isn't ready, hell, it will go out in plan, it just won't make it because it's just not ready.
Thankfully you've been around for all this time and past this as it must be so hard for new bands in this day and age to get up there?
Oh yeah! Totally is because there's so many great, young players and stuff like that but do they have what it takes to go and get in a bus and ride around for days and days on end away from everybody and not eating well and not sleeping well and not travelling or being treated well and are you willing to do that and suffer for your art and do it over and over and over and over again? That takes a certain breed of people, and then to be able to get in front of an audience which really is the drug of choice for an entertainer like me and not let them know that hey, the other twenty two and a half hours of my life every day are fucking miserable… but the hour and a half that I'm in front of you makes it all worthwhile.
Fifteen albums in, what keeps you driven?
Bills… *laughs*
That's the best answer ever; let's leave it at that…
Well truth be told, brother, come on… *laughs*
Lastly, let's look ahead to the future, finish this sentence for me, the one thing I want Megadeth to do in 2016 is…
Get a Grammy, get inducted into the Rock and Roll Hall of Fame…
What are you about fifteen nominations or something now for the Grammys?
*laughs* I don't know but it's getting up there, I tell you what, my buddy Kenny G, we were backstage at the Grammy's one night and I think it was like out eleventh or twelfth nomination and he goes "Hey Dave, I just want to let you know and not to feel bad, I was nominated twenty one times before I won my first one" Gee, fucking great, Kenny that makes me feel really good. *laughs*
Essential Information
From: Los Angeles, CA, USA
Band Members: Dave Mustaine – Vocals / guitar, David Ellefson – bass, Chris Adler – drums, Kiko Loureiro – lead guitar
Website: http://www.megadeth.com
Latest Release: Dystopia (Out Now – Universal Music Australia)