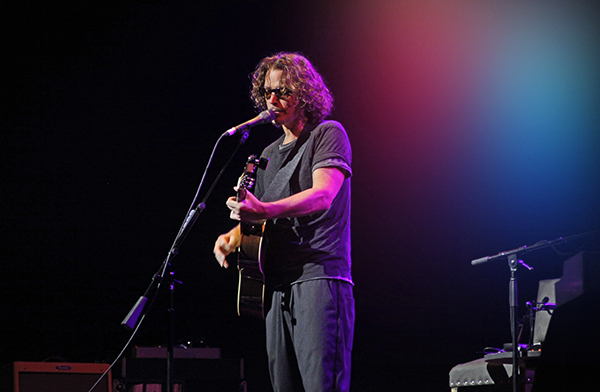 Before the show even starts I feel that this could be the show that I simply review this way… 'Chris Cornell. Genius.' But I'll see what else I can come up with.
David Le'aupepe from Gang of Youths opens the show solo tonight. Now I love this band and hearing him sing these songs tonight this way is an absolute pleasure. The power of the songs remains and man, pardon my French but what a fucking voice. His cover of 'The Book of Love' by The Magnetic Fields and also by Peter Gabriel showed off his lower register and vocal ability, then 'Poison Drum' was outstanding. His passion on stage almost saw him take out one of Cornell's guitars which was close but I love that he feels these songs. Closing with the album opener 'Vital Signs' was awesome. Now as I said, I LOVE Gang of Youths live as a band but hearing this tonight was phenomenal.
Back after four years Chris Cornell shares his love of the Opera House and opens with Before We Disappear' from his newest album 'Higher Truth' and man, that voice… It never gets old. 'Can't Change Me' was a little bit magic, and I'll probably say that a lot tonight as Cornell always puts on a captivating performance. ' As Hope & Promise Fade' was a great addition but when he gets the harmonica out for an amazing version of 'The Times They Are a Changin' by Bob Dylan it just shows how not only great this song is but how well he can deliver it.
Back to 'Higher Truth' with 'Nearly Forgot My Broken Heart' complete with mandolin was great but 'Fell On Black Days' with cello was much better, was also out first Soundgarden track tonight, hopefully the first of many more. Some Led Zep with  'Thank You' kept the cello out but now that it's gone it leaves Chris solo up there for some Audioslave with 'Doesn't Remind Me' and the power in his voice again, wow. In another cover and in a brilliant mash up it's the music of U2's 'One' with the lyrics of Metallica's 'One' I mean who does that?' It worked so well and left many amazed and confused at the same time, definitely a highlight of this already amazing show.
'Call Me A Dog' followed by 'Blow Up The Outside World' which of course gets a whole lot of love and uses a nice looping which is happening right now. 'Let Your Eyes Wander' brings the cello back out then with and a bit of Bond action with 'You Know My Name' and for what is a big rock song I really love how it has translated to the a acoustic version. Oh wow. Another cover but a great choice in 'Nothing Compares 2 U' complete with added crowd cheer opportunity when 'Sydney' was subbed into the lyrics.
'Rusty Cage' has the crowd clapping along and I'm loving the down tuned guitar here, it just works. 'Seasons' always gets a run in his set, well what I mean is thankfully it is still in the set and second to 'One' this was my highlight of the night so far, it also kept mate Rhys happy, if you ever see him remind him to tell you about his 'Seasons' story and his Citizen Dick shirt, it's pretty good. 'Misery Chain' let's Chris put a record on to sing along to with style, then time for some more Audioslave with 'I Am The Highway', then 'Billie Jean' is given the Cornell treatment and is completely smashed out of the park, his version if you haven't heard it is one you really need to. Oh shit, 'Hunger Strike' amazing! I don't need to say much about this one, but when he hits the high parts and his voice cuts through that it's what this room was made for.
'Black Hole Sun' with the cello was a perfect version and although the melody a little different I felt it worked, and of course a big song that everyone knew. It's back to the new album after that massive run of tracks which was so good as 'Worried Moon' slipped straight in as did oldie from Temple of The Dog with 'Wooden Jesus' which was unexpected! Another cover and I have to stop here and say that I'm loving them, even though Chris's catalogue is extensive, hearing him sing other people's songs is so good, it feels like a bit of a treat in fact, and when it's a song like 'A Day In The Life' by The Beatles, it's just that little bit better. It got a little psychedelic in the end and was just something to witness as he leaves the stage with guitar held high.
Returning to the stage with another Dylan cover, 'I Threw It All Away' followed by 'Josephine' from 'Higher Truth' which is a beautiful song and one I was hoping he'd play tonight, and closing out the set with the title track from 'Higher Truth' he wows the audience one more time and leaves filled with gratitude and us filled with amazement of how this man can do what he does. As I said at the beginning, tonight's review could've simply said this. Chris Cornell. Genius.
Essential Information
Venue: The Sydney Opera House
Presented by: Live Nation
Supports: David Le'aupepe of Gang of Youths
Date: December 11, 2015
Website: http://www.chriscornell.com
Photo by: Annette Geneva – Full gallery HERE
Set List:
Before We Disappear
Can't Change Me
As Hope & Promise Fade
Times They Are a Changin'
Nearly Forgot My Broken Heart
Fell On Black Days
Thank You
Doesn't Remind Me
One
Call Me A Dog
Blow Up The Outside World
Let Your Eyes Wander
You Know My Name
Nothing Compares 2 U
Rusty Cage
Seasons
Misery Chain
I Am The highway
Billie Jean
Hunger Strike
Black Hole Sun
Worried Moon
Wooden Jesus
A Day In The Life
I Threw It All Away
Josephine
Higher Truth