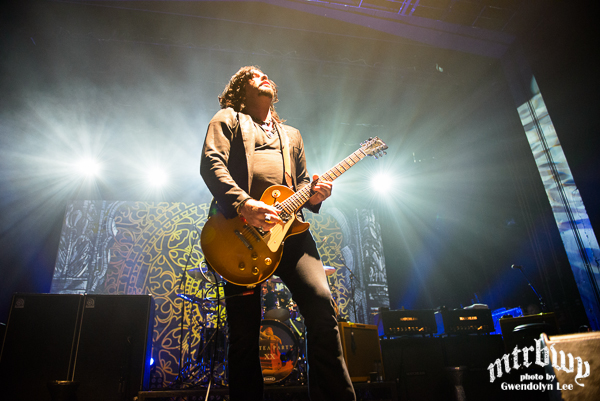 Australia has always loved The Tea Party, and tonight they're back and here for the twentieth anniversary of 'The Edges Of Twilight' and we're getting it in full plus more. There's also no support tonight just The Tea Party and I'm ok with that.
Starting acoustically and with that unbelievable vocal, Jeff Martin sing a simple "you…" the crowd cheers and it's on. As the acoustic rings out, Jeff straps on the Les Paul, is joined by Stuart Chatwood and Jeff Burrows and the song explodes into the opener it was twenty years ago. With an "are you ready?" it's time for 'The Bazaar' and obviously with this one being the crowd favourite it is and always has been there is a whole lotta love for it tonight. I've said it before as I've seen The Tea Party a number of times now, but as a three piece this band is just truly outstanding as musicians. The sound that emanates is pure magic and they are truly consummate professionals. Man that's a great song!
It was a bit of a heavy day today with what happened in Paris, so this next one 'Correspondences' was lovingly dedicated to those lost. At almost eight minutes, it really is a magical tune in perfect Tea Party fashion. It was done a whole lot of justice tonight and meant just a little bit more and felt like they gave it just a little but more with Jeff even saying it was a little too heavy got him tonight. The Hurdy Gurdy comes out which is so rock and roll that it hurts which of course leads into 'The Badger' and its beautiful acoustic guitar work. There's just something soothing about this band and their music, it's almost therapeutic in a way although this became the 'hey everyone thinks they should talk to their mate' song. Shhhh this is beautiful.
Ooh a bit of a clap along is instigated for 'Silence' and the open tuning on this one is great and "the closest that The Tea Party will come to country music" as Jeff says. Another killer musical intro and here's another big one… 'Sister Awake' as it went from beautiful to manic with an excellent use of bongo drum, then if you weren't awake you are now as it explodes into a massive rocker, and even more massive when we are treated to 'Paint It Black' which they do a whole lot of justice to with special mention to Jeff Burrows for some amazing drumming. Back to close out 'Sister Awake' and that was a highlight so far.
A little bit of blues takes us to 'Turn the Lamp Down Low' and as per above rocks out. We all get to do a little voodoo sing along and the theremin comes out to play and watching Jeff control the nothing that is there is pretty astounding. He's got the bongo back now as do Stuart and Jeff B, it's a drum fest right now. 'Shadows on the Mountainside' is another acoustic driven track as we already know, but lyrically it's classic when you hear the story of how it came about. 'Drawing Down the Moon' sees the Les Paul back and the volume get turned back up which is killer then 'Inanna' sees another cool instrument make its way to the stage, it looks very much like a sitar, but I could be wrong. I have to say that this one absolutely kicked ass and is up there as a favourite tonight.
You know those guitars that are like double guitars? Well 'Coming Home' gets the electric twelve string treatment and sounds perfect and sounds exactly like a Tea Party song should and with the band here as often as they are they always feel like they're coming home and we will always welcome them so. Now it's time to round out the album with 'Walk with Me' and for an album start to finish they absolutely nailed it. Crazy to think these songs are twenty years old as they still to this day sound only like The Tea Party if you know what I mean… What I'm trying to say is that no one else sounds like these guys and haven't for the longest time. I love that.
A twenty minute break is now being taken with the promise when they return that "the Enmore will never be the fuckin' same again."
They're back and as my mate said "they look really similar to the support band" but this one is a straight up rocker to kick off set two is 'Writings On The Wall' and that was tops. Then to the newest, the title track to 'The Ocean At The End' from their last studio work and this epic track along with its sea sick inducing video screen stood out in terms of musicianship once again, such an emotional piece and the guitar shines through.
Holy shit. Just need to fanboy a little as 'Heaven Coming Down' kicks in, the cheers are amazing as there is so much love for this song down here and its omission from the set last tour made me sad but completely redeemed tonight with an unbelievable version. Man I could leave now but I need to stick around to thank the guys for playing it. Magnificent.
Crazy instrument number sixty two comes out as Martin attacks it with a bow and beats it like it owes him money. 'Save Me' gets a tonne of love much like everything else tonight but when the bow comes back out it gets a little Jimmy Page in here and I'm more than ok with that. Then it ACTUALLY gets Jimmy Page in here as they absolutely nail 'Kashmir' by Led Zep. Finishing off 'Save Me' with some major crowd love the band leaves the stage again, hopefully not for twenty minutes this time…
Back for more as they lead us into 'Temptation' for probably their biggest hit here and it's a perfect way to end this outstanding show. Seriously, I say that and I mean it. This is by far the best set I have ever seen The Tea Party do and I can guarantee that everyone leaving would say exactly the same thing. They were on fire tonight and testament to a band that are still one hell of a band.
Essential Information
Venue: The Enmore Theatre – Sydney
Date: November 14, 2015
Website: http://www.teaparty.com
Photo by: Gwendolyn Lee – Full gallery HERE
Set List:
Fire In The Head
The Bazaar
Correspondences
The Badger
Silence
Sister Awake
Turn The Lamp Down Low
Shadows On The Mountainside
Drawing Down The Moon
Inanna
Coming Home
Walk With Me
Writings On The Wall
The Ocean At The End
Heaven Coming Down
Save Me / Kashmir
Temptation