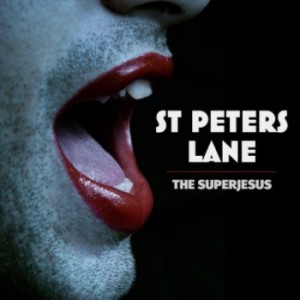 St Peters Lane
 is the new single from 
THE SUPERJESUS
 and has been taken from their forthcoming EP. At radio now and due for release on Friday, 6 November, the song was written by Sarah McLeod and bassist Stuart Rudd, and explores a different kind of lyrical content for the band.
Instantly memorable and instantly recognisable as THE SUPERJESUS, this guitar-laden track draws from Sarah McLeod's real-life experience living on the edge of St Peters Lane, which is a popular hang-out for transvestite prostitutes."I live on the beat for transvestite hookers in Darlinghurst. The windows to my studio look right out on to the road where they pick up, so it's become a part of my life to observe them. When they get a customer they take them around to St Peters Lane, and then I see them stroll back out again about ten minutes later," says Sarah McLeod. "It was hard not to write about such a fascinating subject. I feel they command respect because it would take so much guts for them to keep doing it night after night. They are always polite to me and they are relentless in their pursuit of work."
Like most SUPERJESUS songs, St Peters Lane was constructed in different cities. Stuart Rudd wrote the music in Adelaide then sent it to Sarah in Sydney to 'top line' it – their first collaboration since 'Stick Together' from Rock Music, which became a Top 40 single. Drums were added by Paul in Seattle and then Tim finished it by adding the guitar in Melbourne. "If only a song could rack up frequent flyer miles…this baby's really going places!" said Sarah McLeod.
St Peters Lane is a highly addictive rock track, possessing every signature element of a SUPERJESUS smash.
On the same day as the release of the new single, Friday, November 6, the band also hit the stage in Sydney that night for the first show of their Setting Sun tour at the Factory Theatre.  The tour then moves on to Brisbane, Melbourne and Adelaide.  You'll also catch them on The Morning Show performing St Peters Lane earlier in the day.

THE SUPERJESUS
TOUR DATES
Nov 6 – 
Factory Theatre
 Sydney w/ Van Cooper & Calling Mayday – 
Ticket Link
Nov 7 – 
The Zoo
 Brisbane w/ Blonde on Blonde & Trails – 
Ticket Link
Nov 13 – 
The Corner Hotel
 Melbourne w/ Cicadastone & She's The Driver – 
Ticket Link
Nov 14 – 
Fowlers
 Adelaide w/ Angels of Gung-Ho – 
Ticket Link