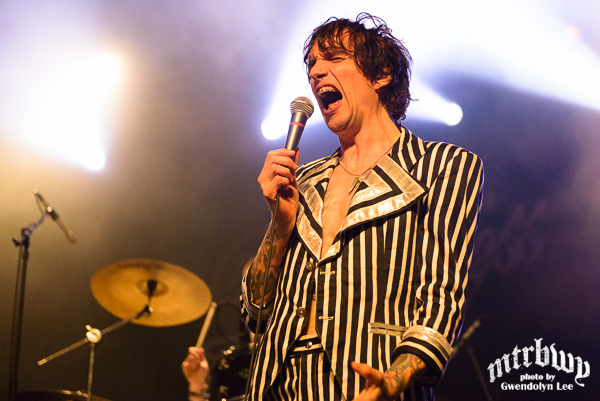 It's been many a year since I caught The Darkness live on their 'One Way Ticket' tour and more importantly eleven years since I first saw them at their headline show at The Gaelic Club in Sydney in 2004 and man, that was one hell of a show then so I'm looking forward to checking out their live set circa 2015 but we'll get to that shortly…
To open the show tonight we have Apes, and after a shaky start with some microphone problems you know it's interesting when Michael on keyboards gets a bigger reaction than the first song did. Ok they're back, we have lead vocals and the band were able to finish their set with no further issues. We've featured these guys on the site before but tonight I didn't mind a few of their tunes and I would happily catch them at their own show in the future, but tonight the place was eagerly awaiting The Darkness…
Lights down. The world's longest intro music sums up the awesomeness of this band, I'm pretty sure it was ABBA, see, awesome, and finally The Darkness take the stage. 'Barbarian' not only opens the band's newest album 'Last of Our Kind' but is our opener tonight and the band instantly sound great, Justin's voice is sounding on point and the band are as tight as they always have been. Now with one chord the crowd erupts as they know what's next, it's 'Growing On Me' and holy shit this is still such a killer track, it has the same energy it did when it first came out and I still love it to this day and watching the way the crowd get into this is song is pretty cool. Plus throwing in a big hit like that this early is always a treat and shows that we have plenty more hits to go. As the stage lights blind me and those cool flying colours and dots appear in my eyes they rip into 'Black Shuck' and with two now off 'Permission To Land' let's hope it keeps up as Justin does his best David Lee Roth off of the drum riser he truly impresses and continues to impress as a front man. His jacket comes off and the ripped Hawkins struts around the stage like he owns it and you know what? He sure as hell does. 'Mudslide' fits into the set perfectly and just watching the timings and the way the band work on stage is a treat, I'd actually almost forgotten how good they were, shame on me.
'Givin' Up' is a whole lotta fun, and as the heavier 'Roaring Waters' kicks in with its huge riff and masked mandolin player I have to say how much this one truly showcases the bands talent, some amazing tempo changes were note perfect and truly impressive. Now, it's common knowledge that everyone loves a cowbell so when Frankie bangs his to start the next song, a sea of cowbells also appear at the front and Justin stops the show and calls these cowbell wielding fans on stage to join the fun. With mega stereo cowbells 'One Way Ticket' has to be a highlight of the night thus far and just shows how fun this band is and how cool their 'army' of fans can be. Oh yeah, big ballad time as the arms get waving for 'Love Is Only a Feeling' it just sounds so big in the room and is a perfect song for the live environment. Also watching the passion put into it up there is pretty damn impressive and once again some impressive guitar work from brothers Hawkins.
Here comes the Fender Rhodes keyboard and we're actual on a 'Friday Night' and this one has always given a giggle purely for the lyrics and surely the only song in the world to use the word 'badminton' in it. Magnificent. 'English Country Garden' gets the shit or in this case, fertilizer rocked out of it and was a nice surprise in the set, followed by 'Every Inch of You' the only track from 'Hot Cakes' which was a perfect fit. Introducing new drummer Rufus Tiger Taylor they launch into a brand new track called 'Rack of Glam' and it's a beaut! If this is a taste of things to come then I'm in. It's a big catchy rocker much like the bands entire catalogue but with an edgier feel to it, man I love this kind of music.
From the newest to the oldest… 'Get Your Hands Off of My Woman' is as awesome as you'd expect and made even more awesome by headstands with leg claps, crowd surfing and a little jump by Dan to end the song it comes straight off the fuckin' top shelf. We get a little crazy with 'Stuck in A Rut' and some boot scooting to go along with it. Seriously entertaining shit. A little jam session leads us into 'I Believe in a Thing Called Love' and boy howdy they love this one. A massive crowd clap along seals the deal and the band leave the stage for a well-earned sit down and quick cup of tea, probably.
A number of chants take place over the few minutes the band is away and I haven't heard a reaction like this for a band in quite some time as they finally come back to give us an encore after the 'Darkness *clap clap clap*' chant won them to return. Wait… Justin is on bass and Frankie with jacket over his shoulder and seated on a stool takes vocals on 'Conquerors' and you know what? It ain't too bad at all. He earned his glass of wine as Justin tells us it was the first time this has ever happened, and being the last night of the tour we got something a little special and that was cool. Now with things back where they should be, they rip into lead single from their newest in 'Open Fire', an odd Radiohead cover with 'Street Spirit', and closing out the night and the Australian tour with 'Love On The Rocks With No Ice' they go out the way they started which was absolutely on fire. Justin takes to the shoulders of John to guitar solo in the crowd which he's always good at, then returning to the stage to finish the track and the night.
A Darkness show is an experience, what you get in that experience is one of the best bands you'll ever see on stage, a whole lot of fun and just a damn good time. Just lock in show of the year, nothing will top tonight in my opinion.
Gimme a D, gimme an Arkness. Ladies and Gentlemen, the mother fuckin' Darkness.
Essential Information
Venue: The Enmore Theatre – Sydney
Presented by: Blue Murder & Select Touring
Support: Apes
Date: November 13, 2015
Website: http://www.thedarkness.co.uk
Photo by: Gwendolyn Lee – Full gallery HERE
Set List:
Barbarian
Growing On Me
Black Shuck
Mudslide
Givin' Up
Roaring Waters
One Way Ticket
Love is Only a Feeling
Friday Night
English Country Garden
Every Inch of You
Rack of Glam
Get Your Hands Off My Woman
Stuck in a Rut
I Believe in a Thing Called Love
Conquerors
Open Fire
Street Spirit
Love on The Rocks With No Ice