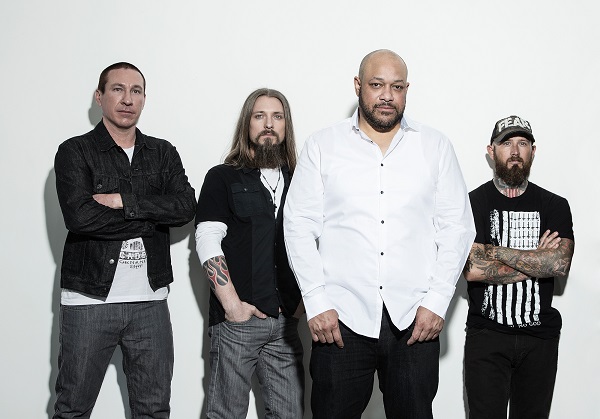 "So after the first record I think we were like we're not going to go through that experience again, I mean not that it was a terrible thing it wasn't at all, this album sounds a lot truer to who we are, the each of us, and the people that have heard it so far have all said that, like 'it sounds like you guys have found your groove, you've found your sound' it has an overall more unique tone to it I think and that's what we want."
From Release: A determined strength born of the tension between tragedy and ambition, the fight between creative satisfaction and musical abandon, and the might of collective experience have coalesced with powerful aggression and brilliant precision in DEVIL YOU KNOW. DEVIL YOU KNOW began as a journey into the unknown, fashioned by a combustible chemistry that ignited a diverse collection of warm embers together as a bright new flame. The urgency of expectation and the bliss of exploration gave the world »The Beauty of Destruction«. Now the fire rages as an unrivaled inferno, threatening all in its path. »They Bleed Red« However boasts a muscular and triumphant sound. 'Consume the Damned' is perhaps the fastest, most aggressive song of DEVIL YOU KNOW's burgeoning songbook, with a tinge of the hardcore background inherent in half of their lineup.
We gave John Sankey a call to chat about Devil You Know's return to Soundwave, the band's new album 'They Bleed Red', making that important second album, and much more…
You've just been announced as heading back to Soundwave, are you pumped to be back on the mega festival?
Of course, I'm super stoked we've kind of been waiting to get word back from AJ for the past couple of months because he said he was definitely interested in having us, so yeah, I guess we just got confirmation, I'd actually just flown in from L.A. and as soon as I landed I turned my phone on and they just announced it, so I was like 'alright, I guess we got word we're doing it'. So I'm pumped mate, it's gonna be great.
You played it a couple of years ago, do you have a great memory from that run of shows?
Yeah that was really cool, it was a strange thing, we'd only just done one show prior to flying out here to do the festival ever with the band, we did one little local L.A. show before we flew out so they were pretty much the first shows that we ever did, AJ has given us a time slot like seven or eight at night after Rob Zombie and before Avenged Sevenfold, so we were just like 'this is strange, no one even knows who this band is' *laughs* and  we didn't have an album out or no songs or anything at that point, so I think it as more the whole novelty thing and AJ thought that would be cool. It was great, but this time is gonna be awesome because we're going to have two albums worth of music, people know who the band is so it will be a different reaction I think. It will be cool.
As you said, you were here prior to the release of your debut album, now will be back with two albums in tow, so what can people expect from a Devil You Know set if they haven't seen you guys before?
Oh man, that's a good question, I don't know, we just get out there and do our thing, man, the one thing that's probably different to us than most is that we just have fun on stage and I think all of us, well particularly with myself and Francesco, we played more the Death Metal style music, even Ryan the bass player he played in Bleeding Through for so long and they were all pretty serious metal bands you know. When we get on stage with the Devil You Know stuff we laugh and mess around and joke and we just have a good time with it like there's no rules, we get up there and have fun and that's what it's all about. So I think obviously as far as the music goes it's pretty intense and pretty heavy and we're just there to have a good time and I think that definitely comes across live.
Now of course along with the touring news we also have a new album coming, this one called 'They Bleed Red' can you tell us about the title and why this scored the naming rights?
Well I think that's Howard's thing, but long story short and it would be much better coming from him, but he's had a lot of struggles and I know over the past few years since we started Devil You Know he's come out and spoken more about the struggles he's had over the years, I guess the whole reason why he left Killswitch Engage and he's opened up a lot more about it, but the title is ore him recognizing while it's not just him, a lot of people have their own struggles and I guess how you deal with it and talk about it and open up about it, that's a personal thing. For him it was that he realized that it's not just me, a lot of people go through their own personal issues, and I think for him once he realized and started talking about it a lot of people came out and were like 'yeah man I know exactly how you feel, I've been through a lot of the same stuff' so I think that definitely struck a nerve with him and helped him to cope and that's definitely where the title comes from, as I said, he would be able to explain it a lot better but from what he told us, that's what it's all about.
So when you went into making the all-important second record, did you set out to do anything differently compared to the debut?
Yep *laughs* not listen to anyone else *laughs* basically because it's just been a strange situation with this band, at first it was just meant to be something for fun kind of on the side, it was just myself, Howard and Francesco, we got Ryan after we had done the first record, so we hadn't gone out and done any shows so we were just writing music and not really thinking too much about it. The way it kind of came out that's what we wanted it to be, but when record labels get involved and A&R guys and management and producers, everyone kind of wanted to tear everything apart and wanted to make what their vision of the sound was because we were a new band, totally new, never played a show so I guess everyone had an idea of what this band should be. It definitely got a little frustrating at times and I think for the most part the first album came out, I mean I'm proud of it, we all really like it, but we were definitely getting a lot of outside influence and people  like 'you should be like this and be more like this' and really trying to capitalize on the audiences of each of the bands we'd done in the past, the most obvious the Killswitch thing, and we had no interest in sounding like that, we didn't sit there and say this is what we want the band to be, we just wanted to just write the music and record it and however it came out that was our sound. So after the first record I think we were like we're not going to go through that experience again, I mean not that it was a terrible thing it wasn't at all, this album sounds a lot truer to who we are, the each of us, and the people that have heard it so far have all said that, like 'it sounds like you guys have found your groove, you've found your sound' it has an overall more unique tone to it I think and that's what we want. That's just more us, the way that I've always played and approached music, same with Francesco, and Howard will always sound like Howard, he wanted to make a heavy record as well and that's just the way it came out, even in the studio the producer we worked with he kept it all in tack, we took the music in and it just came out really natural for us, it was just a very easy process. Now when I sit back and listen to it I love it, it all makes sense to me, I feel like this is how we sound, this is the sound of the band.
You did work with a new producer in Josh Wilbur, what did he bring to the band for the making of this record that you wanted to capture?
I think definitely more the production side and the performance, the way that we tracked he was very much 'ok that's cool but let's get another one' he pushed us the whole way, just to get the best performance out of each of us and he was awesome to work with, very cool dude but when it came time to work he definitely pushed each of us and at the time that's a little frustrating, like 'dude it sounds right to me' and he's like 'yeah… just do it again' *laughs* and you're like 'alright, alright' and the same thing when you listen back, you're really happy to have someone who's gonna work with you in that way, it makes a big difference. He was just great from start to stop, he just really let us do our thing with the record and from a production side it just sounds amazing and I'm just super happy with the sound. I couldn't speak more highly of the dude, he's great, he brings a lot of experience that's for sure. You know he was the only guy we approached for this album and thankfully he was all excited to do it and all about it and were like awesome, that's our guy. We literally didn't talk to anyone at all.
You've wasted no time in getting the album out with the debut only out some eighteen or so months ago, what was the idea behind releasing a new record so soon?
Well we were meant to do some more touring and we decided we had to restructure some of the business of the band, we changed management, just had to go through some changes to set up what we were going to do this year and the options were, we could have a bit of a break, hold off then go back and start touring again earlier this year for a while and kind of push the first album some more, or, we could use that time to write new music, get in and start recording the next record and we didn't want to wait any time so we just started writing to see how it goes. I guess the writing process just went really quickly and we said to the label that we've already got enough material and we could get in and start tracking this so they were like 'alright, let's do it, then we'll get you back out and you'll have a second album and off you go.' So that sounded great to us, I mean I think it's important these days to put out new music, as much as you can, if you're not on the road touring and playing, I mean for me I hate downtime, I want to keep busy, so for us it was easy to write and record and off we go again.
As a band for only a few years now, do you feel you've all found your stride now as a band?
I think so, yeah, I feel like we're getting there for sure. Like I said we had the first album recorded before we'd even stepped on stage as a band together, so the first tour we did obviously was Soundwave, then straight to America and we went on tour with Black Label Society and Down and playing these huge shows and we were a brand new band, I think no matter how good everyone is at their respective job in the band, you can never replace the gel of a band being on stage together unless you've done it, played a million shows for years as a band together. So I feel like now we've done a whole bunch of tours and so many shows where now it feels like we're starting to get to that point where it feels really good as a group on stage. So yeah, we're getting there…
Lastly, let's look ahead to the future, so finish this sentence for me, in 2016 Devil You Know will…
*laughs* Survive touring, I hope… *laughs* we're not a big party band, we're actually really boring, but it's just brutal, man, all the travelling and everyone just starts to lose their mind, we have the running joke that by the end of tour who's gonna lose their mind first because it just turns into one enormous heavy metal groundhog day, you don't know where you are, you don't know what's going on *laughs* so I just hope everyone survives and doesn't lose their mind completely.
Devil You Know: Appearing at Soundwave 2016
Saturday 23 January, 2016 – Brisbane
Sunday 24 January, 2016 – Sydney
Tuesday 26 January, 2016 – Melbourne (Australia Day public holiday)
Head to www.soundwavefestival.com for tickets and full details.
Essential Information
From: Los Angeles, CA, USA
Band members: Howard Jones – Vocals, Francesco Artusato – Guitar, John Sankey – Drums, Ryan Wombacher – Bass
Website:  Official Facebook
Latest Release: They Bleed Red (Nuclear Blast)