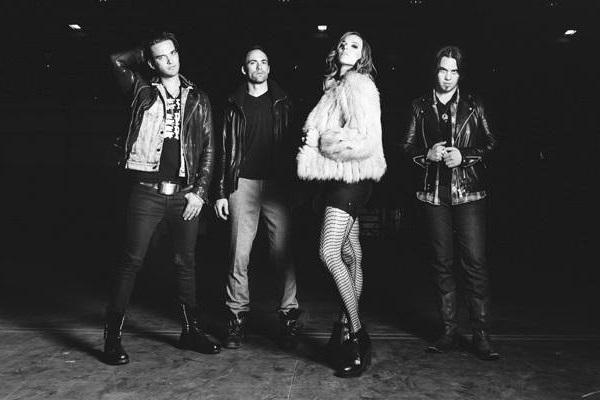 "Really we just play a rock and roll show, there's no tracks or trickery, we don't even use a click track, we just kind of plug in play and what you see is what you get. We like it, we get to ride the wave of the audience…"
From Release: Pennsylvania-natives Halestorm have left an indelible impression on the hard rock landscape since the release of their 2009 debut self-titled album. Bringing life to a genre engulfed in testosterone and cliché, the band immediately established itself as an outfit ready to trade tired tropes for a wholly individual sound. 2012 follow up The Strange Case Of…, features the single 'Love Bites (So Do I)' for which they earned their first Grammy Award for Best Hard Rock/Metal Performance.
Debuting at #1 on both US and UK Rock charts in April this year, Halestorm's most recent offering, Into The Wild Life (out now through Warner Music Australia) stands as another enormous leap forward for the band. Driven by soaring riffs and the singular presence of lead vocalist and guitarist Lzzy Hale, the album was met with broad critical acclaim; touted as an unrepentant triumph the world over. Don't miss your chance to take in Halestorm: a visceral and unabashedly fun experience.
While he was at home, Joe from Halestorm called in for a chat about the band's upcoming tour of Australia, how things have grown for the band, cover songs and much, much more…
To start Joe, I have to say that I've had the absolute pleasure of chatting to both Hale's before, but now with you, all I need is Josh for a full set… so thanks for your time today.
*laughs* There you go, collect 'em all!
First things, first… how pumped are you to finally be heading to Australia to play some shows for us?
Oh man, I can't wait, I've never been there, none of us have ever been down there so we love travel and adventure and this will be a new one for us. We're starting to get to the point where there aren't many new ones for us *laughs* around the world you know.
So you picked the one that's probably the furthest away from anything to come and see last…
Yeah, I've only ever heard great things from all of my friends that have toured down under there and it's just supposed to be such a beautiful place, and I'm excited.
Besides the shows, what are you most looking forward to do down here?
Well I've heard that the rock crowds are awesome and they're one of a kind, and the women are beautiful and the beaches are the best in the world, so you know, there's a lot to look forward to if you ask me *laughs*
There's been lobbying and your name has always been thrown around at Soundwave time with people you'd be on the line-up, so you must be pretty pumped there is a buzz around the band here?
Yeah how cool is that huh? Man, you know, just the fact that anyone cares somewhere else in the world or anywhere still blows my mind. We've been doing this a long time and I mean it's just so cool to watch this thing grow you know, it's just such a neat feeling and to think all the way down in Australia they know who we are and people buy records and come to see us play, it's mind blowing.
You guys are known for your live show, so tell us, what can fans expect at a typical Halestorm show?
Really we just play a rock and roll show, there's no tracks or trickery, we don't even use a click track, we just kind of plug in play and what you see is what you get. We like it, we get to ride the wave of the audience, the energy of the crowd is there, it's just like when a crowd gives you a tonne of energy we respond to it, the songs get a little faster *laughs* or if it's a dead crowd it might just be a little slower, I don't know, it makes it more fun to me than to just go up there and have no one and nothing to rely on but yourself. It's a rock and roll show, and the difference is you get one of the best rock singers in the world and one of the best rock drummers to watch the whole time, so that's a good thing.
Oh yeah, I've watched some streams from Arejay's perspective and it just looks like mayhem…
*laughs* It is, and playing along with him is mayhem too, it's pretty funny, you never really know what you're gonna get at one of our shows or what plans he's got.
Other side of that, and three albums in now, but a first time coming to a country, how do you put a set list together when it really is a live introduction to your catalogue?
Oh geez… I hadn't thought about that yet… what will we do with the set list? We always had this thing when nobody knew who we were and we weren't on any radio stations in The U.S. we just had the same idea, we toured with Eric Church here in The U.S. he's a big country star here and big arenas and stuff, he's huge and we were playing to country crowds and we play rock and roll, there's zero country in our music. So we took the stage and we didn't hold back, we were 100% ourselves but we always have this idea of 'Hey! Get to know Halestorm' and we start out acapella with Lzzy, kind of give them no judgement there, all you have is a pretty girl with an awesome guitar singing her ass off on stage right now. For all they knew we were gonna bust into some banjo stuff and it was gonna be a country song and then we go right into 'Love Bites' one of our heaviest songs and kind of blew their cowboy hats off, but you know, we always try to introduce ourselves and put your best foot forward. Who knows what the set list will be like, we'll figure that out when we get down there. It'll be fun and it'll be different every night just depending on how we do it, make it before the show and roll with it.
I was hooked on the band when I heard that cowbell from 'It's Not You' back in 2009 on a trip to The States, what are some of your best memories of when you release your debut album and essentially introduce yourself to the world?
Oh man I remember hearing our song on the radio for the first time, that's a trip, we were driving through Minneapolis Minnesota and they were one of the first stations there to ever play 'I Get Off' and it came on and we'd heard our stuff on the local radio shows in our hometown which is always awesome how supportive people are but to hear your band and your music on like the national level for the first time ever is pretty trippy, it's out there. It's just really cool and exciting, and that whole 2009 – 2010 touring that we did were some of my best memories, our first time in a lot of cities in the U.S., our first time going overseas ever, it was a lot of dreams coming true and it's been happening ever since that first record came out, just been lucky enough to do what we love for a living with our best friends.
With 'Into The Wild Life' out now for a little while, how is the cycle for you so far?
It's been really amazing, we've got a lot of great support, and it's a different record to our last two obviously, a little bit of a different sound and a different approach to making it, we had a whole new team, new producer, new engineers, new mixing and it's been really great. To me it's like it's who we are, what we're into and I think people have kind of embraced it which is really cool *laughs* to say the least, I don't know, to just be accepted for what we do and how we do it and how we play and all that.
You guys have also released a couple of covers EP's, let's say a third is coming, so if you could pick one song to cover that the other guys may not dig, but you really, really would push for, what would it be?
Huh… I've been making a list of songs because we're doing this 'Evening With' tour coming up where it's just us and we have a few hours to play whatever we want, but what would be a great one? *laughs* I heard this today, this song, and I was contemplating whether it would be cool or not and I haven't even talked about it with Lzzy about it, in fact I don't even know who did it originally, maybe you can tell me, who did that song *sings* "It's a Man's World" you know what I'm talking about, an old soul song. I just say this cover with Chris Stapleton doing it with this band and it was awesome, like a soul singer song, get your soul on. I don't know, it would be cool to hear Lzzy do that and would be a different coming from a woman, like alright, I'd have to look at the lyrics first to see if that's even cool because I didn't actually hear all the lyrics *laughs*. That line would be cool though.
I've asked Lzzy about the growth of the band, but for you personally, what do you see as the biggest change that's taken place within the band since your time together?
Oh… what has been the biggest change? Not a bunch has changed with the four of us I mean personally between  us we all still act like children and make dirty jokes and have the mentality of a fourteen year old, but what's amazing is how the business has grown. We have this tour coming up where we have this semi-truck full of our gear and production and there's gonna be like twenty crew members and a few busses and it's like "geez… what are we getting ourselves into here?" I feel like maybe this monster is starting to run our lives which is kind of funny to think about with the amount of everything we've put into this band our whole life. Yeah really it's just the business and the scale of how Halestorm is growing, it's pretty out there… it's awesome, it's what you always dream of and it's constantly dreams coming true as cheesy as that it, I've always wanted to do a big tour like that, will be fun *laughs*.
What I love about you guys, and I've said this to Lzzy and Arejay, and now you, you guys are truly one of the nicest bands I've had the pleasure to chat to, is this something that you guys really take note of are you are all just damn nice people? *laughs*
*laughs* I mean I don't know, I don't try to be an asshole, I don't think any of us really do, nobody's an asshole, we don't keep assholes around us or in our crew. We don't surround ourselves with mean people, I don't know we don't try to be nice, maybe it's just a reflection, we have a really good time doing what we love like I said earlier with my best friends and it's fuckin' awesome. So nothing to be upset about *laughs*
I always think that you're all just normal people with a really, really cool job…
Exactly! We have the best job in the world, I get to play guitar and I'm in the middle of building a whole rack system for all my guitar peddles at home right now and it's crazy and it's frustrating and it's so much fun *laughs* it's awesome, best job in the world.
Lastly, let's grab a crystal ball and look ahead to the future, so finish this sentence for me, in 2016, Halestorm will…
Still be touring on 'Into The Wild Life' *laughs* we just heard something about more European stuff next summer and were like 'wow, ok'… it's a year away and we're already getting booked up.
Let's hope that this trip to Australia starts it off and we see you down here more often too…
Oh I hope so, the ticket sales have been going really well, better than anyone expected, so we've gotta get on one of those awesome festival things you guys do down there, heard it's just one of the greatest festival experiences in the world, so looking forward to that one.
Catch Halestorm in Australia at the following dates:
8 Dec – 170 Russell, Melbourne – Tickets HERE
9 Dec – The Gov Hotel Hindmarsh, Adelaide – Tickets HERE
11 Dec – Cambridge Hotel, Newcastle – Tickets HERE
12 Dec – ANU Union, Canberra – Tickets HERE
13 Dec – Manning Bar, Sydney – Tickets HERE
15 Dec – The Tivoli, Brisbane – Tickets HERE
Presented by Live Nation
Essential Information
From: Pennsylvania, USA
Band members: Lzzy Hale – Vocals, Guitar, Arejay Hale – Drums, Josh Smith – Bass, Vocals, Joe Hottinger – Guitar, Vocals
Website: http://www.halestormrocks.com
Latest release: Into The Wild Life (Out Now – Warmer Music / Roadrunner Records Australia) – Check out our review of the album HERE