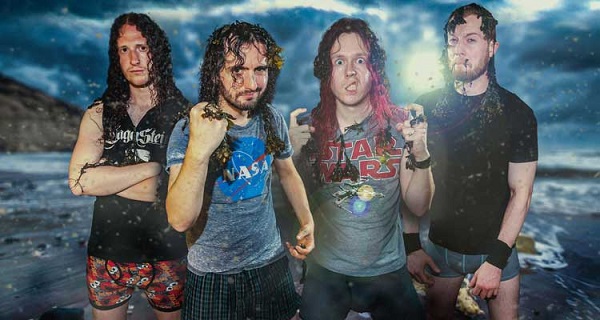 "…we're pretty much there just to have a good time, it's not really about metal and it's not about being serious, it's just about having fun. So we appeal to pretty much everybody really which I think is pretty unique in the metal genre, so yeah, fun."
From Bio: Avast, ye landlubbers! From the deepest darkest depths of the Caribbean comes ALESTORM, a drunken band of pirates on an epic quest to drink your beer, steal your rum, and be the greatest damn band that ever did sail the seven seas! Describing their style as "True Scottish Pirate Metal", Alestorm plays an infectious blend of modern folk and power metal with a unique piratical twist. After forming in 2006 and rapidly gaining a cult following in their local scene, the band signed to Austria's Napalm Records, and released four groundbreaking albums; "Captain Morgan's Revenge" (2008), "Black Sails at Midnight" (2009), "Back Through Time" (2011), and now their latest album "Sunset on the Golden Age" (2014). Prepare to have your mind blown with some of the catchiest Pirate Metal anthems you've ever heard, with tales of mythological creatures, epic battles, and swashbuckling action that'll make you want to raise up a pint of rum and sing your heart out. Alestorm are coming to kick ass and chew gum. And they're all out of gum.
At home in England we chatted to Elliot of Alestorm ahead of their Australian tour, he tells us what to expect, touring with Aussie pirates and much more…
You're headed back to Australia for Piratefest! Tell us, what can someone expect at these upcoming shows?
Well anyone who's been to our previous shows in Australia  will know that we're pretty much there just to have a good time, it's not really about metal and it's not about being serious, it's just about having fun. So we appeal to pretty much everybody really which I think is pretty unique in the metal genre, so yeah, fun.
How much fun have the Piratefest shows been as you've been doing them for a while, is it just an absolute ball being up there?
Yeah, we've been doing headline tours for a couple of years in Europe and North America and The UK, and it's really just been with bands that didn't really fit with us. We did this tour with TrollfesT, a Norwegian folk metal band and we've always toured with power metal bands and stuff, but recently in the last few years there's been quite a few pirate bands popping up, pretty much copying off us and can take it to these gimmicky fests in Europe, it's been great. A lot of people come in costumes and it's a lot fun.
You've got Lagerstein along for the ride, who you've toured with before, how do you rate our Aussie pirate metalers?
Oh they are two of my favourite people in the world, it's impossible to not be in a good mood when Lagerstein are around. We've toured with them in The UK and Europe and some of those tours, especially in Europe a lot of the venues just seem to fade into each other every day and you wake up not really knowing where you are or what day it is, and it doesn't get boring but it gets pretty hard to tell what's going on, but coming downstairs on the tour bus in the morning and having Lagerstein sitting there already drunk just puts a smile on your face instantly.
You've been to Australia before, besides the shows, what's your favourite thing to do down here?
To be honest, with the schedule you don't have much time to do anything, every single show you come off stage and it's midnight and three or four hours of packing if you're lucky, two hours of sleep and then you go to the airport to fly to the next place, so it's really rare for us to have time to do anything. Last time we were there was my first time in Australia, and we flew over the Sydney Opera House and I saw it out of the window of the plane and that was my memory for Sydney. This time we have a new guitarist and were also bringing three crew members and none of them have ever been to Australia before so we'll probably make an effort to go out and do stuff. We never really get time to do stuff anywhere in the world but given that Australia and New Zealand is pretty much the furthest you can get from home without going into space it would be stupid not to do something so hopefully we get the chance.
You're back off the back of your newest album 'Sunset on the Golden Age' with four albums now, how do you go about putting the sets together these days?
It's pretty much just greatest hits, we were pretty worried with the new album, not so much worried but a lot of the time bands when they tour with a new album want to go out and play songs from the new album which I think alienates a lot of people especially people who like the classic stuff. Then obviously the other side of that is you want to go out and play the new songs and hopefully you've made a lot of new fans with the release and they're coming to the shows to hear the new songs. So you have to very carefully balance the new songs with the old classics, but luckily this seems to be our most popular album, and instantly became our most popular album, like everyone knows 'Drink' for example and we get to play all our favourite songs off the new album, I think five at least in the set of fifteen total. We've managed to put together a good greatest hits set that includes new songs, it's good it proves that we're getting more popular and writing good songs.
I wanted to ask about 'Drink', because if there's a song ever written about Australians it has to be that one, right?
Absolutely, yeah *laughs* the thing about Australia is it just embodies our atmosphere and our music, it's great.
So, have you guys started work on new material?
The thing about Alestorm is we all live in different places, our drummer and bass player live in the same town, they live in Northern Ireland, I live in England, our guitarists live in Budapest and Hungary and Christopher lives in Bristol but he's just married an American girl so he's moving to America. So we never see each other unless we're on a world tour, so we don't get together and write songs together or have little song writing sessions or stuff like that, so we pretty much write songs on line and send them back and forth and we have a dropbox folder that gets combined and we throw stuff together. So we're always coming up with little bits and new ideas and stuff like that, we have one song which is in the finished folder, but it will be a long time before that happens. There are plenty of places in the world that we haven't been with the new album.
In your time with the band, how have you seen the band grow in the last four years?
It's been incredible, I was lucky enough that when I joined the band it was already big and I didn't have to do any of the hard work, there was not so much playing of crappy venues and driving for twelve hours with three people in the back of the car which a lot of people have to do. I was lucky enough to join when it was all nice and comfortable and high production value. Given that we get to headline a lot of stuff recently, we start bringing crew, it just means we don't have to do anything, it's just comfortable, obviously we're playing bigger shows and making more fans and releasing music that everybody sings the words to. It's the best job in the world. I hope it continues.
Lastly, let's look ahead to the future, finish this sentence for me, in 2016 Alestorm will…
*pauses* I don't know, we have stuff already booked, so we want to go back to places like South America, and new places. We went to China one, to the airport on the way to Australia, so I'd like to go to China and play…
PIRATEFEST DOWN UNDER 2015
Nov 20th – Valhalla, Wellington 18+
Nov 21st – Whammy Bar, Auckland 18+
Nov 24th – Amplifier Bar, Perth 18+
Nov 26th – Max Watts, Brisbane 18+
Nov 27th – Fowler's, Adelaide All Ages
Nov 28th – Manning Bar, Sydney 18+
Nov 29th – 170 Russell, Melbourne 18+
Essential Information
From: Scotland
Band Members: Christopher Bowes – Vocals, Máté Bodor – Guitar, Gareth Murdock – Bass, Elliot Vernon – Keyboards, Peter Alcorn – Drums
Website: http://www.alestorm.net
Latest Release: Sunset on the Golden Age (Out Now)