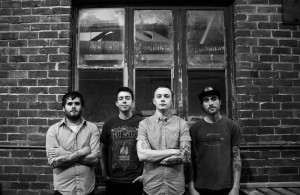 The Flatliners are about to be in Australia with Lagwagon! Before heading out to check out one of the below shows, check out this piece exclusively on MTRBWY written by Chris Cresswell of The Flatliners telling us about the best Canadian bands you don't know! We know we'll be checking these ones out ASAP!
The Dirty Nil
They are a fantastic band that just signed to Dine Alone, a Toronto-based label. Holy crap dude that band is amazing. They're like a punk band but like a punk rock and roll band. I think listening to them they really like The Who and they really like Jawbreaker and Husker Du. They're a trio too, so they're like a power trio. They have that appeal of the big rock sounds and the big guitar and the big vocals and big drums, but they also have elements of Fugazi and old Weezer – fuzzy kind of guitars. They're really cool and they mix a lot together but they wrap it up in a nice little package that they definitely have their stamp on.
Youth Decay
A new band from Vancouver, they're good buddies of mine and there's an Australian guy in the band, so that's cool. They're members of Daggermouth, Comeback Kid, Living With Lions – a bunch of BC punk bands from over the years. They're new record is awesome and really good, '90s kind of skateish pop punk. Could have easily come out on a label like Fat Wreck Chords and people would have got it.
Greys
A cool band from Toronto, they've got some Fugazi kind of shit going on too and maybe like first album Bronx kind of vibe. They're pretty awesome.
PUP
I'm sure people know them in Australia now, but just in case they're awesome. They kind of blew the roof off modern punk with their record that came out a year or two ago, their self-titled record. It also reminds me in ways of old Weezer – kind of dorky but in such a cool way. Very inventive, very unique in the best possible way. I think there's going to be a whole wave of bands that start to go after that inventive time signature approach and more and more the world of punk expands and that's the one direction it's going for sure.
Hey Rosetta!
They've been around for a while but I only just got into them. Cool, more chill rock I guess. They kind of do it all but they're really great and I only just discovered that band after hearing the name for years.
The Flatliners tour Australia with Lagwagon this November and December. 
Tickets and further details via Blue Murder
Thursday 26th November – The Northern, Byron Bay
Friday 27th November – The Triffid, Brisbane
Saturday 28th November – Metro, Sydney
Sunday 29th November – Entrance Leagues, Central Coast
Wednesday 2nd December – Barwon Club, Geelong
Friday 4th December – Max Watts, Melbourne
Saturday 5th December – Unibar, Adelaide
Sunday 6th December – Amplifier, Perth