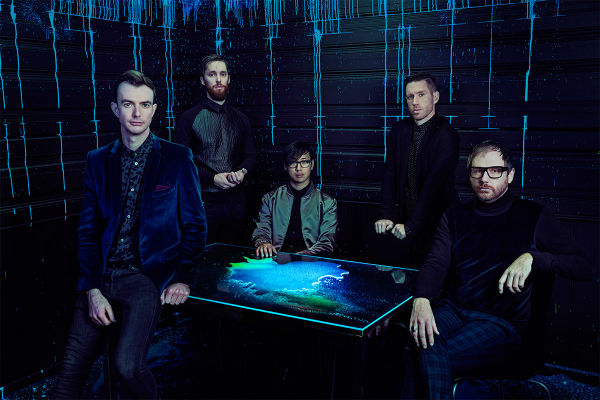 "The idea mainly spawned from when we were away a lot over the last couple of years.  We always have to introduce ourselves and say here have a listen prior to going in and giving them sampler things and all that stuff. I don't know, it kind of dawned on us that when you're doing that sort of stuff how much material you've actually got *laughs*…"
From Release: Somehow Birds of Tokyo snuck up on us. In the dozen years since forming in Perth these five unassuming guys have gradually grown – song by song, gig by gig – into Australia's biggest contemporary rock band. They may not yet be household names but their songs have been heard in everyone's home. The group has won multiple ARIA and APRA awards. They've co-headlined virtually every important music festival in this country. They've had tracks in major TV and film campaigns and even played the AFL Grand Final. Even so, for most people Birds of Tokyo have still somehow 'flown under the radar'. Until now. Their new compilation album, Playlist, gathers all these songs (and 10 more) into one undeniable 18-track bundle.  For all but their most hardcore fans, the collection is a revelation. Casual listeners will be surprised to realize that they actually already know the words and melodies for most of these tunes.
We chatted to 'Sparky' as he was introduced, much to the laughs of Adam which was the perfect way to start the interview, he filled us in on the band's new collection 'Playlist', a look back at these tracks, touring, new music, and much more…
How did the idea come up for 'Playlist' and why was now the right time to put this out?
I think a number of reasons, I think first of all I don't know in the near future where records are going and if these opportunities are going to exist anymore, so that sort of seemed like the time to try and at least get a moment out like that that at least made sense to us before that opportunity disappears. The idea mainly spawned from when we were away a lot over the last couple of years. We always have to introduce ourselves and say here have a listen prior to going in and giving them sampler things and all that stuff. I don't know, it kind of dawned on us that when you're doing that sort of stuff how much material you've actually got *laughs* and coinciding with that we feel like with all the CD's going away we thought why not before we take another step musically, we're sort of working on this big record at the moment it seemed like the right time to say 'here's the end of this phase' or whatever, here's what we've done to date, it's kind of going to change a bit from here maybe, so yeah…
What was the process like putting this package together?
It was pretty easy, man.  We tried to make it almost like a set list for like a show or a festival or something, and like what do we like, what do we know reacts with people live and all this sort of stuff, so we built it kind of like a show and then changed the order around, clumped songs together by their certain sort of times or whatever.
What was it like looking back at some of these tracks and essentially working backwards on the growth and evolution of the band, did you sort of feel that when you put it in order?
Yeah totally and it's funny because when you put that stuff together it's like shit, it gives you a real sense of how different the band sounded over *laughs* the time we've been doing it, it's like does that really belong on a record with that thing? It sounds kind of weird… *laughs*
When I was listening and you have 'Silhouettic' and then 'Anchor' it really feels like a different band…
Yeah totally but you know it's a nice little pre cursor to what we're working on at the moment, I guess it's kind of our thing that we've grown to really love about the work that we do, we don't always love our old work it's cool of course, but that's one of the things that drives us, see how far we can take this vehicle left and right and see what we can get away with and we get to explore our whims and desires and all that. It's very motivating for us to not stay in one place.
Did you stop to look back at some of the songs and think 'shit, we're pretty awesome' actually?
*laughs* Oh all the time… I don't know man, we don't really listen to that stuff to be honest, I don't know, the more you do it the more you start to realise we don't know what we're doing but we've been able to pull it off for a long time now *laughs* it's like ugh… no one's noticed… *laughs*
When you go back and look at the singles, do you in fact have a favourite?
Um… not really… actually there's one on there that I've never really doubted and I've never had a bad moment with and it's one called 'Circles', everything else you have a bit of an up and down with but that one for me never really waivered, and I don't know why, it's not an exceptionally interesting song or anything but it's just something really timeless and beautiful about it for me anyway.
Does doing something like this stir the band up and for thoughts of new material for an album soon, if so when do you think we might expect something?
I was literally just talking about it with my label boss two seconds ago before you rang *laughs* I'd really like to get in the studio at the start of next year, we've been sort of working on this large, large body of work for a year or two now, writing and writing and writing and we did an EP earlier this year which kind of pulled some songs out of the body of work to do that. It's just kind of getting in the spot where the songs are right and they're getting close now, so I'd expect hopefully over the next month we can start getting our demos together and sending them out and seeing how we can actually pull it off because it's a big sweeping epic this one, it's a bigger bite to try and chew off that the last lot of things we did. Large is what we like to do and large is what we're going for, largest thing we've ever done is wat we're going for on this one, so how far can you take the ridiculousness and the epicness. *laughs*
Touring wise you're gearing up for a big summer, is this going to be essentially a 'playlist' tour of all the hits?
No not really, being a lot of festivals it's just a matter of sort of playing ones you know have a good vibe live I suppose, they're not your shows, I think invariably there's always going to be the big single sort of tracks in that, but there's some on there that say aren't on that record for example that definitely a live thing because they're a bit rockier and more energetic kind of ones.
You're also playing one of the nights at Taronga Zoo…
Yeah we're going to try something different with that, we did this thing a few years ago called 'Broken Strings' it was like this orchestral kind of thing, and this time around we're going to do a thing I've jokingly called 'Broken Wires' which is sort of a play on that idea with the view of doing a big version of it later next year. So it's not going to be a normal 'Birds' set, that one's gonna be pretty beautiful I think.
So in the ten years or so of being in the band, you have your playlist, but let's look at highlights, has there been a moment in your time together that stands out above all others?
Yeah I mean every now and then you'll catch yourself playing some crazy sort of show or something, it could be the AFL Grand Final, that was pretty nuts, or playing a festival in Northern California at a big festival and you're catching yourself going 'shit, look where I am, there's 20,000 people here, how the hell do they know us?' I think for me it's moments like that, there's highlights playing Splendour a couple of years ago, and I think it was one of the first times we played 'Lanterns' and just the energy and the vibe was completely surreal and overwhelming and there's footage of it where you see the guys on stage just turn around, crack up and say 'what the fuck is happening?' *laughs* Those things for me are the real highlights because you find yourself in these really hyper, unreal kind of moments.
Other side of that, what for you has been the most notable change within the way the band works over those ten years?
I think it's sort of figuring out how we work best and what everyone does best and respects that. Not everybody is an all in five like song writing type person sort of thing, so a couple of us do that, a couple of us are much better at planning stuff for live shows and all those sorts of things and what we're doing for production, you know, all the boring stuff like that. As a bigger part of it it's more about learning everyone's personalities and knowing when not to tread on people's toes and argue and try to avoid rubbing people the wrong way because everyone's got such different personalities in the group so I think as we sort of go through and learn what everyone does best and let them do it, that's sort of been one of the biggest learning curves I think, and we still don't have that right, I think we're 30% of the way there. *laughs*
Lastly, let's look ahead to the future, so grab your crystal ball, finish this sentence for me, in 2016, Birds of Tokyo will…
Release a record and try and get back on the road in Australia and tour heaps, there's so many places we want to do and we haven't had a big tour for a long time here, so that's my 2016 anyway…
Essential Information
From: Australia
Band members: Ian Kenny, Adam Spark, Glenn Sarangapany, Ian Berney, Adam Weston
Website:  http://www.birdsoftokyo.com/
Latest release: Playlist – (EMI Music)